Superbound – Jaymee Green in Bondage Criminal Evaders: Bikini Bound Babe Bamboozled!
Superbound – Jaymee Green in Bondage Criminal Evaders: Bikini Bound Babe Bamboozled!
A frantic knock at a door leads to it being opened by a stunning big-breasted bathing beauty, either going to or returning from the beach. Her blue bikini is eye-catching, but mostly because of how perfectly she fills it out. She is quickly seized by the masked man who intent on evading the authorities pursuing him as he handgags her sexy mouth and pins her arms behind her back. He then handcuffs her wrists and is free to do whatever he wants and what he desires is to touch. His greedy hands grope more than a handful of breasts and then some ass grabbing and spanking ensue. Moving to another vantage point he checks through the window and sees his pursuers coming, but he's torn as he really likes toying with his hot hostage. More fondling and then they're off to another spot where his touching gets more intrusive as he pushes her against a wall and rubs her pussy and everywhere else! The next hiding spot things get intimate as her bikini is removed for some full on flesh to flesh feeling up. His signature move is deployed as he reaches from behind between her thighs and finds her g spot as her eyes roll back in shock and pleasure, at the same time! He keeps playing with her until he realizes the coast is clear and the authorities have left. She is escorted up the steps, breasts squeezed along the way. Dragged into the bathroom he keeps her close and touches her as if they're old lovers until it's time to leave. Made to sit down, her cute mouth is taped shut with three strips of very sticky chrome tape. Another quick grope and then he's gone as she struggles, obviously not able to get out of the handcuffs. The cramped space means she has little room to move, but she does her best, eventually making her way to the door and realizing it's jammed from the outside. Lots of lingering extreme closeups and pan views of this hot babe make for a great time that can't be beat!

Featuring: Jaymee Green
Size: 937.0 MB
Duration: 00:15:02 min
Resolution: 1920×1080
Format video: mp4
Preview: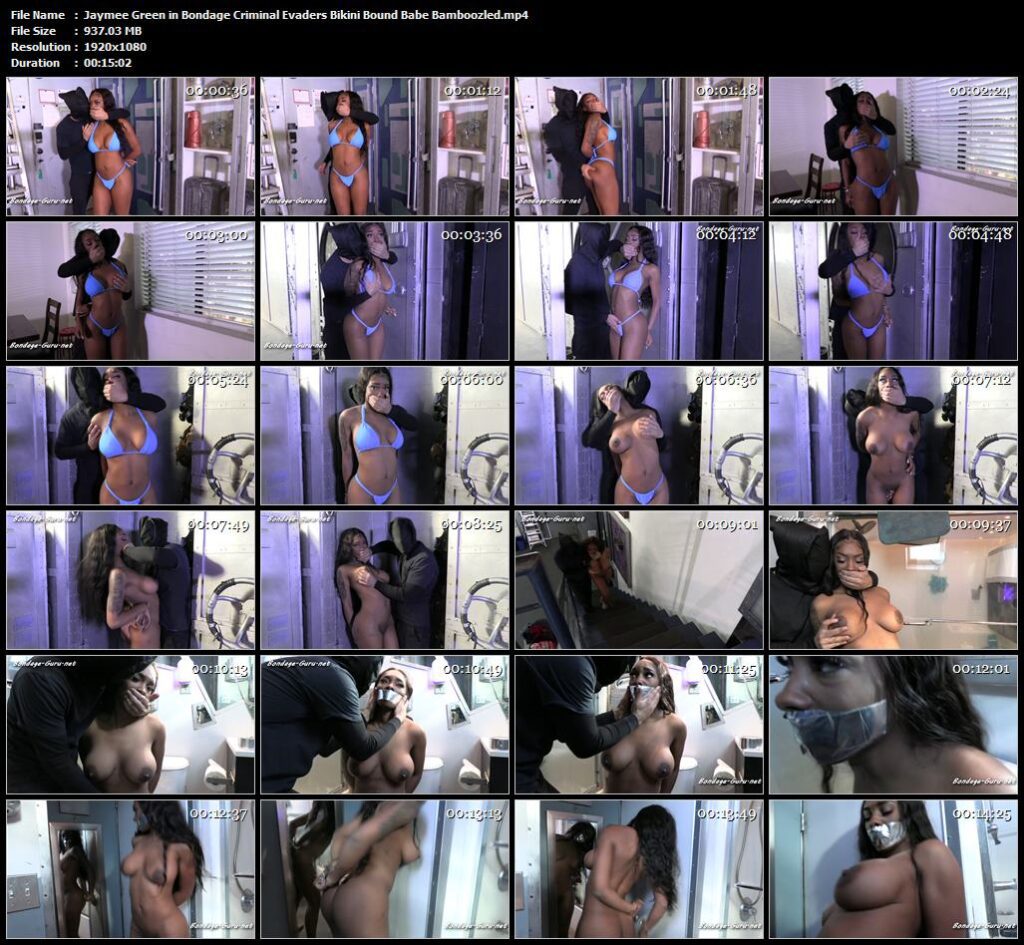 Download link:
Jaymee_Green_in_Bondage_Criminal_Evaders_Bikini_Bound_Babe_Bamboozled.mp4