Nyxons Bondage Files – Slyyy Strapped Gagged & Wrapped HD
Nyxons Bondage Files – Slyyy Strapped Gagged & Wrapped HD
Slyyy is being blackmailed by the two horny men who live next door after they find compromising pictures of her on the internet. They threaten to turn her in unless she dresses up in PVC & lets them tie her up. To their surprise, not only is she not offended, she's into it. The scene opens with Slyyy walking into the room wearing a long black PVC coat, a black PVC catsuit, black PVC boots & hold a riding crop. For several minutes she slowly struts around the room showing off her outfit & flirting with her neighbors, encouraging them to take pictures of her. She asks them if they like her outfit & then rips open her PVC coat revealing her PVC catsuit underneath, telling them that she wore it just for them. Then she turns & playfully smacks herself on the ass with her riding crop several times. She turns & looks at the camera, then playfully asks her neighbors what they intend to do with her. From off camera, a pile of PVC straps & a PVC straitjacket is dropped at her feet. Slyyy picks up the straitjacket & describes how much she's going to enjoy this. Then she looks directly into the camera & tells her neighbors to make sure that it's tight & to make sure they shove a gag in her mouth, too. After she says this, a harness gag is tossed on top of the pile. When Slyyy sees this, she looks into the camera & smiles.
The next scene opens with Slyyy laying on the floor in the middle of the room. She is bound in the PVC bolero straitjacket, multiple cleae PVC straps & the clear PVC harness ballgag. Slyyy spends time squirming & struggling and making lots of sexy gag talk & really enjoying herself. She looks at the camera & a roll of plastic wrap rolls onto the scene & Slyyy tells her neighbors to wrap her up really tight.
The final scene opens up with Slyyy still strapped & in the straitjacket, and now also wrapped tightly in clear plastic wrap from the top of her head to the tips of her boots. Slyyy rolls around the floor moaning & enjoying herself until the end of the video.
*this is a custom clip

Featuring: Slyyy
Size: 2.1 GB
Duration: 00:30:06 min
Resolution: 1920×1080
Format video: mp4
Preview: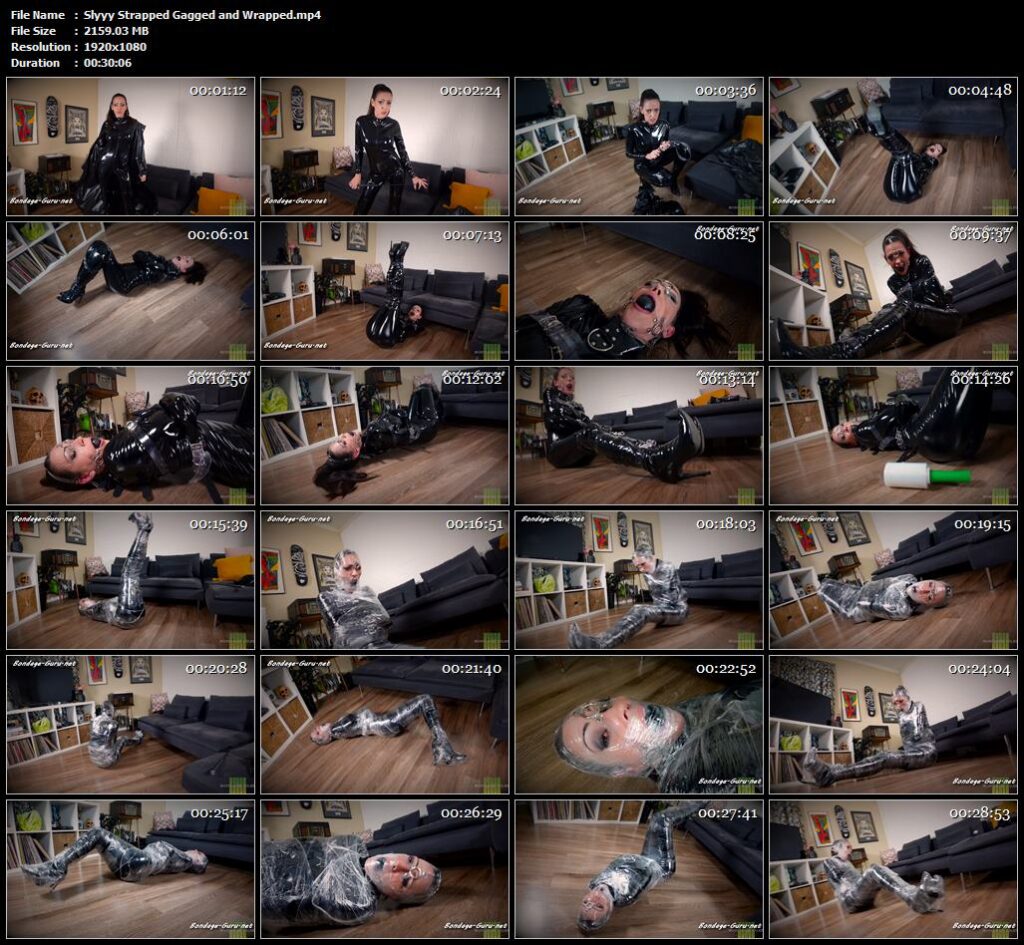 Download link:
Slyyy_Strapped_Gagged_and_Wrapped.mp4