Roped Prose Productions – Equestrianna; Revenge of the Sultan
Roped Prose Productions – Equestrianna; Revenge of the Sultan
Our story begins with the beautiful heiress and racehorse owner Natasha Van Horne sitting in the home of the oil-rich millionaire known as the Sultan of Bondaage. The shady arab has invited the wealthy socialite to a meeting to discuss a proposition he has for her.
Whilst the Sultan leaves his guest alone to get her a drink, the stunning blonde beauty sits impatiently waiting for her host's return, glaring at her timepiece and tapping her gloved fingers on one of her shapely stocking-clad thighs.
Finally, after what seems like an eternity, the Sultan does indeed return and apologises for his absence, insisting that he had urgent business to attend to.
Clearly not impressed, Natasha remonstrates with her host, reminding him that she is a very busy person herself and cannot afford to idly sit around doing nothing.
Taking a few sips of her drink, the uppity heiress listens to what the Sultan has to say and almost spits it out when she hears his request. It turns out that the wealthy arab intends to purchase her champion racehorse "Slippery Nipple" from her stable of thoroughbreds and promises to make her the most generous offer.
However, what the Sultan doesn't realise is that Natasha Van Horne is secretly non-other than the sexy superheroine "Equestrianna" and Slippery Nipple is her crime-fighting steed "Satin Star", therefore she cannot possibly ever consider selling her lifelong companion.
Natasha refuses the Sultan's offer, angering the Arabian millionaire who responds with a thinly-veiled threat that he hopes she does live to regret his substantial offer!
At this point, the heiress huffs and informs the Sultan that the discussion is at an end but not before taking one last swig of her drink…
Sometime later, a clearly confused Natasha slowly awakens from a short nap to discover she has somehow been tied up and is now lying on the floor of the Sultan's apartment!!!
Instantly struggling against her tight bonds, the blonde beauty cannot believe what has happened to her and immediately attempts to cry out only to find she has been tightly cleave-gagged as well.
So begins a desperate struggle for freedom as the young heiress courageously battles against the ropes that tightly bind her from her shoulders to her leather-booted feet. But it is no use, the bonds are just too tight as her beautiful body strains helplessly in the cruel bondage.
After a few brief moments the Sultan returns and informs Natasha if she is not willing to sell him her champion racehorse then he will just simply take it from her… and what's more, he'll take her as well!!!
But first, he decides to have some fun with his captive and sets about strapping a vibrator snugly between her legs. Taping it tightly in place, the dastardly arab switches it on and laughs manically as the diabolical device begins buzzing away at her crotch.
Leaving her alone once again, the Sultan disappears and Natasha is left with her new "friend" that mercilessly vibrates away between her legs. Fighting against the rising sensations that pulsate through her gorgeous body, Natasha cannot help but get increasingly aroused as her nipples grow erect and poke out into the fabric of her brown long-length sweater.
Her beautiful eyes roll back into her head as she moans seductively, writhing in absolute pleasure as the vibrations continue to wash through her helpless body.
Rolling around on the floor, Natasha can no longer focus her efforts on escaping from the tight ropes and is now preoccupied with the incessant pulsations making her more and more aroused with every passing second.
The desperate damsel knows it is only a matter of time before the vibrations become too much for her to bare and she explodes in… explodes in… ohhhh my!!!
What will happen to the helpless heiress Natasha Van Horne? Will the Sultan get his hands on Slippery Nipple? And what will he do with her even if he does get her beloved ?
And when will the mighty Equestrianna make an appearance?!?

Featuring: Natasha Van Horne
Size: 473.8 MB
Duration: 00:12:20 min
Resolution: 1280×720
Format video: mp4
Preview: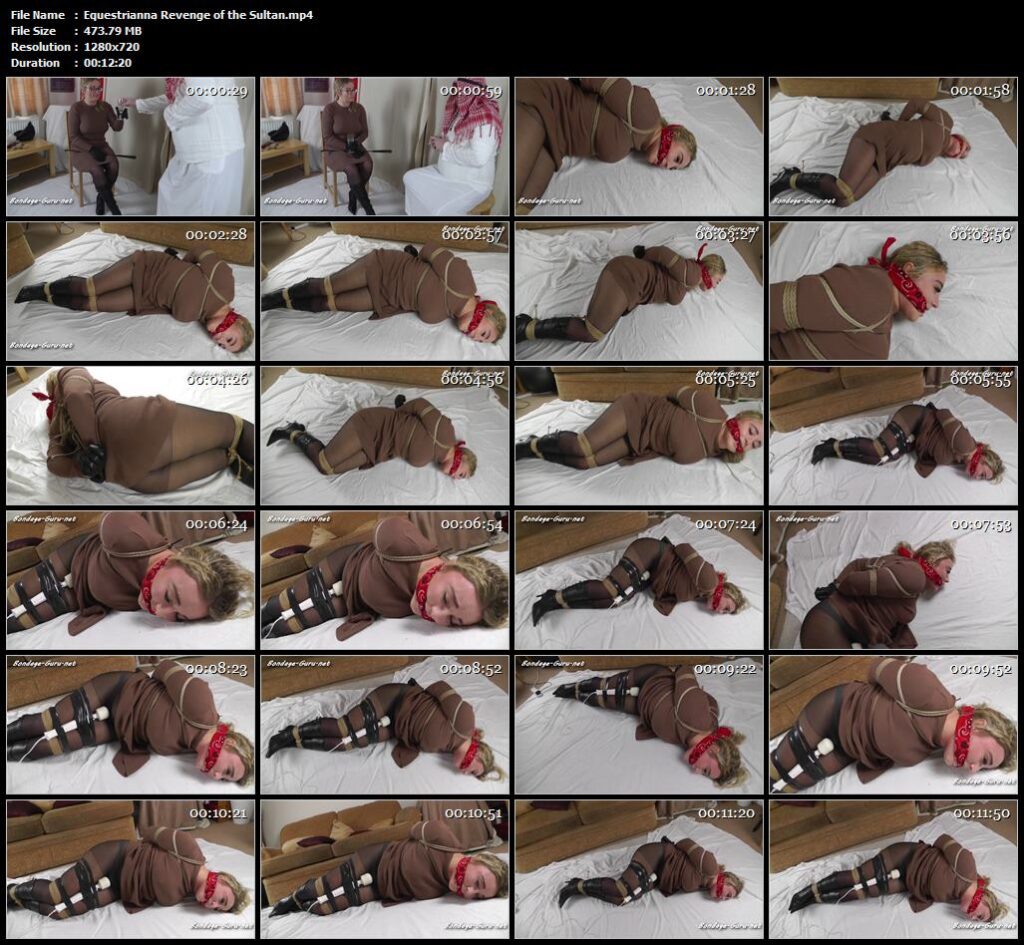 Download link:
Equestrianna_Revenge_of_the_Sultan.mp4