Snobby Step Daughter – Captive Chrissy Marie
He couldn't believe his ears when he found out that his step daughter Chrissy missed class today and that it was because she got a job instead. He can't stand how ungrateful his snobby step daughter is, willing to just quit school after he spent so much money to send her to the university of her choice! When Chrissy gets home she takes off her sneakers to give her feet a rest and is chatting on the phone with her friend about how great her first shift was, she doesn't even wan't to change out of her sexy uniform! He hears Chrissy giggling away and heads downstairs to lecture her that school is more important than money at this point in her life, he pays for her rent and feeds her anyway! However, when he walks in he can't believe his eyes. She can see his rage building up as he flips out tells her there is 'no fucking way' she is working at Hooters! Chrissy argues she is an adult now and he can't control her anymore, telling him just because he married her mom doesn't mean she has to listen to him like she does! Angry that she is being stuck up and refusing to take his advice, he gets an idea. He plays along and tells her to sign a blank piece of paper, that it will be a letter stating that she quits school. She laughs at him for giving in as she blindly signs the paper, pleased to have gotten her way yet again, or so she thinks. Little does she know he has another plan in store for her to help really set her straight and show her who is boss around here!
He tells her to wait here and Chrissy is very confused when he returns with a bunch of rope, asking him what the hell is that for?! Of course she wasn't expecting him to grab her wrists and start tightly tying her up with it! She struggles angrily and bitches at him as he tightly binds her legs, insisting that he can't do this to her and he is ruining her life! He can't just leave her here tied up like this and force her miss work, she would lose her job and she will never forgive him! Realizing her attitude isn't working Chrissy resorts to threatening him, telling him she will scream for help if he doesn't stop tying her up! Boy was that a mistake! He leaves her struggling while he makes a quick trip up to her room to find her biggest pair of panties. She tests the bonds trying to get free but quickly finds out she is really stuck! When he returns and Chrissy sees her panties in his hand she fears the worst is yet to come. As she opens her mouth to call for help he packs them in deeply gagging her, and cleave gags her to seal them in. She can't believe what he has done to her as she mmmppphhs and grunts in extreme frustration! He picks up the paper that Chrissy signed earlier and finishes writing the letter for her, except instead of quitting school it will now be a letter of resignation from her job at Hooters. She struggles violently and she tries to scream at him through the tight and effective gag. He informs her that he is going to go get a beer at Hooters and will turn it in to her manager for her! Before he goes though, he want to make sure she will really learn her lesson. So he binds her elbows and pulls her arms into a brutal chicken wing as she squeals! He thinks she is getting the point now, but still warns her if she mentions anything about this to her mother, then all her friends will see the humiliating position she is in! He takes some photos to prove he is serious. As icing on the cake, he wants to teach her a lesson in objectification, since she must like it if she wants to work at Hooters! He pulls down her shorts to expose her lacey bikini panties underneath her shiny tan pantyhose. He really wants to make sure she won't be making it to work, so he adds a crotch rope and hogties her socked feet to it, leaving her squirming helplessly on the floor! She knows she must get out before long if there is any chance of saving her job at Hooters, but it's a futile effort as it would take a miracle for her to escape from all that rope she is tied up in! Maybe she will learn to respect her step daddy now that she knows what he is capable of!

Starring: Chrissy Marie
Size: 948.06 Mb
Duration: 00:21:10 min
Resolution: 1920×1080
Format video: mp4
Preview: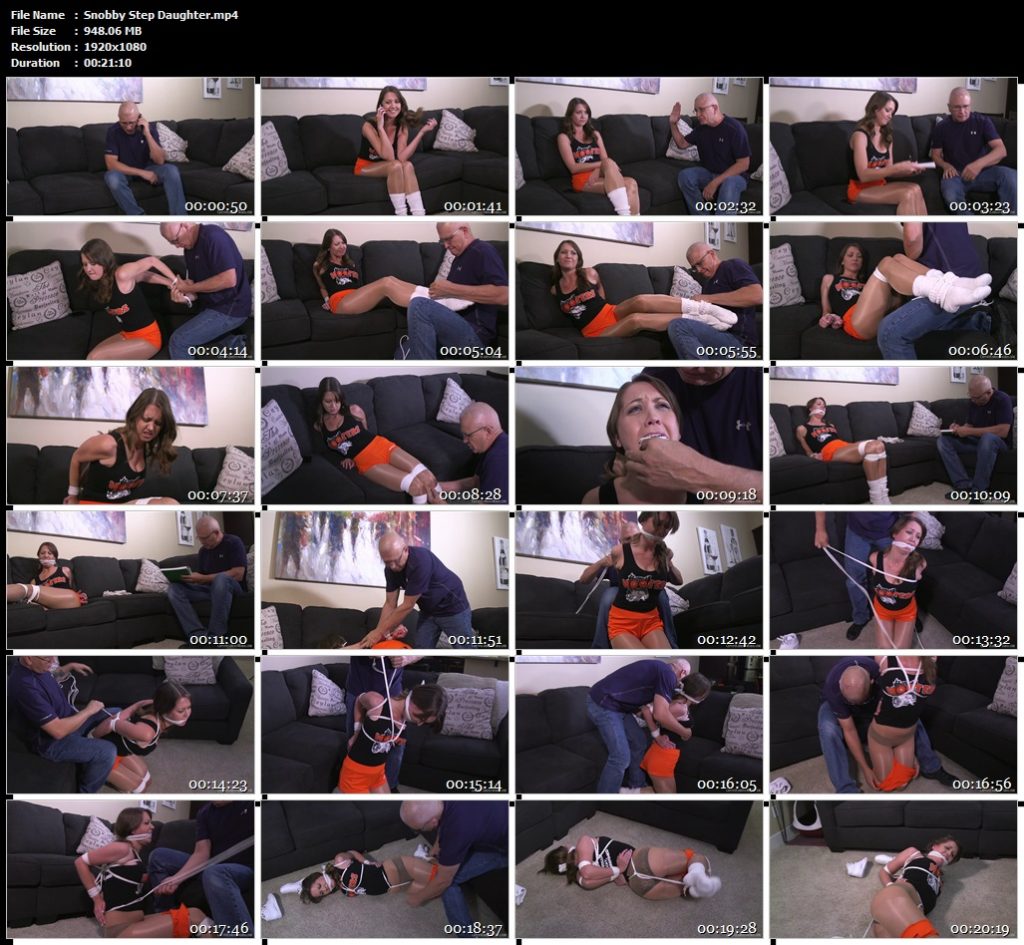 Download links:
https://florenfile.com/oe6hw3dol4ai/Snobby_Step_Daughter.mp4.html