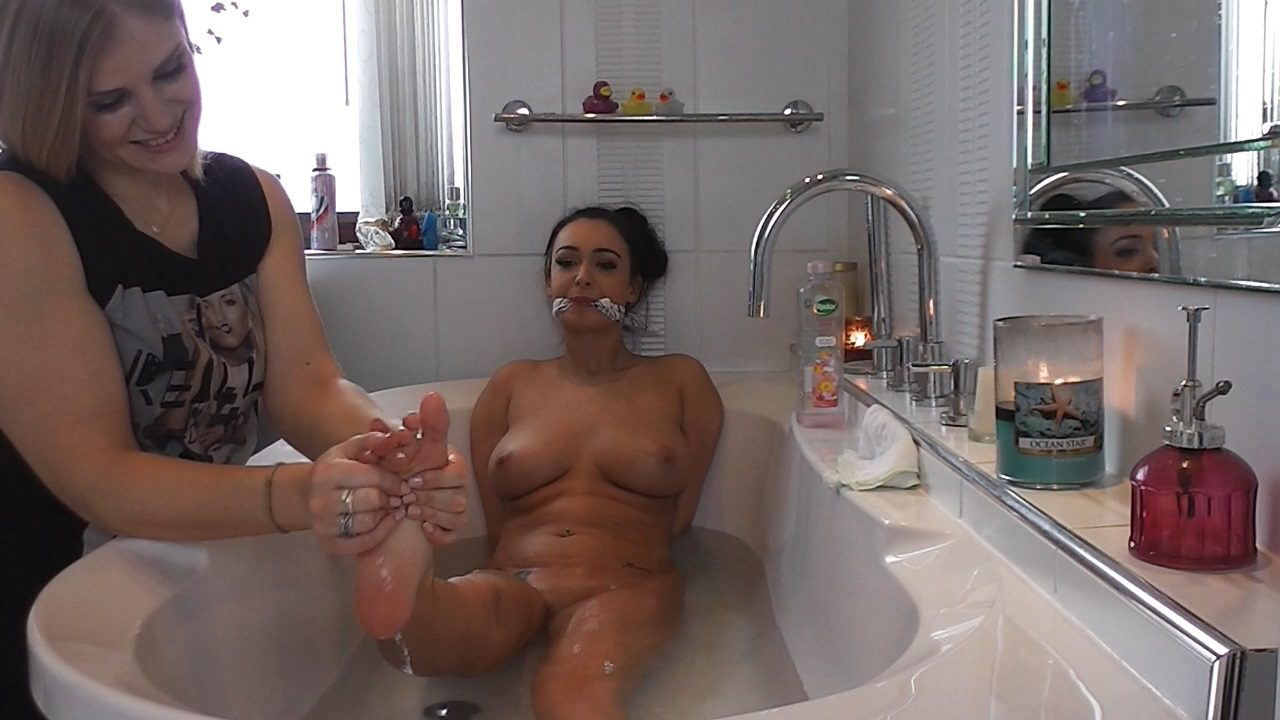 Lauren Louise & Miss V in: Foot-Worshipped Fox Tub-Bound, Toe-Sucked & HogLashed Overnight for Her Exquisite Pleasure! (Full Session)
Lauren Louise & Miss V in: Foot-Worshipped Fox Tub-Bound, Toe-Sucked & HogLashed Overnight for Her Exquisite Pleasure! (Full Session)
Some amazing nude lotus-positioning to marvel at and a lot more besides! And With her beautiful, soft pink-soled feet on display, often wet and wrinkled and dripping with soap suds, the stunning Miss Louise is going to demand your attention. She is presently very naked, and sliding into a warm, luxury bath. Candles glow nearby; the stage is set. Care to join her in there.?
Lauren Louise is enjoying a sojourn up at her Nottingham Retreat, visiting her secret lover, Miss V. Nobody knows the pair are romantically linked, or suspects the level of kinkiness they fondly share. You see, they are into binding and gagging one another, while getting jolly turned on about it all. Lauren is the keen submissive, and after having her photograph taken in rapid-fire motion (all part of the build-up) is ready for Miss V to get down and rather steamy with her.
We start with a straight up sports massage from the fitness trainer V as Lauren becomes putty in her hands from the moment said hands begin working on her bath-slick shoulders. She sighs with pleasure as those knots of tension are worked on, unbunching, and she relaxes more and more, letting her amazing legs swish lazily in the water. Neither of them can contain themselves and are kissing and stroking one another, clearly the only ones involved in this universe. And, as Miss V sucks on Lauren's wet toes (this is truly hot stuff) Lauren has that proposal we've all been sitting through this heady prelude for: she wants to be tied up!
Miss V knows well what to do and produces a reel of silver tape with which she binds the all-too willing beauty's wrists firmly behind her as she surges forth in the water, her massive tits bouncing. Oh yes she likes this and is soon requesting a gag as she is nuzzled at by the deeply entranced Miss V, and has her feet massaged some more too. The pretty blonde promptly now comes up with a thick patterned scarf and ties it firmly between Lauren's teeth. The hot raven-maned babe groans with pleasure and responds very. warmly to another round of attention, especially toward her well-worshipped soles!
Left alone, those prefect feet now bound too, to struggle passionately in the warm water, Lauren is clearly having a great time. She loves being all helpless like this, and loves that it is her secret squeeze who has overpowered her like this. Not really overpowered, we guess, as she responded very welcomingly to her restraining, but we know what she means. dominated, and loving it.
After more straining and positioning in that tub, the beauty wants it to continue and yearns to be bound and gagged on her own bed, left there to sleep the night, with the chance that Miss V might just steal in in the middle of the night to enjoy her. She is hogtied with white rope too, to ensure she feels the real deal, and with a new tight white handkerchief gag pulled back in her mouth. Oh she is LOVING these sexy cleave gags, and moves her delightful body a lot – in ways which would connote this.
Miss V is happy to leave her buxom, beautiful lover shut away in here while she goes through to the other room for wine and nibbles. Later, when Miss Louise is ready, she'll saunter back through to her, to give her something to help her sleep. Mmmmmmmm. But for now, sleep is the farthest things from our minds because there is a very, very hot girl struggling tied and gagged in her bedroom, in need of something other than rescue this fair eve!

Starring: Lauren Louise, Miss V
Size: 1.25 GB
Duration: 00:21:51 min
Resolution: 1280×720
Format video: mp4
Preview:


Download link:
Lauren_Louise_and_Miss_V.mp4