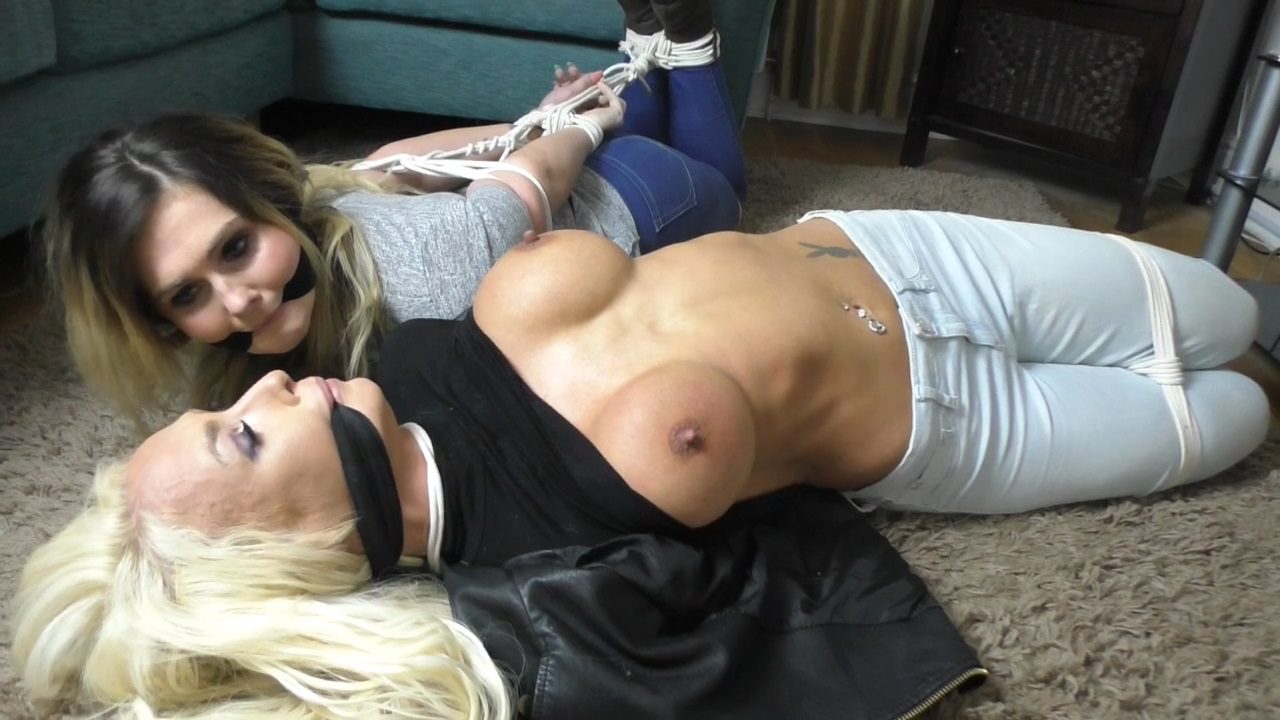 Roxi & Lucy in: Hot Ladies in Danger: The Booby-Trapped Agent Situation & a Chilling Figure From Her Past! (Full Adventure)
Roxi & Lucy in: Hot Ladies in Danger: The Booby-Trapped Agent Situation & a Chilling Figure From Her Past! (Full Adventure)
An open crime case, gathering dust, has just been reopened by beautiful secret agents Keogh & Summers. They have big boobs too, if you like that. Now, law enforcement has had neither the time nor the inclination to pursue this case, so elusive is the criminal, the notorious Marmaduke Marlowe. Mr Marlowe is just one of those types who seem to get away scot free every time. There is never enough evidence against him, and he believes he walks on water. But if he hadn't sold smuggled goods to the trying-to-go-straight brother (Ronald) of hot blonde agent Miss Summers he might have slipped this radar. But there is no way the lovely Lucy, ably assisted by her equally well-endowed partner, the comely Miss Keogh, are going to let this shiz slide.
The following Saturday afternoon, with the duo agreeing to rendezvous at one of Marlowe's townhouses, from whence they have intelligence he is presently operating, but at this moment in time is at the Races (they're wrong about that, aren't they.), Lucy lets herself into the house and begins searching for clues. She is also searching for Roxi, who really should have been here by now. What she doesn't know is that Roxi is running late, due to something we can't be cheesed to make up right now. Anyway, Agent Summers is for the moment alone and thus ripe pickings for Mr Marlowe himself, who waylays her in an upstairs passage. This evil villain KNEW they were coming today, it seems, and he has a plan!
Ordering the beautiful agent downstairs, something cold and hard jammed into her back, he chuckles at his upcoming diabolical plan, which we'll find out about soon enough!
When Agent Keogh arrives, it is to a most unusual sight! At first she doesn't notice the bound, booted blonde in her tight jeans and leathers standing on something in a back room she has entered. A quick 'mmmmmppphhhh' later and she is alerted to the presence of the very tied and gagged Lucy, stood up on a box and rigged to some kind of a device. The frantic captive seems very keen for Roxi not to approach her. Roxi, no slouch (honestly), quickly deduces the booby trap but knows not for the moment how to proceed. Just then, the decision is made for her when Marlowe steps up behind and takes control. Advising her not to try anything, lest her pal here get blown sky high, Roxi must submit and is soon rough-trussed and gagged at the wriggling Summers' booted feet.
Pigbound, a tight (very tight, actually) thick black gag tied between her teeth, a heavily gag talking Roxi is now rendered helpless. Marlowe has them both and heads off to move the girls' cars out of sight, leaving them tied up back here. Oh and they sure do give us a show until he comes back to hogbind the struggling Agent Summers alongside her now urgently gag-effusing colleague. The girls are groped some more and mocked by the evil smuggler, who then leaves them bouncing and writhing on their big tits.
Later, and it seems there is somebody else sniffing around outside. Marlowe, who intends to interrogate this feisty pair, must hide them out of sight! Frantically dragging them, still very hogtied, into another room, he locks them inside until he can clear the coast. The babes twist and buck, Lucy with her big tits exposed and 'massaged' for good measure, wondering what the fiend has planned for them next. Lots!
Well-bound with black sticky tape on chairs, the girls are not in the mood for divulging the answers Marlowe is demanding, and so one by one both have their lips sealed with strips of tape. They are furious, humiliated and more than a little concerned as to his intentions. Seems like he has everything worked out and after revealing (their reactions to this are priceless) that in fact the booby-trapped/rigged box was a hoax, he nevertheless deliberates over whether or not to torch the house, along with the helpless ladies here, and any evidence!!
The desperate secret agents whip around in their chairs, keen to get at him, but he has even taped their bound ankles back under them to their chairs. Unable to speak or move a whole lot, they are at this nutter's mercy. And he holds a grudge!
Having photographed the two incensed hostages – he intends to get answers partly by showing their superiors what he has captured here, he gropes the bound women some more before leaving them to rant and rave into their sticky tape gags. Good luck trying to open your mouths with that stuff slapped on there, ladies! Mmmmmmmrrrrmmmmmm!!What a great, old school, spygirl romp this is. So much fun making it – the girls are wild! We think they really enjoyed it too. Maybe we'll ask 'em later, when we take the tape off!

Starring: Roxi Keogh, Lucy Summers
Size: 1.4 GB
Duration: 00:27:54 min
Resolution: 1280×720
Format video: mp4
Preview:


Download link:
Roxi_and_Lucy_in_Hot_Ladies_in_Danger.mp4