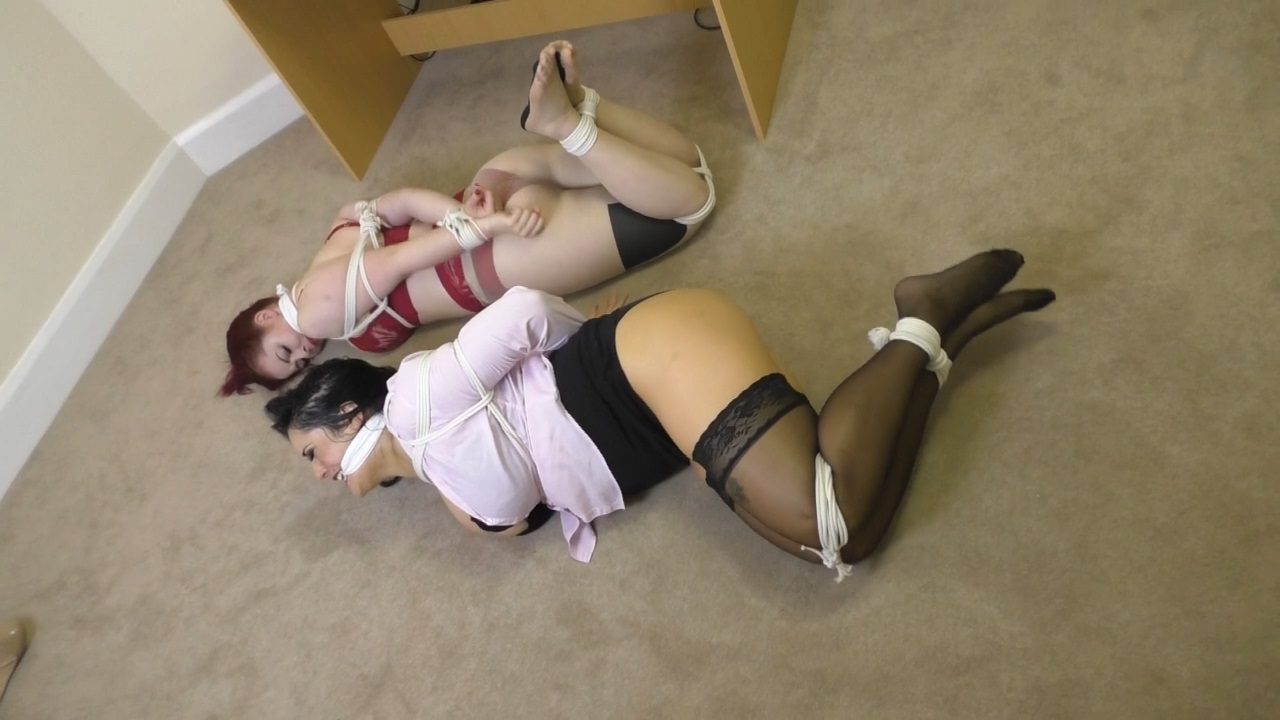 Jaye & Elle in: Rolling Around, Gag-Ranting & Raving, it Could Not Have Gone More Wrong for the Big-Boobed, ShowCar-Robbing Secretary-Poser! (Full Adventure)
Jaye & Elle in: Rolling Around, Gag-Ranting & Raving, it Could Not Have Gone More Wrong for the Big-Boobed, ShowCar-Robbing Secretary-Poser! (Full Adventure)
As if two hot, buxom babes rolling around in secretarial business and underwear, respectively, tightly cleave gagged up and in their stocking feet wasn't enough (and these two KNOW how to give you the struggle you require) we've also included a hot ballgagging sequence previously seen in one of our popular and oft-requested (you know who you are!) gag-type compilations. Why have we included it here? Because it fits the scene so damned well. Honestly, by the time you get to the end of their super-deluxe cleave gagged all-over office floor romp, if you've enough left under your hood, you might want to see the feisty girls having thick balls strapped in their mouths. If that's your tipple, you're in. If instead you just care for the meat between the slices, then you are in Cleave Gag Paradise, where the handkerchiefs are thick and the knots at the backs of their lovely heads – TIGHT!
We begin with the deeply pretty Jaye seated at her desk. In pink blouse, pantyhose, and heels, the impressive redhead is looking good – far better than the quality of her work, for sure. She works, by the way, for a Mr Arthur Lozenge, of Lozenge & Sons' Classic English Gentleman's MotorCars ShowRoom. She does all of his filing, empties his dustbins, and occasionally sits in his lap if he has been very good.. In fact, last year, after receiving a 500 quid Xmas bonus, she did that thing for him in the Jacuzzi – ahem – but anyway – to the present day! And a rather exciting one for us it is too.
Comely Jaye is interrupted mid-type by a big-titted siren in tight jeans and a black top standing out well away from her belly, owing to those fantastic, whopping boobies of hers. But it is not how she looks that grabs Jaye's attention, but rather what she is doing. Wasting no time, she announces that she'll be robbing the showroom today, and intends to pose as the secretary here when she signs off on some new import models. Those models will be going to one place – her stash house, and while she is here, and when she is done, she'll be stealing the old Bentley out front, which she knows Jaye has the keys for. For now, she needs to get her stripped and change into her clothes.
Binding and gagging Jaye and hiding her under the desk, Elle is soon typing away, keeping up appearances. A strange chap out on the forecourt is STILL out there, and just in case he should venture this way, Elle is ready to look and act the part until he fucks off. But rather than leave, he soon enters the office, demanding to know where the fancy show cars are at. Elle doesn't like his manner and being a bad girl, gives as good as she gets, while Jaye (her muffled grunts excused away as a movie clip she is watching on her PC, which the guys seems to go for) struggles and gag fumes at her feet.
With the dickhead finally vamoosed, Elle sneaks off to start stealing. She warns Jaye to stay quiet and still – or else – in her absence. Of course, Jaye heeds not and soon has her nude heels off, her glorious nylon feet becoming an integral cast member as she writhes about helplessly on the floor, straining at her gag, chewing the thick cloth betwixt her pearly whites. She has been tied up way too tight to escape, and the tension, in all cases, is rising. Imagine her shock then when suddenly the door bursts open and a tied and gagged Elle is shoved back into the room!
Yes, he had nabbed her out near that showroom, there being no-one else about and all, and now he is roping the squirming cutie up right there on the floor, while the bewildered Jaye gag mumbles nearby. What in the. anyway, with both women bound and gagged, some real robbing can be done. He takes the precaution of locking the office door behind him on his way out. It would be no good if one or both of these juggy bimbos managed to hop on out into the daylight, now would it? He checks their gags are tight and secure enough and leaves them where he found them. We take up our ringside pew once more and watch as two hot chicks rattle and roll around all over the floor now, firmly cloth cleave gagged and VERY struggly!
After much bare-sole pantyhose an stocking feistiness, the girls manage to sit up and who knows how far they would have gotten if they weren't revisited, ballgagged quite massively, and left to rinse and repeat. Which is precisely what we'll do now with this description, if you'll allow us? We mean, we think you can deduce what is happening here in this particular office: More wriggling, straining, and gag effusing than you can be expected to handle in one sitting. And that's why you love us – because we have our ladies take you out to the very precipice of pleasure. Derive lots of it then, while our pair of gagged and trussed sexpots give us something to mull over!

Starring: Elle Pharell, Jaye
Size: 1.25 GB
Duration: 00:23:01 min
Resolution: 1280×720
Format video: mp4
Preview:


Download link:
Jaye_and_Elle.mp4