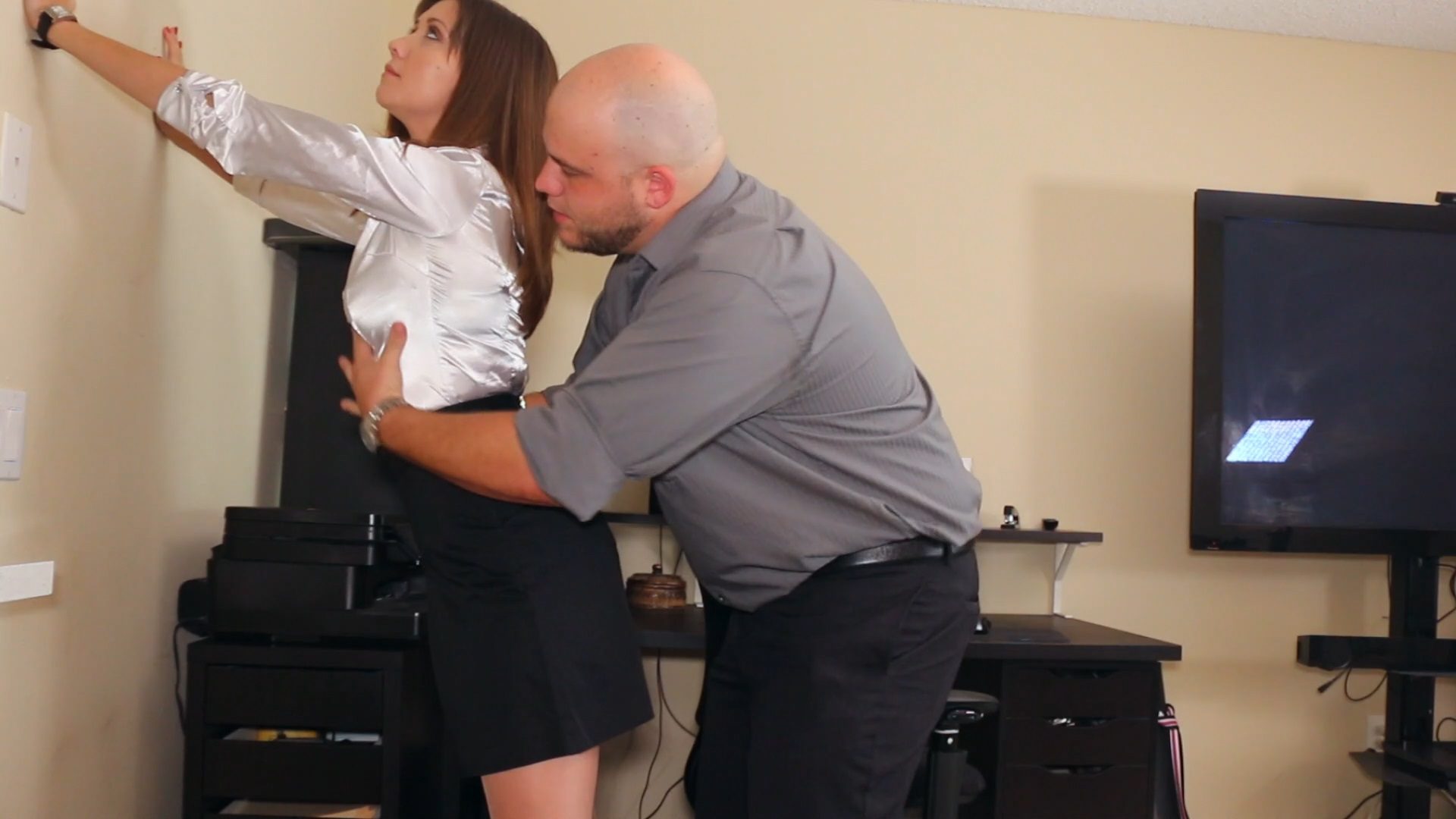 Dramatic Detention – Captive Chrissy Marie
This clip stars Chrissy Marie playing Zoe Anderson, a political reporter who has been investigating the mayor. The scene opens with Chrissy seated at her office. She's wearing a business outfit with a white, long-sleeved satin shirt. On her left wrist she's wearing a watch with a black leather strap. She hears a knock at the door and says come in. To her surprise it is a police officer, and she asks if there is a problem. He tells her he has a warrant for her arrest. She asks how is that possible? He tells her it's for an unpaid parking ticket, but she insists to him that she paid that, as she rummages through her desk for the receipts. He just says "I'm sorry Miss Anderson but I have to take you with me, I'm just following orders." Thats when she realizes that the mayor must be behind all of this, and the officer confirms her suspicion. After a long pause Miss Anderson asks "Are you going to handcuff me?" The officer tells her he is under strict orders to handcuff her and that the mayor wants proof. She insists there must be some way around her being handcuffed, perhaps he can do it once they get down to his car? She doesn't want her colleagues to see her in handcuffs!
"My orders are to handcuff you behind your back right here, with these handcuffs on those wrists for everyone to see. I was even told to make sure your sleeves were rolled up, so everyone could see the handcuffs." She stares at her hands for a few seconds, knowing she's going to be put in handcuffs soon and there was no way around it, so she rolls her sleeves up. The officer mentions it might be more comfortable if she took her watch off. She replies "No, I'd rather leave it on. I always wear it and it would feel even weirder without it. Then she asks if she can't hold the cuffs before he puts them on, and he hands them to her for her to inspect. As she holds them she says "They are much heavier than I thought they would be. I've never been handcuffed before. I've very nervous. I was not expecting I'd have to wear these today." The officer insists he really needs to cuff her now, and asks her to please stand with her hands up on the wall. Miss Anderson complies and what follows is a long, emotional handcuffing process. She is first patted down extensively while looking very nervous, thinking about what is coming. With her hands still against the wall and her sleeves rolled up, the officer asks if she's ready, then takes her right hand and slowly brings it behind her back. He puts a handcuff on her right wrist, with her palm facing out. Before he takes her left wrist, the officer asks, "Do you have a preference if you want the cuff above or below your watch on your wrist?" and she replies "Do you give everyone this option?" He tells her "No, just you". She decides to be cuffed below her watch, closer to her hand. So the officer takes her left hand, slowly brings it behind her back, and places the handcuff between her hand and her watch. She lets out a deep breath and starts to play around with her watch and fingers in the cuffs.
"I bet the mayor would love to see me like this, wouldn't she?" she asks. He tells her in fact he was told to take a picture of her hand in the cuffs so that they mayor could have a picture of the great Zoe Anderson in such a humiliating position framed on her desk. He tells her there would also be a bonus in it for him if he could get her to wear a ball gag. He pulls it out and she exclaims "What the hell? That doesn't look like standard police equipment to me!"
She grows a bit annoyed at the whole situation. "You know what? Do it. Put it on me and take your picture." The officer, not sure what to do and never thinking she would agree, puts the red ball in her mouth. He straps it behind tight behind her head then takes a picture of her gagged mouth. While still gagged she asks "are you happy?" The officer feels bad and tells her he won't march her out of here wearing that thing. He removes the ball gag and he asks if she is ready to go. She brings her hands around to look at the cuffs one more time "As ready as I'll ever be" she says. Miss Anderson holds her head up proud and walks confidentially out the door knowing in the end all this harassment means she's doing the right thing.

Starring: Chrissy Marie
Size: 458.56 Mb
Duration: 00:08:55 min
Resolution: 1920×1080
Format video: mp4
Preview: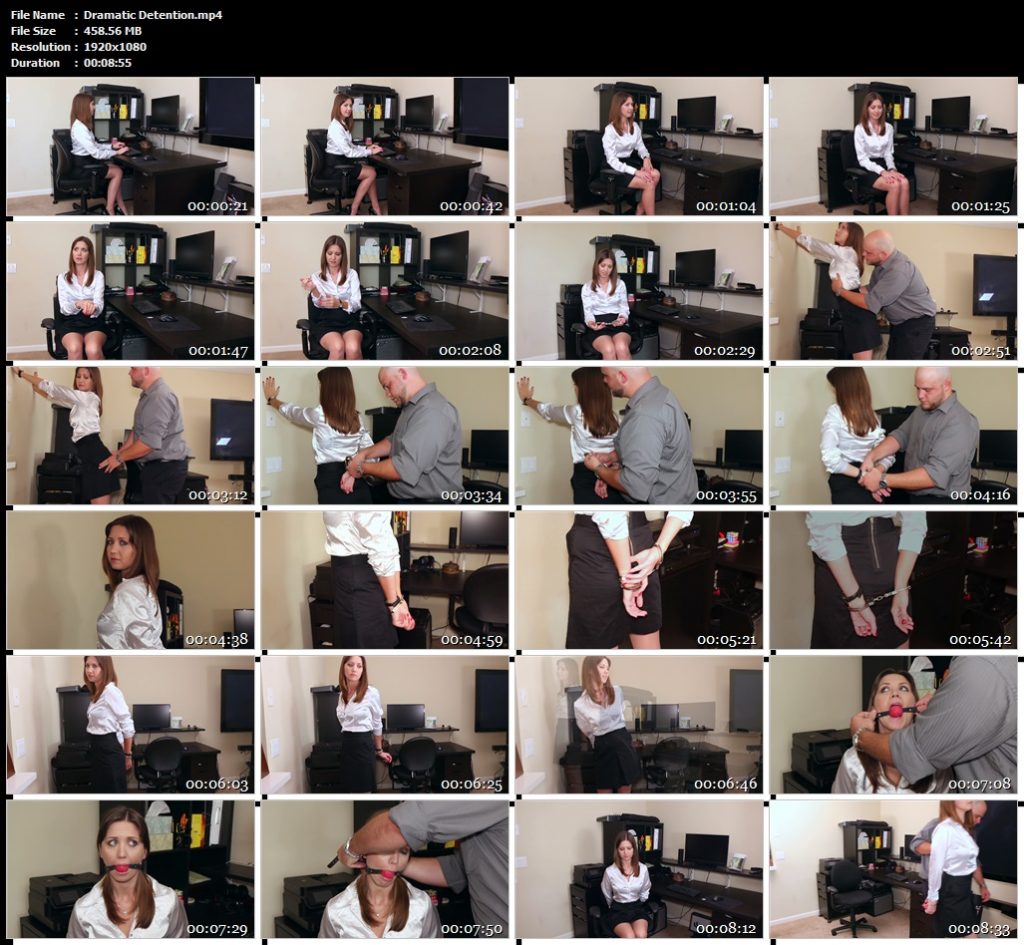 Download link:
https://wayshare.cc/jtctyedo6kxk/Dramatic_Detention.mp4.html