Bad Day For The Babysitter – Captive Chrissy Marie
Chrissy is already bummed out that she has to babysit today, she would much rather be with her boyfriend, but she needs the extra cash. She talks to him on the phone telling him she just dropped the little brats off at school and she is going to take a nap before she has to pick them up later. She hangs up and falls asleep on the sofa, unaware that a man broke in while she was out and he is in the house watching her sleep! Once she is completely knocked out, he sneaks up behind her, quickly hand gagging her to keep her from screaming, although she certainly does try her hardest! He pulls out a wad of panties and stuffs them into her mouth and you can tell she is really distressed especially when he tightens the cloth gag over her mouth. He runs his hands up and down her body, ordering her to cooperate if she doesn't want him to hurt her! He starts tying her wrists and ankles as she struggles hard. He takes a break to strip her of her skirt and opening up her blouse, leaving her humiliated and mmpphh-ing in extreme disagreement! She tries to beg through her gag for him to stop touching her and just let her go, but he can't understand a word of it and just add more rope to her legs before tightly binding her elbows.
Before he leaves, he starts to remove her gag, which makes her hopeful, but he just pulls it between her teeth into tight cleave gag, even worse! He tells her he will be back for her, and she is left helplessly bound and gagged, frightened and confused. She squirms and struggles and the couch for a while but can't get loose. She rolls onto the floor and continues to try and escape, but she remains unsuccessful. She worries as it gets closer to go pick up from school. They will be left there and the parents will never forgive or hire her again! After some time the man returns like he said he would, and she has no idea what's in store for her as he lifts her up and carries her over his shoulder, still bound and gagged, up the stairs and to the bedroom as she struggles and screams all the way! She definitely picked the wrong day for babysitting!

Starring: Chrissy Marie
Size: 744.5 Mb
Duration: 00:14:20 min
Resolution: 1920×1080
Format video: mp4
Preview: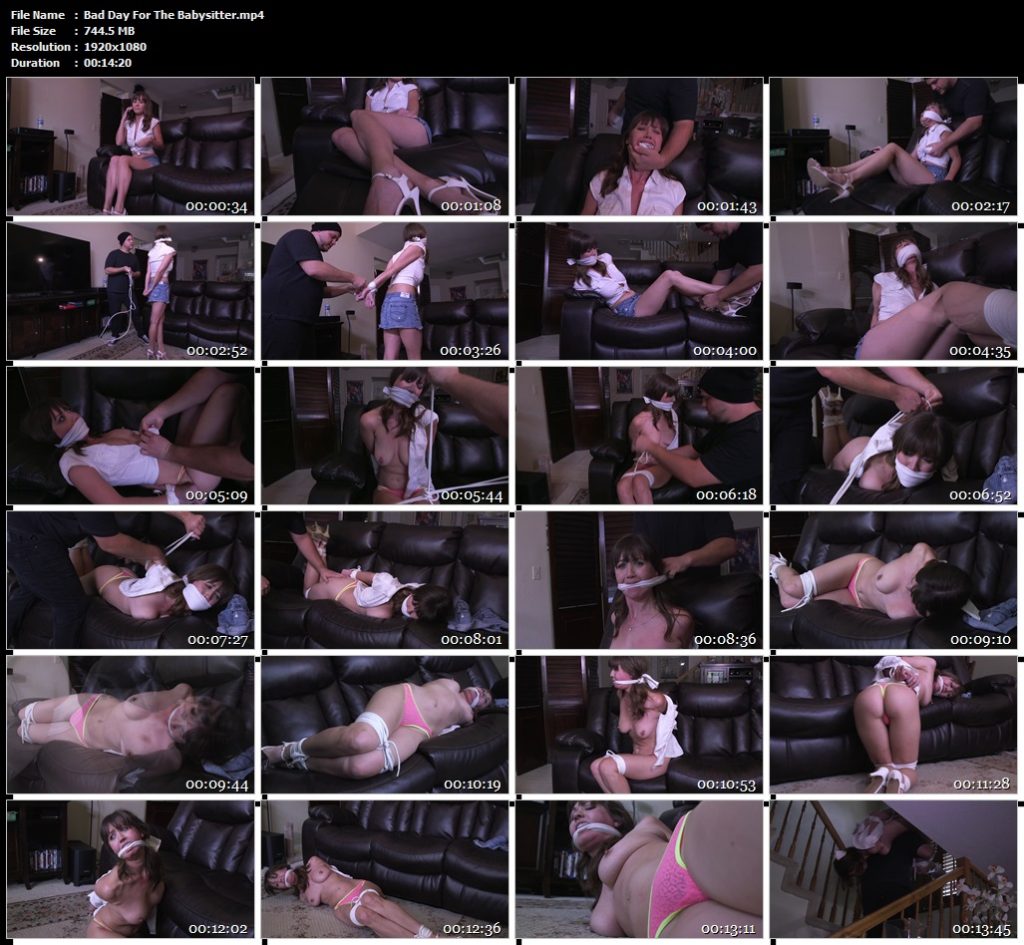 Download link:
https://wayshare.cc/utzm7bmggafd/Bad_Day_For_The_Babysitter.mp4.html