Chicken Winged Hogtie Gone Awry – Captive Chrissy Marie
This POV clip features a silent camera man & off-screen tying
Today we tried a role play so that Master Matt could practice tying a chicken winged hogtie without all my struggling and squirming around I usually like to do when I'm the damsel. I really enjoyed my first time chicken wing hogtie at fetishcon, so I decided that in this scene I wanted to be tied up and I would pretend to be the stressed out CEO and he would be the employee I convinced to meet me at my place after work if he wants to stay on my good side. He arrives at my apartment camera POV as I wear my silky robe, black stockings and classic high heels pumps. He check me out and is in shock as he has never seen me like this around the office before. I strip off my robe to reveal my sexy lingerie, and encourage him to touch my ass. Then I tell him the rest of my plans, and how I just want to feel out of control for a while, and the best way to do that is for him to tie me up. I'm so ready to be tied up and gagged nice and tight and have an enjoyable time rolling around in my bonds, but then things didn't go quite as planned….
It turns out today was not the best for being tied up. Right from the start as he tightly tied my hands and elbows together, I could tell things were a bit stiffer than usual where I am usually very loose and flexible. By the time I was in the chicken wing, I was already suffering and wasn't even hogtied yet! I didn't want to admit it, so I just let him keep tying me while I pondered my ability to endure an elbow to crossed ankles hogtie. Luckily for me, he did not tie me to that extreme, but it was still very very tight! Now that I was all bound up it was time to start filming again. I command him to put a big ball gag into my mouth that just barely fits. Now I feel really helpless and vulnerable, just how I wanted to be. I try to roll around and enjoy the bondage like I had hoped, but it's just so uncomfortable and I realize I may have gotten myself into too much but I endure it as long as possible. The suffering throughout is very real and visible, and the scene ends as the bondage just about brings me to tears!

Starring: Chrissy Marie
Size: 529.13 Mb
Duration: 00:11:45 min
Resolution: 1920×1080
Format video: mp4
Preview: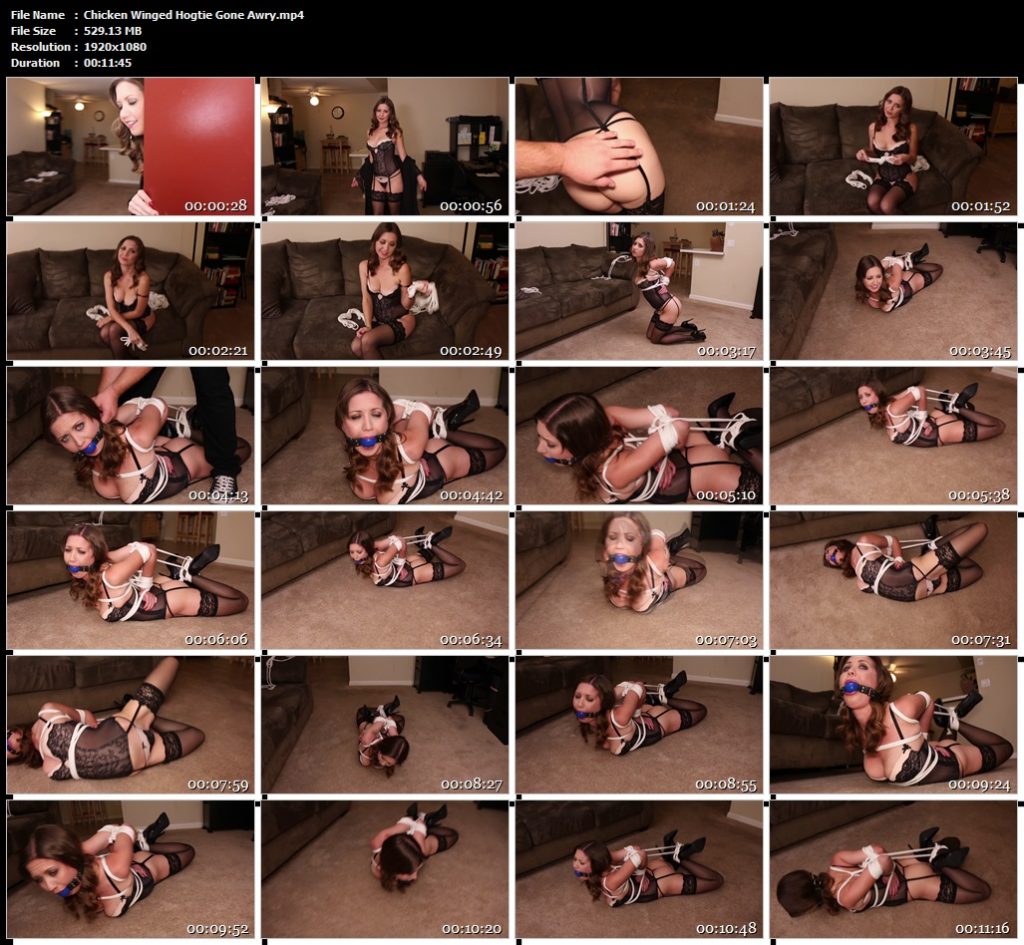 Download link:
https://wayshare.cc/jnfcpfrv09vk/Chicken_Winged_Hogtie_Gone_Awry.mp4.html