Saturday Surprise – Captive Chrissy Marie
Chrissy has had a hard time staying caught up with her work and decided that she would sneak back into the office on Saturday morning to finish some projects without her boss noticing that she's obviously overwhelmed with her work load. We see her rubbing her pantyhose covered legs and dangling her heels as she is just about to finish up and leave to get back to her weekend. She's takes off her glasses and just then the creepy janitor comes walking in to clean her office. Chrissy is noticeably surprised and feels uncomfortable and just wants to leave. The janitor questions her and tells her that she should not be here on a Saturday. It's his day to have the office to himself. He grabs her wrists and tapes them together behind her chair before she knows it! Confused and frightened, she begs him to stop, promising him she will leave right away and never come in to work on a Saturday again!
She starts calling for help, and although the building is likely empty, he shuts her up anyway by stuffing a cleaning cloth into her mouth and sealing it in with duct tape wrapped all the way around her head several times. Next he uses several layers of tape on her body and legs to secure her to the office chair. He tapes her ankles last and takes his time to remove her high heels, getting a nice look at her nylon covered legs and feet. He leaves her bound and gagged while he goes to finish up his cleaning duties, promising Chrissy he will be back for her soon. Chrissy doesn't like the sounds of that all! She struggles hard and tries to find a way out, rolling the chair all over her office, even using the corner of the desk to try to free her hands! After a frantic escape attempt she finally succeeds at freeing herself and removing her awful gag, now hopefully she can escape the building without the janitor catching her on her way out!

Starring: Chrissy Marie
Size: 594.09 Mb
Duration: 00:13:20 min
Resolution: 1920×1080
Format video: mp4
Preview: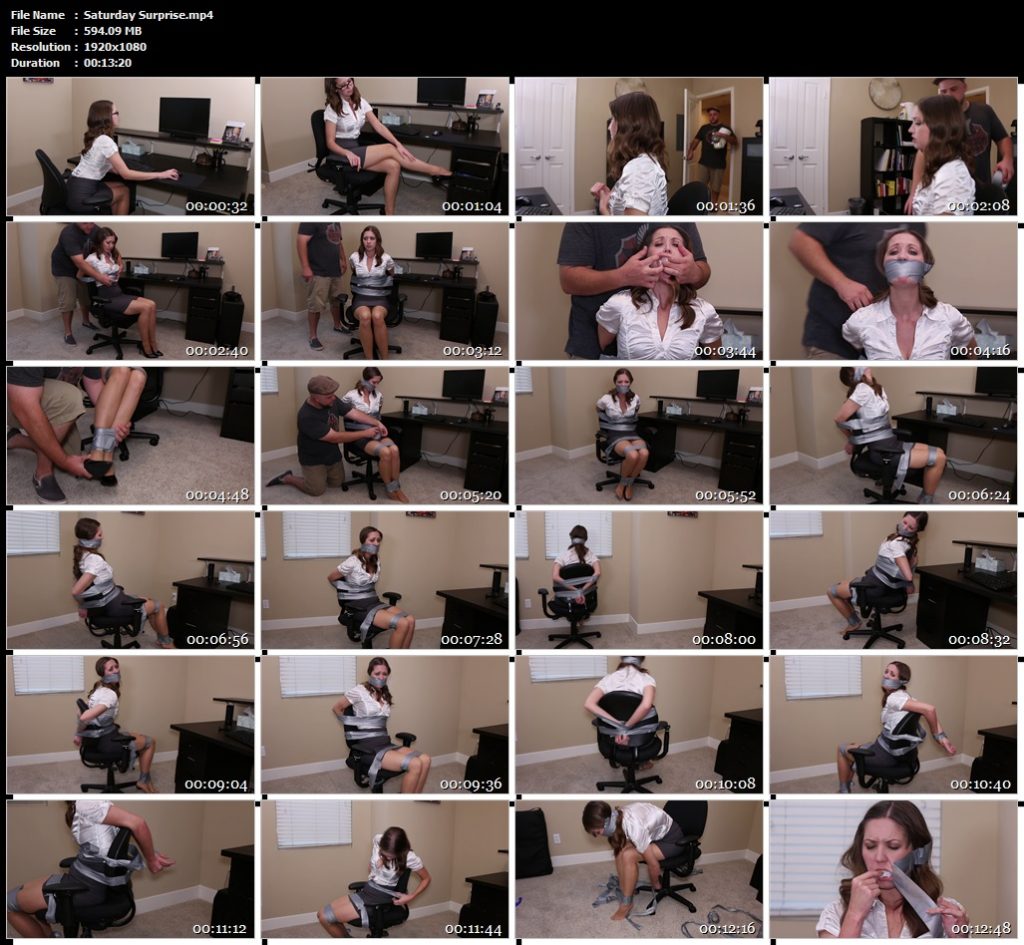 Download link:
https://wayshare.cc/swgdu26110u3/Saturday_Surprise.mp4.html