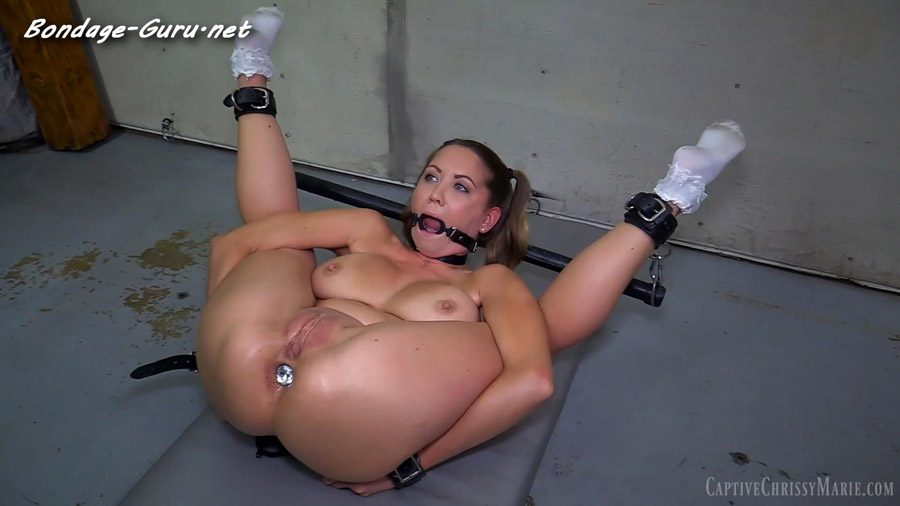 Captive Chrissy Marie – Chrissy's Slut Training HD
Captive Chrissy Marie – Chrissy's Slut Training HD
A special kind of training is in store for Chrissy today. Slut training to be specific, but with a twist. She will first be instructed to do some exercises and stretches to test her ability to follow orders. As requested she is wearing a slutty school girl outfit with no bra or panties complete with white frilly ankle socks, high heels and a slut collar. Her wrists have been cuffed and pulled down behind her neck with a chain connected to another chain locked around her waist. She also has a ring gag in her mouth. She is shy and nervous, not knowing what will be expected of her. To begin she is instructed to march in place being counted 1,2,1,2. The count keeps getting faster until she can't keep up with the pace. Then Master approaches her, removes her heels and lifts her top to reveal her breasts. He fondles her and briefly lifts skirt to grope her shaved pussy. Nipple clamps with bells are attached and she is then ordered to march again. By this time she is starting to drool uncontrollably from the ring gag in her mouth.
After she is warmed up from marching the waist chain is removed and her cuffed hands are brought down in front of her. Now it's time for some stretching. She is told to turn around facing away from camera get down on her knees then bend forward, tits and face on ground with ass in the air and legs spread. Then she is instructed to get into a downward doggy yoga pose then from that position push up to upward doggy and finally back again to kneeling. Master puts in a butt plug and she is instructed to repeat the above sequence again. Next she is told to stand and touch toes then stand up again. Now she is to spread her legs wide and then bend forward and touch the ground then side to side to touch left toes and rights toes. Then she is instructed to turn around and repeat the exercise three times. After her stretching is complete it's time for a especially slutty exercise. Her hands are cuffed behind her and her skirt is tucked up so her shaved pussy is full visible. The nipple clamps are removed a dildo in inserted into her pussy. She is made to repeat "this slut is your fuck toy sir, this slut is ready for fucking sir" repeatedly (obviously with difficulty due to the ring gag) while trying to keep the dildo from falling out. She tries to hold the dildo in but it doesn't stay in long. Master gives her three tries and as a result of failing she is told she will get punished with the cane. She is made to take off her skirt first then the cane is used to caress and examine her exposed flesh tapping away at all body parts. Master has another position in mind for her punishment.
Now we see Chrissy on the floor bound in a very humiliating, vulnerable and intense position. An extreme form of diaper position with her arms wrapped around her thighs and wrists secured under her back with leather cuffs and rope. A spreader bar attached to her ankles and positioned behind her neck makes it nearly impossible for her to struggle. Her ring gag and butt plug are still in place and now it's time for her caning. She is instructed to say "Thank you, this slut deserves its punishment sir" after each stroke. The strokes are administered with some spreading and fingering of her pussy and playing with the butt plug in between cane strokes. Towards the end he fingers her until she can't help orgasm. The final stroke of the cane is given and she is left there exposed and embarrassed. That's enough training for now but the little slut is bound to need more!

Starring: Chrissy Marie
Size: 948.50 MB
Duration: 00:19:31 min
Resolution: 1920×1080
Format video: mp4
Preview:


Download link:
Chrissys_Slut_Training.mp4