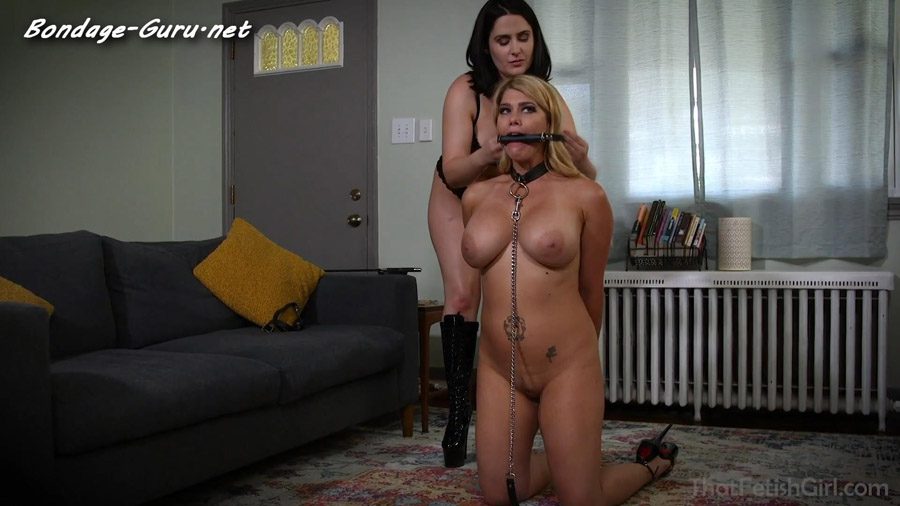 That Bondage Girl – More Than Just Neighbors – Carissa Montgomery & Tilly McReese
That Bondage Girl – More Than Just Neighbors – Carissa Montgomery & Tilly McReese
Tilly is sitting in her bedroom looking bored. She grabs a ball gag and leash and walks over to her submissive Carissa who is naked and kneeling on the floor.. She attaches a leash on Carissa's collar and pulls her off her knees. Carissa tries to resist but Tilly grabs her and pushes her up against the wall and squeezes her huge tits. She leads her over to the bed and makes Carissa lick & kiss her leather boots. Tilly says enough then gags her with a ballgag and leads her out of the bedroom.
Let's back up a couple of days though. Carissa answers her door and it's Tilly wanting to introduce herself since she's new to the neighborhood. Carissa welcomes her in and the two women sit on the couch and small talk. Tilly is instantly attracted to Carissa and they begin to flirt a bit. Carissa asks if Tilly wants to see a tour of the house. She agrees and they walk off. They're walking around upstairs and they come across a door which Tilly tries to open. Carissa rushes over and tells her that room is off limits. She playfully jokes around and tells her that this is her playroom and she would need to be a naughty girl in order to go in there. The next day Tilly receives a text message from Carissa asking her to come over. She explains that she's running a few errands but the front door is open and to wait in the living room. Tilly goes over to Carissa's and waits. But curiosity gets to Tilly so she goes to the room that Carissa said was off limits. She opens the door and finds all sorts of sex and bdsm toys laying around. There's also a laptop on the bed with lesbian BDSM porn playing in the background. Tilly doesn't hear Carissa come home. When Carissa doesn't see Tilly on her couch she knows exactly where she's at. She walks to the room and watches Tilly as she masturbates. Eventually Carissa enters the room, now dressed as a domme and holding a riding crop. She startles Tilly who tries to explain but Carissa tells her she's going to be punished and to get undressed. Tilly is extremely turned on and complies. Carissa grabs handcuffs and cuffs Tilly wrists behind her back. She gets Tilly over her knee and administers a spanking all the while sensually dominating and humiliating her.
The next day, Tilly is walking around Carissa's home doing her submissive chores and finds Carissa's laptop. She sees that her email account is logged-in and decides to read through her emails. She finds out that Carissa has been submitting to a Mistress and is no longer interested in being a domme. Tilly hears Carissa come home and shuts the laptop lid. Carissa walks in and tells Tilly that she's going to take a nap and is not to be disturbed. Tilly smiles, agrees with her Mistress and gets on her knees while Carissa leaves the room. Tilly decides that she now wants full control over Carissa. Tilly goes upstairs and finds Carissa napping in bed. Tilly grabs a pair of handcuffs and a bit-gag from her nightstand and gets in bed with Carissa. Tilly gets on top of Carissa and starts making out with her; Carissa wakes up startled and tries to get her off but is turned on. Tilly grabs Carissa's hands and cuffs them to the bed. Carissa pleads for her to stop. Tilly tells her it's too late and she knows everything then shoves a the bit gag into her mouth and blindfolds her and leaves for a minute. Tilly comes back with the laptop and lays in bed next to Carissa. She open the laptop and starts emailing her Mistress explaining that Carissa is no longer a domme and is in training as a submissive to Tilly.
Tilly is now in domme gear and is leading a naked Carissa into the room. She explains that one of her roles as submissive is to be her personal pet. Tilly attaches a leash to Carissa's collar and walks her around like a pet. Tilly has Carissa fetch a ball gag from the floor with her mouth. She administers a spanking and gives carissa the saem treatment that she received. Finally, Carissa is on all fours and Tilly gets in top of her and fondles Carissa's tits, smacks her ass and tells her to take her upstairs to the bedroom. Carissa is on her knees as Tilly explains to Carissa that she has an option to still be a domme or continue to be a submissive. Carissa gets second thoughts and decides to try to be a domme again. Carissa stands up and starts demanding Tilly to submit. Tilly plays along for a bit but eventually Tilly has had enough and grabs Carissa by the hair. Carissa tries to fight back but gives in. Tilly, sitting on the bed, grabs her phone and calls Carissa's old Mistress to tell her that Carissa is now her submissive slut.
*This was a custom video

Starring: Carissa Montgomery, Tilly McReese
Size: 1.87 GB
Duration: 00:40:03 min
Resolution: 1920×1080
Format video: mp4
Preview:


Download link:
More_Than_Just_Neighbors.mp4