Roped Prose Productions – Black Canary; Cry of a Climax
Roped Prose Productions – Black Canary; Cry of a Climax
Lil Missy UK returns as the leather-clad crime fighter Black Canary in the second part of "Black Canary; Out on a Wing".
Following on from the previous episode, Black Canary is still being held captive by notorious arms dealer Miguel Nevada, in the apartment of one of his henchmen.
Having rendered the superheroine's powers obsolete by silencing her mighty cry with a huge ball gag that crams into her mouth, stretching her luscious lips wide apart, Nevada now plans to transport the avenger to a more secure location but must first weaken her resolve before attempting to move her.
Despite possessing special powers, extraordinary agility and super strength, Black Canary is, after all, a mere female and like all women, she can be susceptible to an orgasm… or two.
With the tight bonds still squeezing into her beautiful leather-clad body, keeping the captured crime-fighter helpless in a strict chair tie, the vile villain secures a devilish device firmly between her legs. Making sure the huge vibrator is pressed tightly against her crotch, Black Canary looks on in disbelief as Nevada switches it on and soon she can feel the pulses begin to surge through her pussy.
Writhing helplessly in the tight bondage, Black Canary moans and groans as the vibrations get stronger with every passing second making her weaker. Still struggling furiously, her energy and her resolve are beginning to wane as the once mighty maiden of justice starts to feel utterly powerless in the grip of the insidious instrument of torment.
Rolling her head and rolling her eyes back underneath the mask that hides her true identity, Black Canary begins the long journey to sexual and wanton oblivion as the vibrator continues to ebb away at her broken spirit. The helplessness of her situation, the frustration, the desperation all begins to mount up inside of her as she can feel wave after wave of pleasure flowing through her body.
Having silenced her Canary Cry with a ball gag, Nevada decides to muffle her moans even more by securing a cloth over her mouth which only serves to push her gag in tighter.
The room is filled with the constant buzzing of the vibrator, Black Canary's helpless moaning and the creaking of her leather jacket as the tight ropes rub against her uniform.
Slowly, the vibrations continue to defeat the desperate detective, bringing her closer to an eventual and unstoppable orgasm. On and on, the diabolical device goes, taunting the helpless heroine with its trance-like monotonous tone.
Writhing lustfully, the superheroine can think of nothing but coming long and hard as she is fully under the influence of the cruel implement now, her every thought one of total and utter defeat.
Then, with a loud muffled groan, the once mighty maiden comes uncontrollably, shaking her body vigorously as the intense orgasm rocks her world. But if she thinks it is finally all over then the Black Canary has another thing coming as Nevada plans to keep her like this for some considerable time, knowing full well that after several hours and several orgasms, the conquered crime-fighter will be ready for her final journey…
What will happen to Black Canary now?!?

Featuring: Lil Missy UK
Size: 371.5 MB
Duration: 00:10:27 min
Resolution: 1280×720
Format video: mp4
Preview: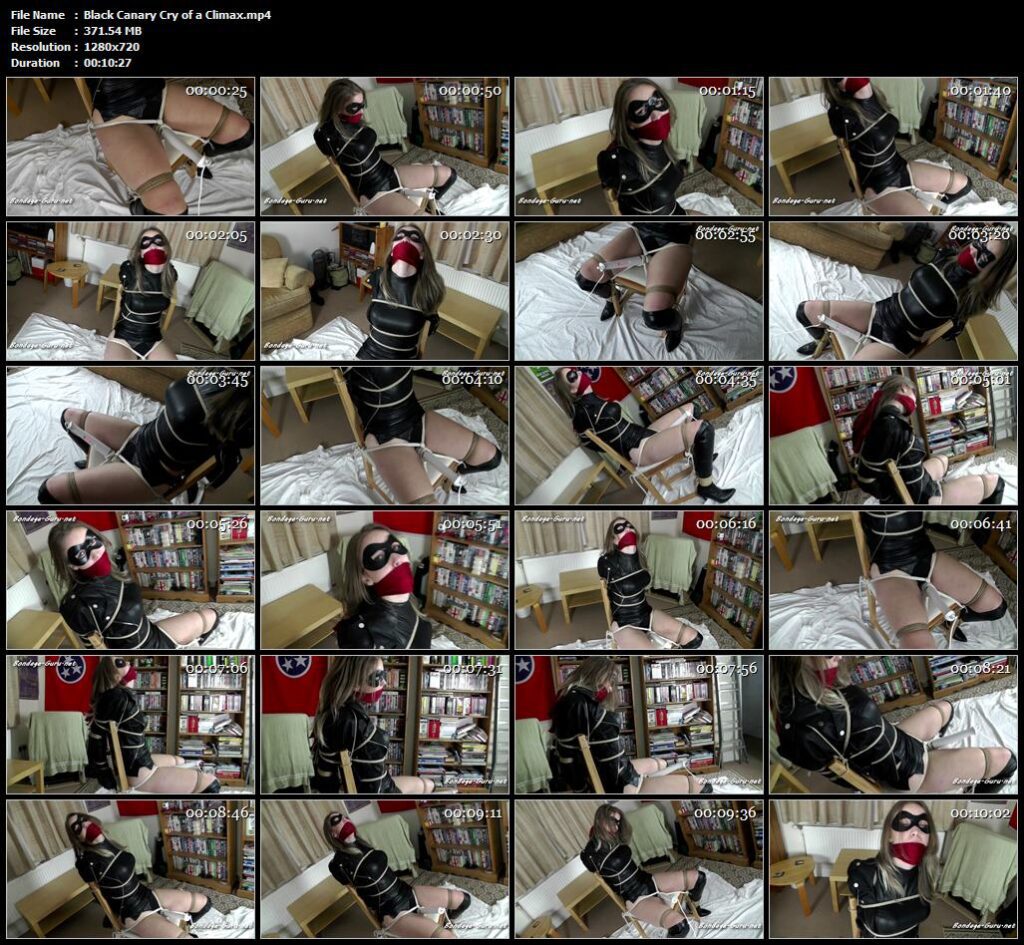 Download link:
Black_Canary_Cry_of_a_Climax.mp4