Roped Prose Productions – Lil Missy UK; Black Canary, Fight or Flight
Roped Prose Productions – Lil Missy UK; Black Canary, Fight or Flight
The final stunning part of Black Canary; Out on a Wing!!!
Lil Missy returns as the captured crime fighter in the final chapter…
"Black Canary; Fight or Flight!"
When we last saw the bound blonde beauty, the Black Canary was tied to a chair with an insidious vibrator buzzing mercilessly away between her booted legs, weakening her resolve and fiery spirit with every passing second.
Orgasm after orgasm shook her leather-clad body as the waves of pleasure soon started to mount up!!!
Finally, after what seemed like an eternity, the defeated do-gooder slipped into a deep rest – completely worn out by the incessant instrument wedged between her thighs.
Upon waking, Black Canary is horrified to discover she has been mummified from ankles to shoulders in clinging black pallet wrap and packing tape!!!
Struggling instantly, the cocooned crime fighter battles bravely against the constricting wrap but it is simply no use, the tape keeps it squeezed against her beautiful body as she writhes and squirms on the floor of her captor's apartment.
It seems her foes plan on transporting Black Canary overseas to a special facility that keeps superheroines locked away for good!!!
The desperate do-gooder has only one course of action left to her then… escape this mighty mummification or be flown away in the hull of a cargo plane – bound for an unknown destination!
Black Canary's eyes grow wide under her black mask – apart from her boots, it is the only piece of clothing her captors have left on her. She struggles courageously and rolls helplessly around on the floor but it is no use, she just cannot break loose from the shiny black wrap.
"Fragile" reads the lettering on the packing tape that holds the pallet wrap against Black Canary's body and right now, the captured crime fighter is very fragile indeed!
As the seconds tick away she knows it is only a matter of time before her captors come to take her away!
Black Canary realises it's now or never… she must escape before it is too late!
The superheroine must fight… or she will take flight!!!
Fear not folks… Lil Missy WILL return as the Black Canary… one day!!!

Featuring: Lil Missy UK
Size: 338.4 MB
Duration: 00:10:27 min
Resolution: 1280×720
Format video: mp4
Preview: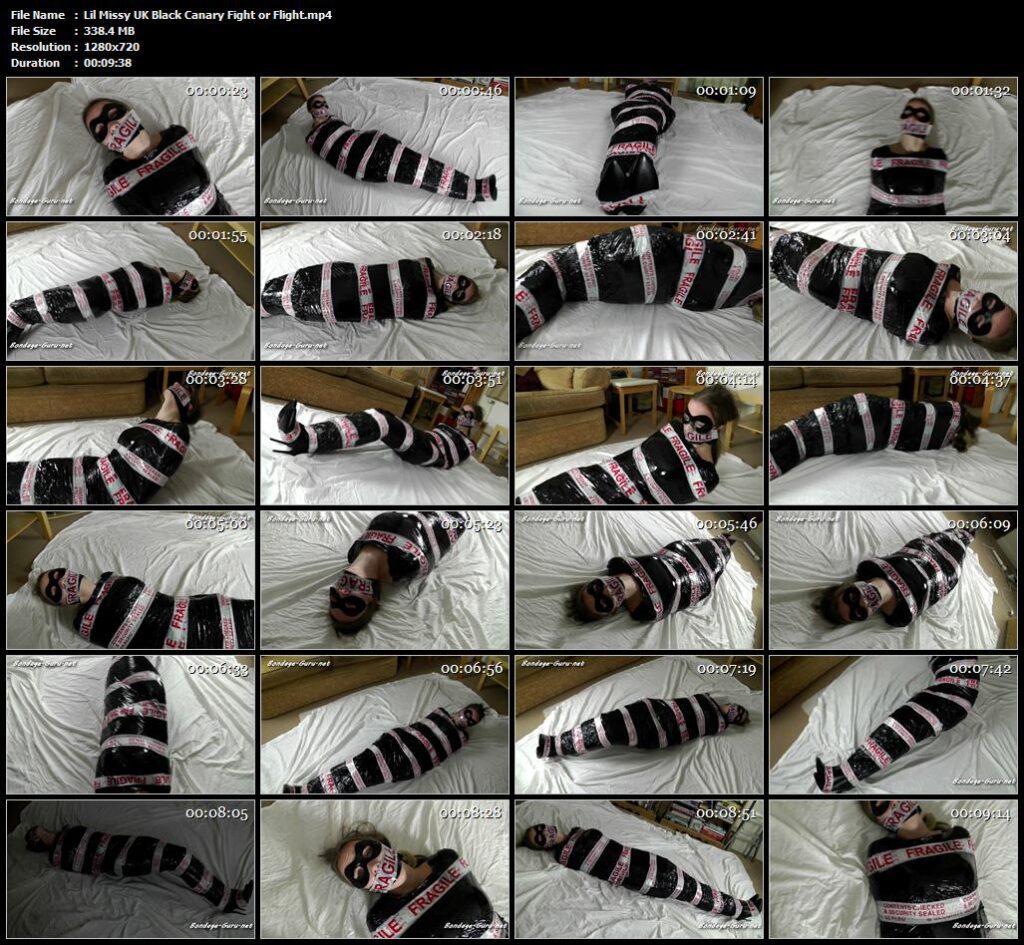 Download link:
Lil_Missy_UK_Black_Canary_Fight_or_Flight.mp4