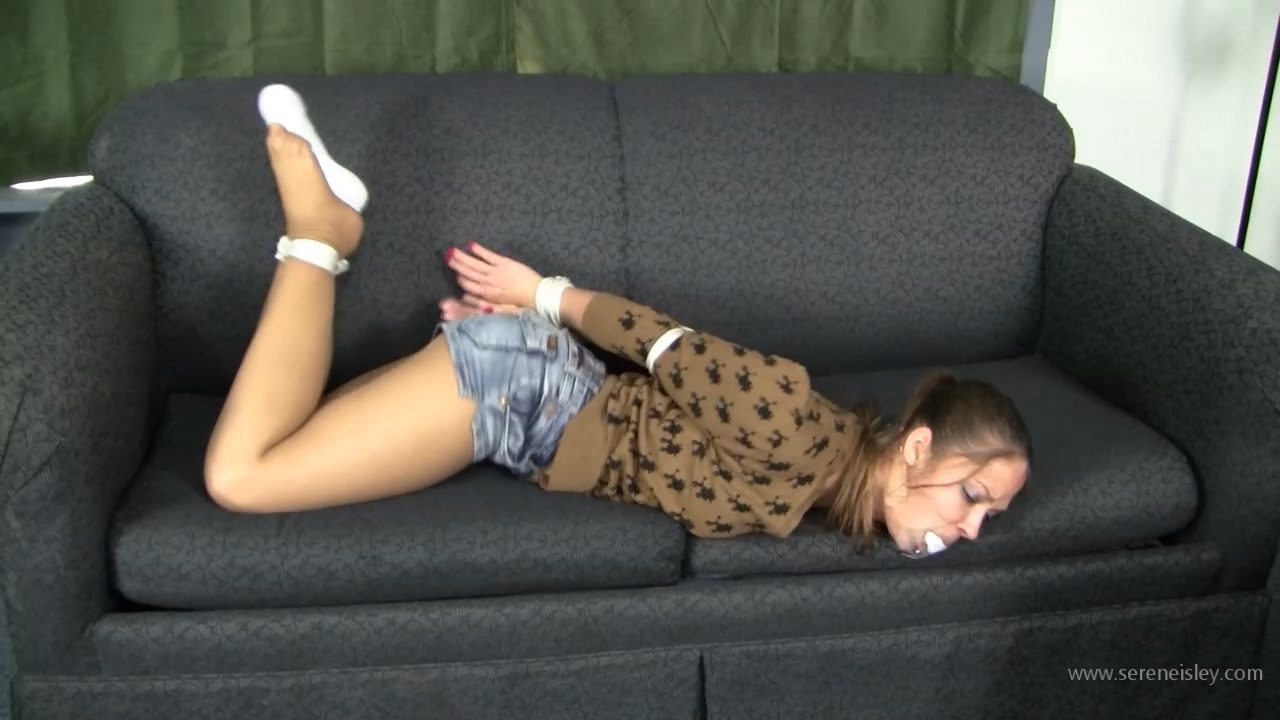 Anna – The Babysitter Isn't Happy – Serene Isley's Bound Beauties
Anna really really wants the boys to go to bed. They've had a reasonably good day so far, but they are being extra stubborn tonight. She tries to tell them that if they don't go to bed now, then she won't be able to come back again. Finally, she agrees to one more game before bed and the boys happily nod in agreement and run off to get their supplies.
After being tied for a while, Anna is less than thrilled about this so called game. She complains to them that it's too tight and not the way they usually do it when they play this game. She's very suspicious of what they have up their little sleeves. She tells them that if they let her out now, they can avoid being grounded and she won't tell their father what they did. She proclaims that she's the one in charge and that she is not having fun as they start to walk away to get more stuff to add to their lovely babysitter.
While they are gone, Anna struggles hard trying to get out of their tight ropes, but it seems they've done their homework. Everything is so tight and cinched in the middle that she can't get out. She calls out to them to come back and let her go, but when they come back, things just get worse for poor Anna. They pull off one of Anna's socks and dangle it inches from her faces. When she figures out that they plan to gag her, she tells them no, but there isn't much she can do about it.
The boys stuff the sock in her mouth and wrap clear tape around her heard very tightly. Now the noises coming from their babysitter are music to their ears. She whimpers and even tries to yell at them through the gag but they are enjoying her squirming helplessness way too much to worry about her yelling. They decide they need one more thing and run off to get another rope.
Anna gets moved to the floor and hogtied, her wrists to her ankles. She arches back, pulling against the rope, but it won't budge. She wiggles her feet, rolls to her side, anything trying to reach the knots. After a while, she hears the door open and their father walks in. She cries out to him hoping he will finally let her go. Instead, he looks at her and tells her that he needs to go have a talk with them about right and wrong and tells her to sit tight. He leaves the room and she calls out after him looking very confused.

Starring: Anna Lee
Size: 427.65 MB
Duration: 00:12:41 min
Resolution: 960×540
Format video: mp4
Preview:


Download link:
The_Babysitter_Isnt_Happy.mp4 – 427.65 MB