AMERICAN DAMSELS by Jon Woods – Always In Trouble – The Complete Video
AMERICAN DAMSELS by Jon Woods – Always In Trouble – The Complete Video
This full feature of retro-style damsels in distress is now bargain priced! The American Damsels Network presents highlights from the classic sitcom "Always In Trouble." As the series begins, sexy '50s Hollywood starlet Cameron Dee is held for ransom by bad guys. The villains suspend the gorgeous blonde in her iconic white dress, stockings and high heels, and she's silenced with a "detective gag." The captive beauty struggles and moans, and soon her ample breasts are bared.
Then as highlights from the 1950s-era sitcom continues, busty '50s-era housewife Sofie Marie is caught in a classic comedy predicament while babysitting. She's tightly detective-gagged and bound hand and foot in her pedal pushers, white sneakers and a low-cut gingham crop top. She's caught when she tries to hop away, and she's progressively roped up to the chair for her efforts. She slips out of her shoes but not her bonds, and her breasts are exposed. When she's finally discovered, she has to make an embarrassing confession.
In the next scene, sultry Whitney Morgan is confronted by the mysterious burglar who's been terrorizing the neighborhood. The blonde bombshell is compelled to strip down to her black underwear, back-seamed stockings and red high heels. She's tied up in a classic position and tightly "detective-gagged." When she tries to escape, the sexy blonde is tied to a ladder and her all natural breasts are revealed.
When redheaded beauty Candle Boxxx is taken captive by the burglar, she's tied up in a classic position on the bed and silenced with a stuffed cleavegag. The intruder learns Candle's embarrassing secret, then he layers a tight detective gag over her cleavegag, fold-ties her in her '50s-era dress and the cruel burglar leaves the sexy redhead in that helpless and humiliating predicament.
Next, sexy blonde Brea Bennett is preparing for a picnic when she's taken hostage by the Phantom Burglar. She's cleavegagged and tied in a classic position when her friend Aubrielle Summer finds her, and the busty brunette is taken captive as well! The ladies are bound seated back-to-back and cleavegagged, and after they've been robbed the burglar exposes their considerable breasts before leaving them alone to helplessly struggle.
In this following segment, gorgeous beautician Niki Lee Young seems secretly thrilled when the Phantom Burglar confronts her at home. The stunning beauty is stripped down to her classic lingerie, garterbelt, stockings and high heels before she's "detective-gagged" and hogtied on the bed. Before the burglar leaves, Niki's bra is pulled aside and her perfect, all natural breasts are exposed.
The final highlight of the 1950s era sitcom "Always In Trouble" features a startling revelation about the burglar who had been terrorizing the neighborhood. Slender beauty Danielle Trixie is enjoying a quiet afternoon reading when she meets the real "Phantom Burglar" (Loren Chance). The intruder ties up the willowy blonde and silences her with a stuffed cleavegag (all shown onscreen) before ransacking her home. Soon the intruder has discovered Danielle's dark secret. The Phantom now has big plans for the slender beauty, but before she leaves her to be discovered, she bares her captive's all natural breasts and hikes up her dress to expose her stocking-tops, garters and panties.

Starring: Cameron Dee, Candle Boxxx
Size: 1.8 GB
Duration: 01:00:19 min
Resolution: 1920×1080
Format video: mp4
Preview: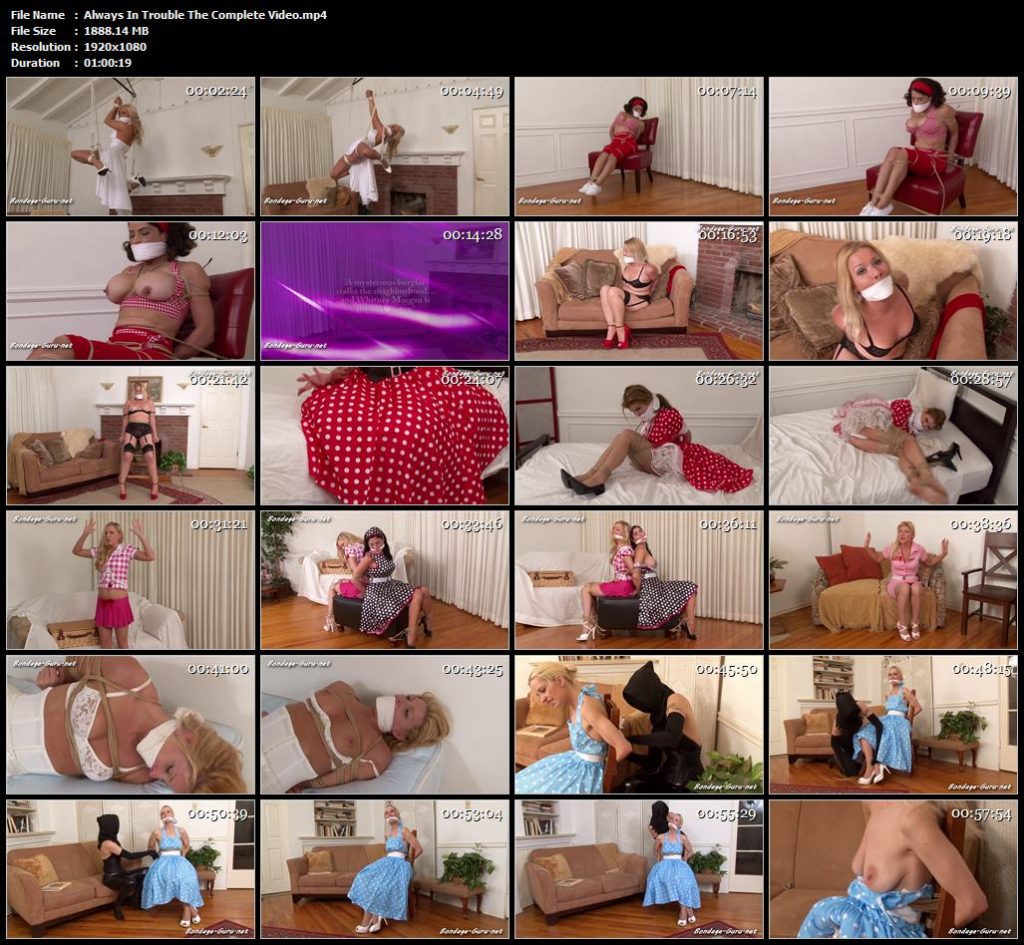 Download link:
Always_In_Trouble_The_Complete_Video.mp4