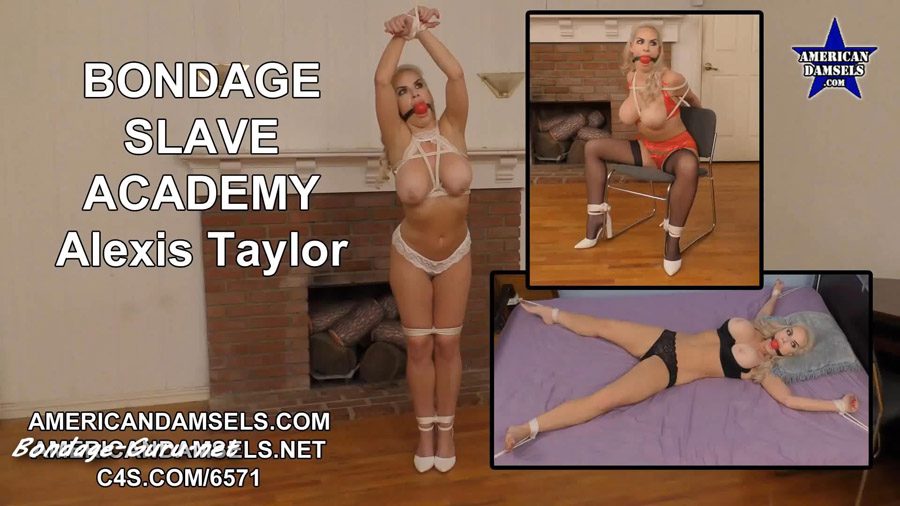 AMERICAN DAMSELS by Jon Woods – Bondage Slave Academy – The Complete Story – Alexis Taylor
AMERICAN DAMSELS by Jon Woods – Bondage Slave Academy – The Complete Story – Alexis Taylor
Bondage superstar Alexis Taylor stars in this fantasy by Mr. K.B. and directed by Lorelei Mission. As the story opens, Professor Alexis is beginning a class for novice slaves at the Academy. After greeting her students, the busty instructress takes off her blouse to get the class underway. When we next see the teacher, she's stripped down to her bra and panties ensemble and all tied up. Her first lesson is regarding chair bondage, and Professor Alexis is wonderfully articulate as she lectures her enthusiastic students about the joys of this position. She also spends some time testing the effectiveness of the rigging, which is quite impressive to see. Of course, the bondage wouldn't be complete without a gag, and Professor Alexis demonstrates her practiced skills with a ballgag. Before the lesson concludes, her lacy bra is pulled aside to reveal her voluptuous breasts. This is one class you certainly don't want to cut!
As the story continues, Professor Alexis is ready for the next lesson for her class of enthusiastic novice slaves at the Academy. That is, as the scene begins the buxom teacher is already stripped down to her lacy white bra, panties and high heels, and she's bound standing hands-over-head. She extols the virtues of this rather restrictive position, praising the sexy possibilities it offers. Once the tied-up teacher has completed her brief lecture, it's apparent she's destined to receive another ballgag. She asks for a reprieve, but quickly submits to her fate. Once Professor Alexis is bound and gagged, she moans and struggles against the ropes, reveling in her helplessness. Before the class concludes, her lacy bra is pulled away, exposing her enormous breasts once again. But the sexy Professor still has one more lesson before her day is complete!
In the final scene of the story, Professor Alexis is presenting her final class of the evening for novice slaves at the Academy. As the scene opens, the stunning teacher is roped down to the bed in a classic spread eagle position, dressed only in black bra and panties, with one breast already uncovered. Our favorite instructress gives another brief though informative chat about the position, and then she surrenders to another ballgag strapped between her lips. Professor Alexis moans and struggles against her restraints (at least as much as the rigging allows) and ultimately her breasts are fully revealed. After the demonstration, Professor Alexis is dressed up in lingerie and heels, her wrists crossed and bound, wearing her ballgag like a necklace in anticipation of its next use. She gives a few parting words to her class and then heads out the door for more kinky adventures.

Starring: Alexis Taylor
Size: 1022.3 MB
Duration: 01:00:19 min
Resolution: 1920×1080
Format video: mp4
Preview: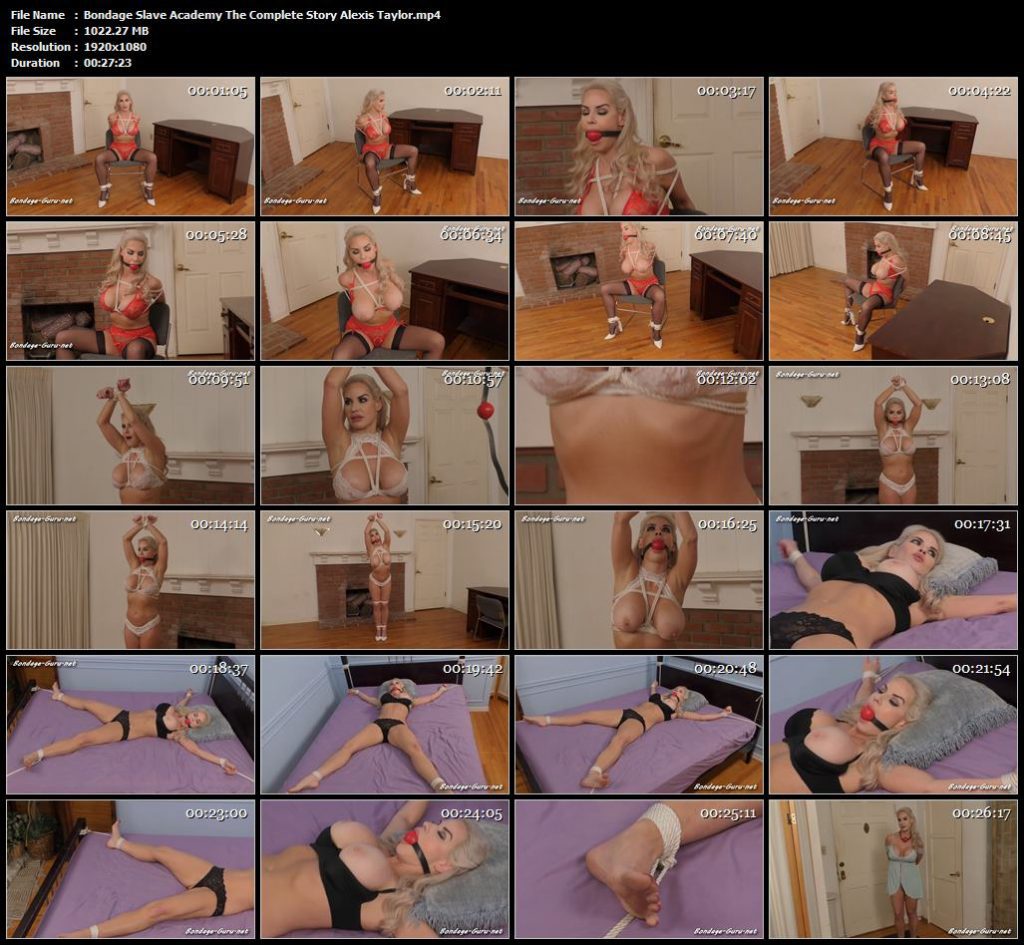 Download link:
Bondage_Slave_Academy_The_Complete_Story_Alexis_Taylor.mp4