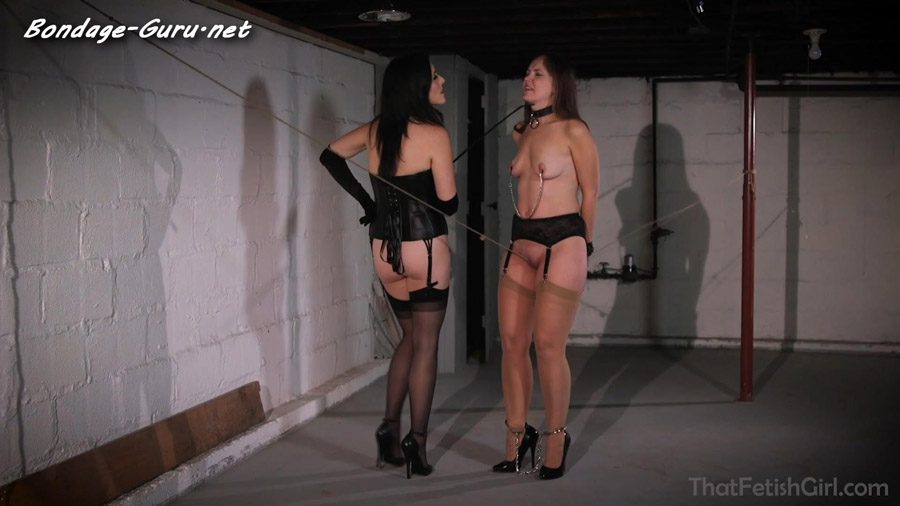 That Bondage Girl – Punishment For Cheating – Rachel Adams & Dixie Comet
That Bondage Girl – Punishment For Cheating – Rachel Adams & Dixie Comet
Slave Rachel has been caught cheating on her Master and Mistress and is huddled in the corner while restrained with cuffs, awaiting for Mistress Dixie and her punishment. Dixie saunters in, carrying a crop and Rachel immediately gets on her knees into slave position. Dixie inquires what the cunt did wrong and Rachel confesses that she cheated on her and Master with another Master and Mistress and came without permission. Rachel begs Dixie for her forgiveness but Dixie tells her that she's a useless whore and no longer a slave and tells her to leave. Rachel cries and grabs Dixie feet and begs not to be thrown out and asks to be punished and starts kissing Dixie's heels. Dixie feels sorry for her tells her that her punishment is: to walk the knotted rope four times daily for a year, while wearing nipple clamps. She shall be in chastity for a year, only being used to give blow jobs, eat pussy and swallow cum. Rachel agrees and thanks her Mistress for the punishment and promises to be a good slave as she continues to kiss Dixie's feet.
Mistress Dixie stands her up, uncuffs her and makes her strip down to her garter belt and stockings. Dixie puts clamps on her nipples, leather cuffs on her wrists and collars her. Dixie attaches a leash to the collar that's wrapped around the nipple clamps and drags her off to the basement where the knotted rope awaits.
Once in the basement, Mistress Dixie makes the useless whore Rachel walk the knotted rope. As Rachel goes over each knot, she's forced to thank her mistress for punishing her. As she is walking, Dixie smacks her on her ass and thighs with the riding crop and humiliates her. Rachel can only moan in agony as the rope and knots roughly brush against her pussy and asshole. When Dixie is satisfied she takes Rachel from the basement by leash.
Mistress puts Rachel in her in a chastity belt and reminds her that she won't be able to touch herself for a whole year and will be denied all no orgasms. Rachel sobs and thanks her Mistress and she is made to show off her new device. Dixie leaves the useless whore crying and tugging at the chastity belt.
*This was a custom video

Starring: Rachel Adams, Dixie Comet
Size: 1.24 GB
Duration: 00:20:54 min
Resolution: 1920×1080
Format video: mp4
Preview:


Download link:
Punishment_For_Cheating.mp4