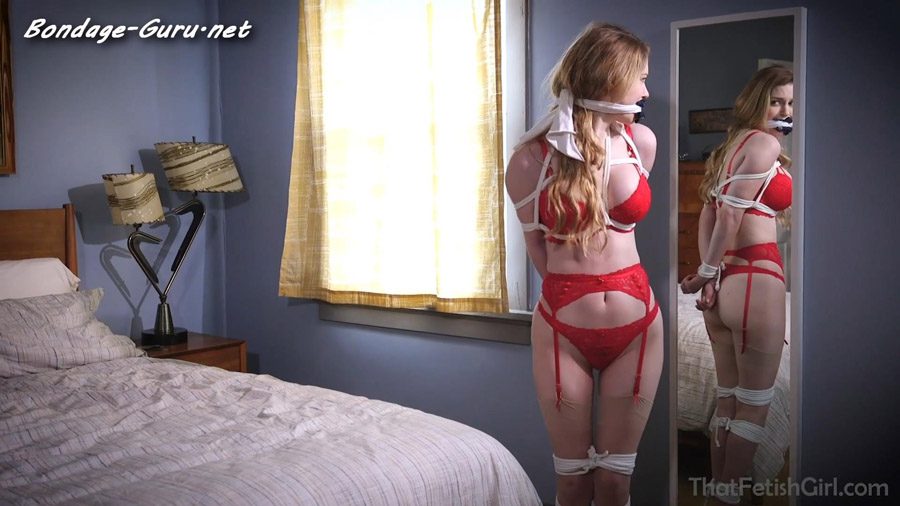 That Bondage Girl – Sexy Accountant In Peril – Bunny Colby
That Bondage Girl – Sexy Accountant In Peril – Bunny Colby
While going over the company books, Bunny uncovers what she believes is an embezzlement scheme, though she can't figure who is the culprit. Bunny wants to follow company policy so she calls her department head, Nate. What Bunny doesn't know is that Nate is the guy who's been embezzling thousands over the years. He arranges to meet her at her house leading Bunny to believe it's so they can look at the books and figure out who has been stealing money.
Nate and Bunny are sitting on her couch discussing what she's uncovered. Nate asks if there's anyone else Bunny has told what she's discovered except for him. Nate is the only person she has told as she wanted to follow company policy and she didn't tell anyone that he was meeting with her at her house. Nate then pulls out a piece and tells Bunny to stand up. She's shocked but does as she's told. He orders her to strip down to her sexy lingerie. Bunny hesitates but really has no choice. She tells Nate that she won't tell anyone about his embezzling, that it will be their secret. Nate can't take any chances on her going to the police or blackmailing him so he has to keep her quiet. He hands her a wad of cloth and tells Bunny to stuff her mouth full. She stuff the cloth in her mouth and Nate tightly cleave gags her. Nate then ties her hands behind her back and makes her walk up to her bedroom.
Nate extensively gets Bunny tied up and pushes her onto the bed. He tells her that he's going to go mess with her furnace to make it look like an accidental explosion happened. But he's also going to set a bomb by her bed to make sure she won't be telling anyone about his embezzling. Nate leaves the bedroom and Bunny struggles in the ropes but she can't get loose. Bunny then realizes she has a nail file on a table nearby and hops to get it. She sits back down on the bed and uses a mirror to try to see where the knots are to cut the rope. But just when it looks like Bunny might be able to free her wrists, Nate gets back, catches her and takes the nail file away. He adds an over the mouth gag to make sure no on will hear her cries before the bomb goes off. He gets Bunny in a hogtie as well to make sure she can't move off the bed. Nate sets the bomb with enough time for him to make his get away. He apologizes to Bunny for having to do this to her but that her finding his embezzling left him no choice. He double checks the ropes and gags checks her ropes and gags and leaves Bunny to continue to struggle.
Just when it appears all help is lost Bunny is saved by a man who disarms the bomb before it is about to go off. He then take the gag from her mouth and Bunny gratefully thanks him for saving her life.
*This was a custom video

Starring: Bunny Colby
Size: 1.12 GB
Duration: 00:18:53 min
Resolution: 1920×1080
Format video: mp4
Preview:


Download link:
Sexy_Accountant_In_Peril.mp4