bondageangel – Wife in warm bondage 2 (full video, parts: "Ski pants" and "Sle*ping bag")
bondageangel – Wife in warm bondage 2 (full video, parts: "Ski pants" and "Sle*ping bag")
Wife in warm bondage 2 (part: "Ski pants")
While watching this video, you (I hope) won't be cold. Definitely me, it wasn't cold! In the first part, I'm dressed really warmly – I'm wearing shiny ski pants, a down jacket, warm gloves, a knitted cap and thick warm socks. Uffff … so I'm dressed really warmly. These warm clothes may be suitable for the freezing weather in the mountains, but not in the living room where I am! Plus, I'm tightly tied with a few leather belts and I have a ball gag! Thick, warm clothes are already quite restrictive of movement and when you are tied …? As always, I try to get out of bondage, but in vain. My fight with the belts is doomed to failure. Every movement exhaustes me and increases the heat, which is increasingly unbearable. And in the second part of the video, an even warmer bondage awaits me … OMG!
Wife in warm bondage 2 (part: "Sle*ping bag")
In the previous part of the video, you could see me tied up in very warm clothes, in a down jacket, ski pants, cap, gloves and thick socks. Now I'm even more warm! I'm still wearing these clothes and addition I'm also wrapped in a sle*ping bag! In addition to more heat, I am also much more immobilized. Inside sle*ping bag, I'm tied with leather straps that you could see on me in the first part. Now I'm like a balaclava tucked in a sle*ping bag. But what's more. The sle*ping bag is wrapped in rubber ropes! So I'm like a mummy and I can't even move in a sack! I try to at least to move my whole body in bag and free myself from the grip of the rubber ropes and leather belts. In vain, in vain, in vain … Overheated and totally exhausted, I give up my fight and I will humbly wait until when someone frees me from this very warm bondage.

Starring: Angela
Size: 762.2 MB
Duration: 00:15:00 min
Resolution: 1920×1080
Format video: mp4
Preview: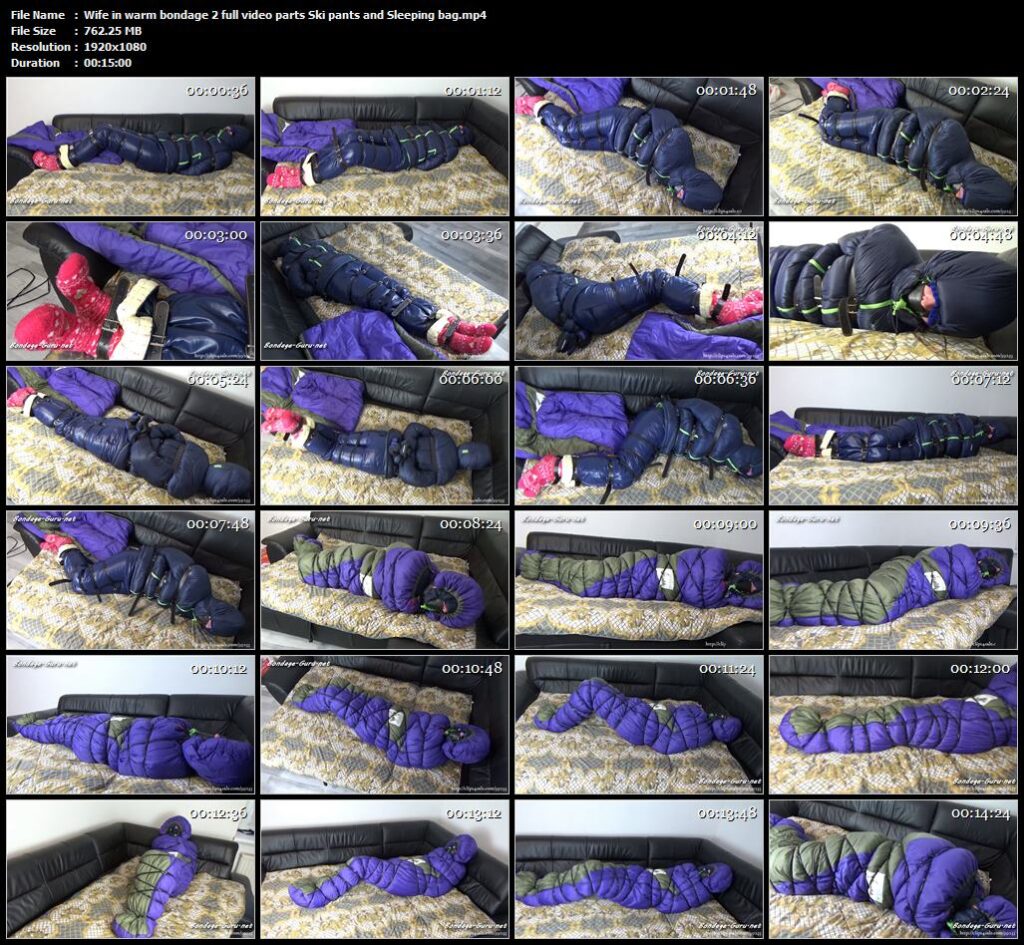 Download link:
Wife_in_warm_bondage_2_full_video_parts_Ski_pants_and_Sleeping_bag.mp4