Bondage Kitties – Lex hogtied and foot worship by 2 sexy runner girls – SPANISH
Bondage Kitties – Lex hogtied and foot worship by 2 sexy runner girls – SPANISH
In this custom video, Lex is on the couch when her roommates Lala and Scarlett arrive to scold Lex to stop wearing her clothes, she always returns them sweaty and they are tired, so they want to give her a punishment. Between the two of them they throw her to the floor and hold her hands behind her back, Scarlett takes a rope and ties her quickly so that she stays still, while Lala gags her with a ballgag so that she stays quiet and doesn't bother. She keeps tying her chest, this way she won't be able to move much. Scarlett wants to use more rope, she ties her thighs with her ankles, making a hogtied with a lot of tension so that Lex feels the ropes tight and as her body is more and more uncomfortable because of the position and the tension, the more she moves the more the ropes will bother her. Once they see Lex sufficiently well tied up, Lala and Scarlett it's their time to run so they leave for an hour to do some sport and sweat a lot, they leave Lex tied and gagged for the whole hour on the dining room floor, but her punishment will be even worse.
When an hour has passed, Lala and Scarlett come home, Lex is still tied up in the dining room, just like they left her, they sit on the chairs in front of her, tell her that her punishment has just started, they take off their sneakers and socks. Oh no the feet are really sweaty and smell really bad, Lala and Scarlett stick the feet in Lex's mouth for her to lick them, they want to humiliate her so she learns not to dirty and sweat her classmates clothes, so they make her lick for 7 long minutes without pause the sweaty feet. Lex begs them to stop, she can't take the humiliation anymore and keep licking her dirty feet. Scarlett and Lala decide to stop but Lex will stay tied up on the dining room floor for a while longer until they want to untie her.
En este video custom, Lex está en el sofá cuando llegan sus compañeras de piso Lala y Scarlett para recriminarle que Lex deje de usar su ropa, que siempre se la devuelve sudada y están cansadas, así que quieren darle un castigo. Entre las dos la tiran al suelo y le sujetan las manos por detrás de la espalda, Scarlett coge una cuerda y la ata rápido para que se quede quieta, mientras Lala la amordaza con una ballgag para que se quede calladita y no moleste. Le sigue atando el pecho, de esta manera no podrá moverse apenas. Scarlett quiere usar más cuerda, le atara los muslos con los tobillos, haciendo un hogtied con mucha tensión para que Lex note las cuerdas bien apretadas y como su cuerpo está cada vez más incómodo por la posición y la tensión, cuanto más se mueva más le molestaran las cuerdas. Una vez que ven suficientemente bien atada a Lex, Lala y Scarlett es su hora de correr asi que se van durante una hora para hacer deporte y sudar mucho, dejan a Lex atada y amordazada toda la hora en el suelo del comedor, pero su castigo será aún peor.
Cuando ha pasado una hora, Lala y Scarlett llegan a casa, Lex sigue atada en el comedor, tal como la dejaron, se sientan en las sillas delante de ella, le dicen que su castigo acaba de empezar, se quitan las bambas y los calcetines. Oh no los pies están realmente sudados y huelen muy mal, Lala y Scarlett meten los pies en la boca de Lex para que los lama, quieren humillarla para que aprenda a no ensuciar y sudar la ropa de sus compañeras, así que le hacen lamer durante 7 largos minutos sin pausa los pies sudados. Lex suplica que paren ya no puede más con la humillación y seguir lamiendo sus pies sucios. Scarlett y Lala deciden parar pero Lex se quedará un buen rato más atada en el suelo del comedor hasta que ellas quieran desatarla.

Starring: Lex, Lala, Scarlett
Size: 695.2 MB
Duration: 00:14:41 min
Resolution: 1920×1080
Format video: mp4
Preview: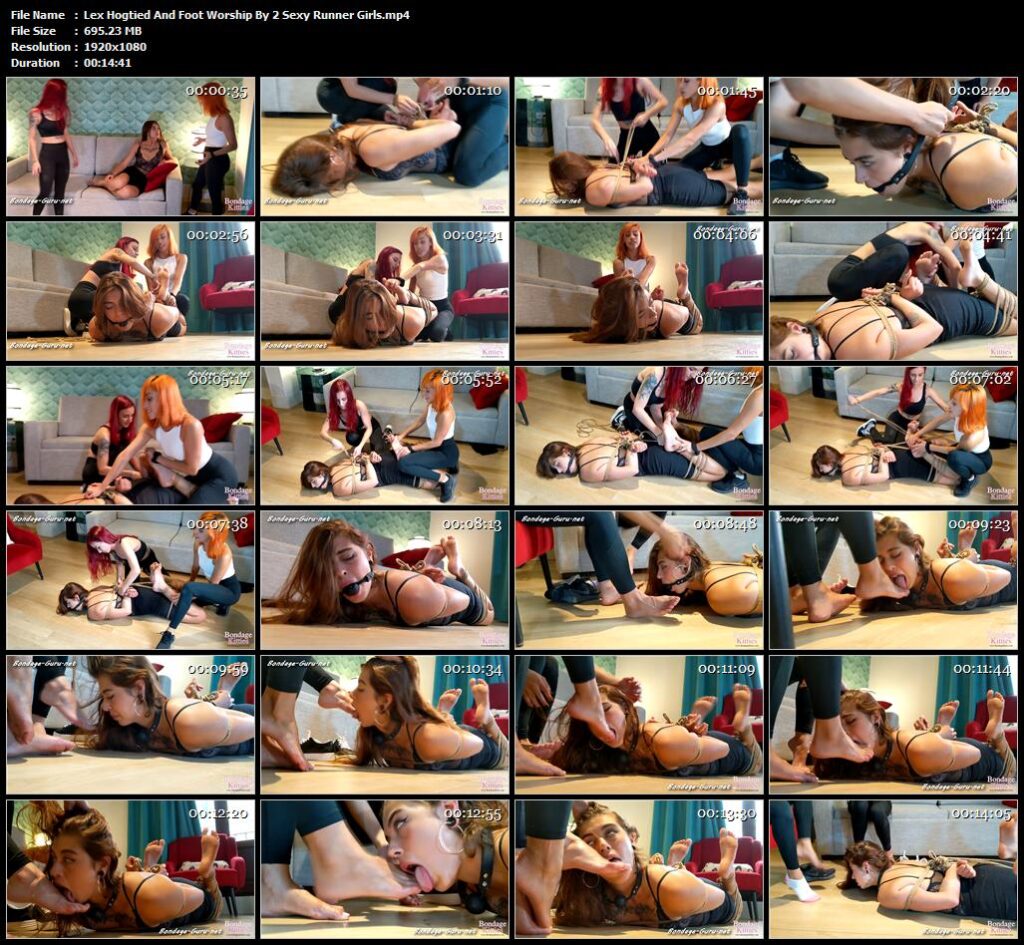 Download link:
Lex_Hogtied_And_Foot_Worship_By_2_Sexy_Runner_Girls.mp4