Unsafe Shelter – Captive Chrissy Marie
Chrissy was driving home on her way back from class in one of the biggest storms she had ever seen! She knew she should have just pulled over but she just wanted to get home. That was the wrong decision because then she ends up getting in a bad accident! The other driver fled and she was stuck outside in the rain with a soaking wet cell phone that she couldn't use. She didn't know what else to do but walk down the road to the nearest house to try and find some help. Unfortunately for Chrissy the shelter she finds isn't as safe as it seems!
The owner can't believe his luck as he checks out the beautiful girl standing in his entryway, shivering and dripping wet from the rain. He offers her a bathrobe to change into and shows her where, but as she slowly peels off her soaking wet jeans the man can't help but spy on her. After getting a better look at her body he gets excited knowing he is going to get a really good payday when he sells her off, and he didn't even have to go out and capture a girl this time, she just landed right on his doorstep! He gets some of his tried and true sleepy tea ready for her and gives it to her when she comes out of the restroom. She asks if she can use his phone to call for help but he insists she just relax and have some tea first. She drinks it fast since she is still very cold and needs the tea to warm her up. She soon starts to feel strange and tells him she thinks she should leave, but when she tries to stand up she gets very dizzy and falls back onto the couch. Her eyes roll and flutter as she tries to keep them open but the tea is too strong and sleep soon overcomes her. He wants to be sure she is really out so he checks her eyes and drops her hand several times to confirm there is no response. She is as limp as a ragdoll! Before he gets down to business he decides to have some fun of his own. He strips off her bathrobe leaving her fully nude and starts to grope and fondle her naked body all over! Eventually she begins to stir awake, at first confused and embarrassed at her nakedness, then extremely frightened when she realizes she is in immediate danger! Luckily for him, the man was prepared for this. He takes a white rag and holds it tightly over her nose and mouth, groping her tits as she struggles frantically, until her hands fall limp and her squirming finally ceases. He decides that he needs to take some extra precautions in case it wears off while he goes to attend to the necessary business of selling her. So he takes out some rope and ties up her legs and wrists, and decided to bind her elbows together too since she isn't fighting him in her current state!
Just as he finishes binding her arms she starts to wake up again, perhaps due to the extremely uncomfortable elbow tie! She begs him to let her go but when she realizes he has no such plans she decides to try and call for help! Too bad he also has a plan for that! He takes a pair of panties left over from the last girl he sold and stuffs them into her mouth, filling it to the brim and effectively silencing her, then ties a tight white cleave gag on to keep it all in! He takes the opportunity to explain to her what's going to happen to her as he adds even more rope around her chest to really pin her arms down and make her tits look even better for her buyer! However he still isn't happy with all her squirming; so he also adds a strict hogtie to make sure she won't be going anywhere while he is away! He takes a few preview photos of her and leaves her there bound and gagged while he goes to close the deal! Chrissy struggles helplessly hogtied and desperately trying to escape before it's too late! She eventually manages to roll off the couch but doesn't make it much further than that! Even with all her effort the tight ropes won't give, she is stuck bound and gagged while waiting out her inevitable fate, growing increasingly weary and full of despair! Later that night the man returns and tells her that he has found a buyer for her, but before she goes, he is going to take her upstairs for a test run to make sure that the goods are, well, good!

Starring: Chrissy Marie
Size: 1229.37 Mb
Duration: 00:30:40 min
Resolution: 1920×1080
Format video: mp4
Preview: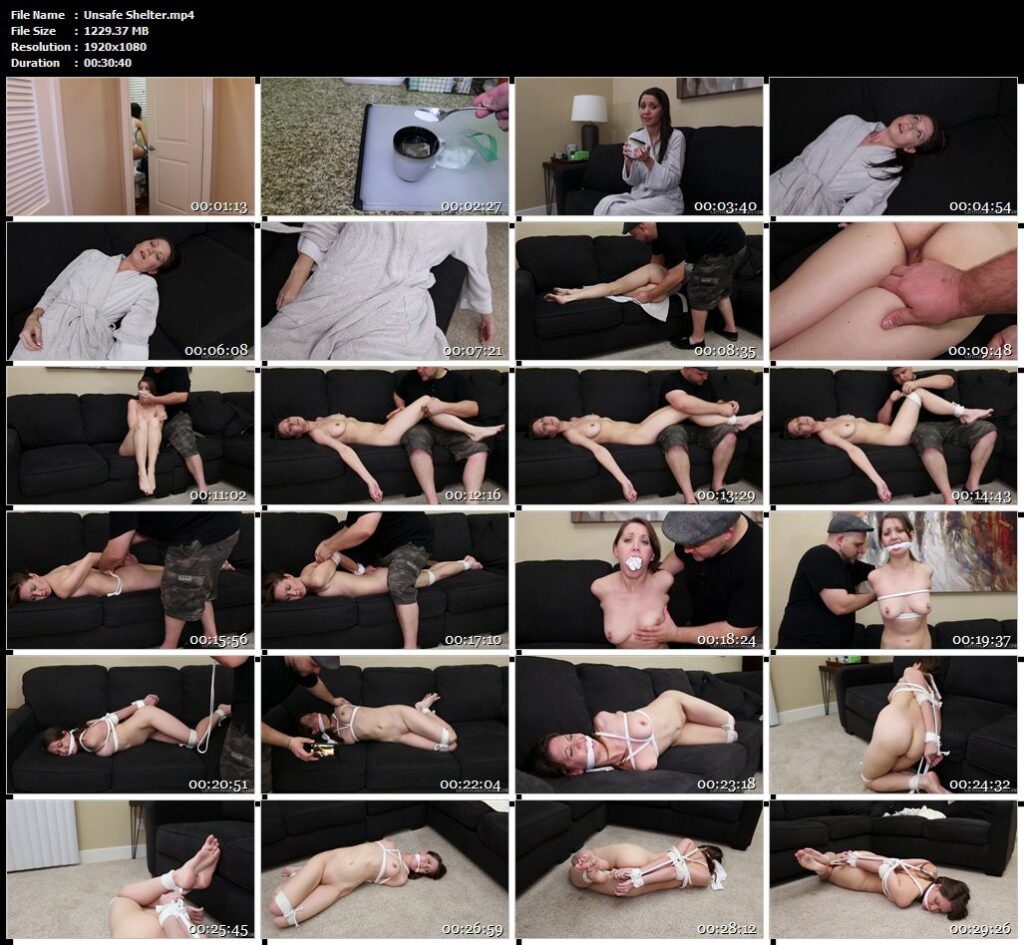 Download link:
https://wayshare.cc/zoifyof0ecjt/Unsafe_Shelter.mp4.html