The Secretary Scheme – The Complete Video – AMERICAN DAMSELS by Jon Woods
The Secretary Scheme – The Complete Video – AMERICAN DAMSELS by Jon Woods
This spectacular, star-studded video is now bargain priced! For some time now, gorgeous employees from the B & G Company have been disappearing. As our story begins, we get to see brief clips from the ransom videos that were received for sexy secretaries Alexis Grace, Cameron Dee, Maxine X, Alix Lynx, Blake Eden, Courtney Taylor and Charlotte Cross. Yet inexplicably, no ransom demands were ever made. The disappearances continue, and the next victim is security specialist Britney Amber (in secretarial skirt, blouse, stockings and heels). The bound babe tries to reason with her captors, explaining that she's an independent contractor and not an employee of the company. But Britney's captors compel her to tape a ransom message, and then she's cleavegagged. The busty damsel struggles against the ropes, but her efforts are all in vain. Soon the unseen villains expose her luscious breasts and hogtie the gorgeous security specialist. As she helplessly squirms, her miniskirt rides up to show her stocking tops.
Art director Loren Chance is the next B & G Company employee to be taken by the criminals. She'd heard about the disappearances, but since she's not involved with any of the company's government projects, she's perplexed as to why she was grabbed. Still, after making a ransom video, the booted babe is tightly cleavegagged and roped into a classic position on the mattress. Before long, her stylish jacket is pulled open and her perky, natural breasts are bared. Loren is quickly caught when she tries to hop away, and she's bound into a snug hogtie and futilely struggling. What do they have planned for their aqua-haired captive?
When secretary Rachel Adams is nabbed and tied hand and foot in her office at the B & G Company, she assures her captors that she's not a temporal agent. Despite her pleas, the villains have no intention of setting her free, and Rachel is compelled to make a ransom video. The feisty damsel is then cleavegagged, and she strains mightily against her chair bondage. Her prodigious efforts motivate the villains to restrain her more thoroughly. They also open up Ms. Adams' blouse to reveal her all natural breasts, and her miniskirt is hiked up to give a clear view of her pantyhose.
Despite Rachel Adams' claim of not being a temporal agent, the intelligence community believes otherwise, and they were monitoring her activities. When she disappeared, the Special Emergency Covert Response Team (S.E.C.Re.T.) assigns Agent Ashley Lane to locate the missing secretary. Ashley goes to work undercover at the B & G Company and she, too, is promptly snatched by the mysterious criminals. The leggy beauty (in skirt, blouse, pantyhose and heels) is brought to the remote hideaway, and tied hand and foot. The undercover agent makes a video with a desperate plea to her employers, and then she's silenced with a cleavegag. As her captivity continues, Agent Lane's luscious breasts are displayed, her skirt is pulled up to show off her sheer pantyhose and her elbows are lashed together. Then the masked villain buckles cuffs on her stockinged feet and her legs are drawn up to a chain from the ceiling (shown on-screen). The gorgeous blonde flails powerlessly in the "mermaid tie," completely at her captors' questionable mercies.
Shortly after that, B & G Company office manager Chrissy Marie (in miniskirt, silky blouse, pantyhose and high heels) is working late when she gets an unexpected visitor. It immediately becomes apparent that she knows her ominous guest. He explains that Ms. Marie had sent them an undercover federal agent, so it's time to bring their operation to a close. Chrissy fearfully asks what will happen to her, and the black-suited visitor says he has to be sure she doesn't lead the authorities back to him. Chrissy is bandana-gagged and tied to her chair (all shown completely on-screen) while the villain scours her office for any evidence of their partnership. Left alone, she struggles and tries to reach her phone, but it's all to no avail. He returns and tells her that because of increased security in the building they must wait for an opportune moment to take her away. To make things more interesting in the interim, he unbuttons her blouse and uncovers her lovely breasts. Chrissy continues her attempts to escape this dilemma, but soon her captor returns to wheel his pretty prisoner away.
Chrissy is spirited to the remote hideaway. The scheming office manager is stripped down to lacy black lingerie, thigh-high stockings and heels. The suited villain ballgags her and Chrissy is bound into a strict elbows-together hogtie on the bare mattress (all shown on-screen). She's left alone to test her snug bonds, but the knots all hold tight. The bad guy returns and bares her breasts, and he informs the helpless lady that she's been sold as a bondage slave to an interested buyer. For the sake of anonymity, the buyer requires the villain to leave when he comes to take possession of his new toy. Ms. Marie makes her last, valiant effort to free herself, but she soon meets her new owner as the scheme draws to a close with a final twist.

Starring: Ashley Lane, Britney Amber, Chrissy Marie , Loren Chance, Rachel Adams
Size: 1.7 GB
Duration: 01:08:15 min
Resolution: 1920×1080
Format video: mp4
Preview: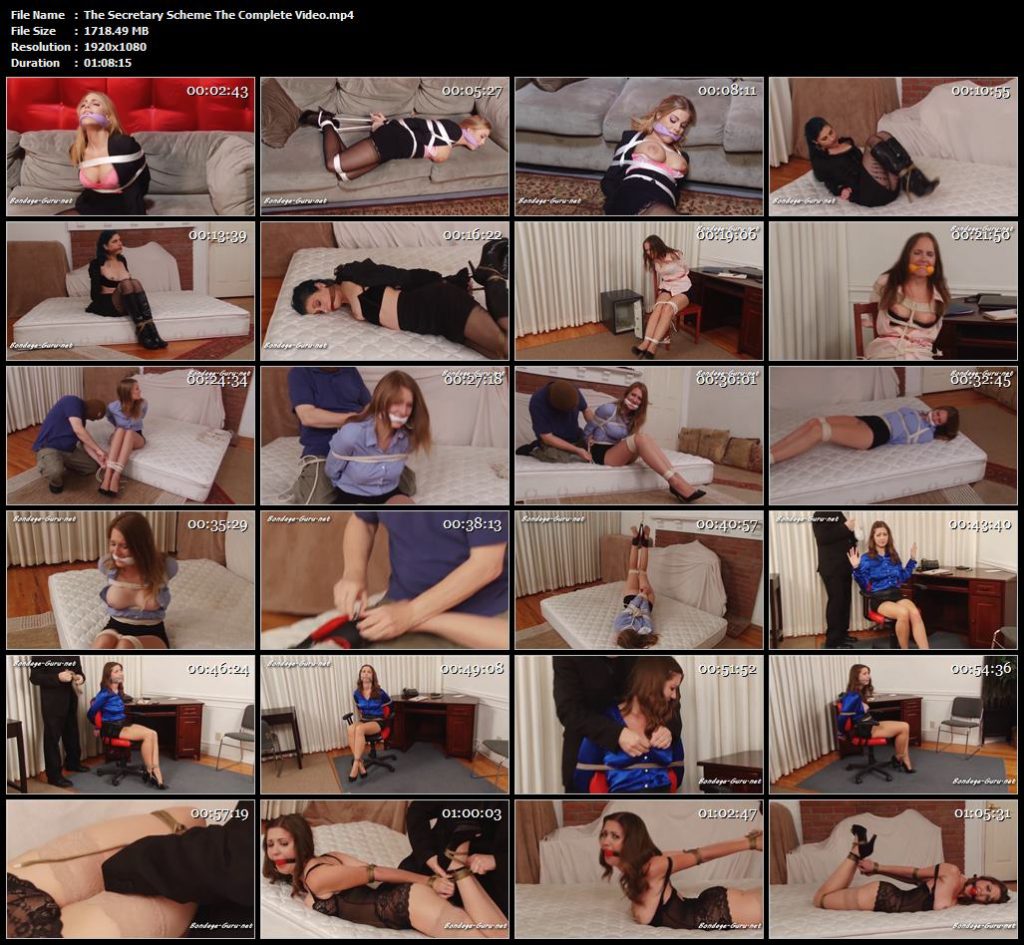 Download link:
The_Secretary_Scheme_The_Complete_Video.mp4