The Nosy Neighbor – Captive Chrissy Marie
Chrissy is being the snoopy neighbor that she is and realizes that there is a new guy at the apartment next door. Then she remembers the owners are away on a holiday vacation, so he must be the house sitter. Being the nosy person she is she decides to go over there and introduce herself. She lets herself in and mentions that she is part of the apartment welcome committee and just wanted to say hello. She starts asking the guy questions about how does he know the owners and stuff like that. The sitter tries to get her to leave, but she keeps pushing for the sitter to answer more questions. Finally the sitter threatens her and reveals that they are really robbing the place and now has to take care of her because she knows too much. He orders her to strip naked and she is horrified at his request, however she doesn't want him to hurt her. She has no choice but to take off all her clothes, trying to talk her way out of the situation and clearly embarrassed the more she is exposed. Once she is fully nude he tells her now it's time to tape her up! Wide eyed with fear she begs him not to as the scene fades out.?
Now that the robber has taped Chrissy up with plenty of tape it's time to keep her quiet.He finds her dirty panties that she stripped off and stuffs them in her mouth as she tries to scream. He hand gags her before tightly wrapping tape around her mouth and head countless times until he can barely hear her! He tells Chrissy that he gave her a chance to leave but she didn't listen so he is going to leave her like this and whatever happens to her is her fault for being such a nosy bitch! She struggles and realizes she is taped so tight that she must get help to get free. Then she notices the laptop on the couch! She inches her way over to it and manages to open it just in time for the robber to return and catch her in the act! Of course he couldn't forget the laptop! When she sees the robber is really leaving this time she get wide eyed and begins to panic! After some time of frantically struggling and trying to scream for help almost to the point of exhaustion she thinks she hears someone at the door. Is it the mailman, or maybe its her mind playing tricks on her for being so helplessly bound and gagged?! She tries to struggle her way towards the door but of course she can't make it and has to accept that she is stuck there cannot escape. Then it hits her that the wife mentioned to her that they will be gone for an entire week, and they just left yesterday! How will she possibly survive that long being so severely taped up and gagged!

Starring: Chrissy Marie
Size: 813.57 Mb
Duration: 00:16:01 min
Resolution: 1920×1080
Format video: mp4
Preview: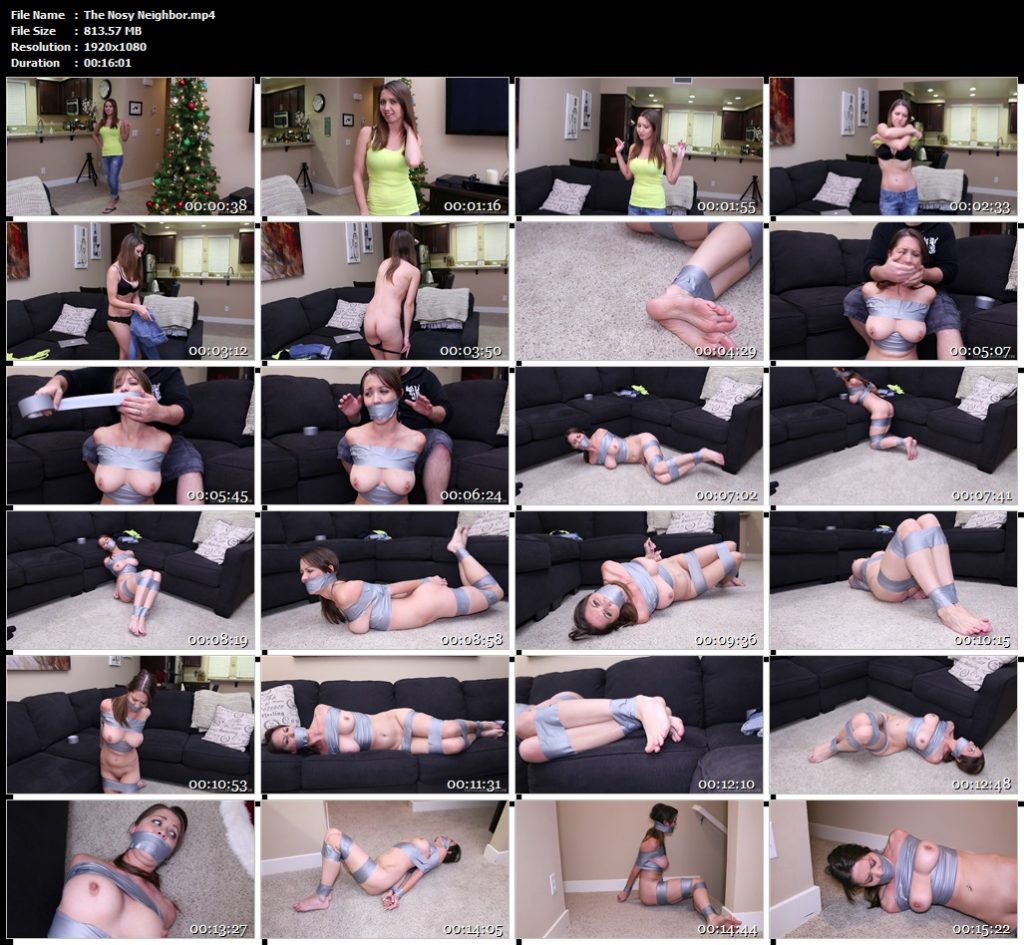 Download link:
https://wayshare.cc/faa1pr1knedt/The_Nosy_Neighbor.mp4.html