Taped Up Teacher – Captive Chrissy Marie
Ms. Chrissy is sitting in a chair blindfolded with her wrists taped together behind her back and a thick white cloth cleave gagging her tightly. She is worried and confused as she struggles and gag talks to herself out loud wondering what the hell is going on?! Just then someone enters the room. She recognizes his voice but it isn't until he removes her blindfold that she realizes who it is! It's one of her worst students who has failed nearly every assignment this semester and does nothing but joke off all day in class! He is very angry that because he is failing Ms. Chrissy's class he won't be graduating this year and will be held back yet again. He intends to use some alternative methods to try and convince Ms. Chrissy to change his grade so that he can finally graduate and be done with bitchy teachers like her! As he removes her cleave gag he explains the situation but when she refuses to give in to his demands he reaches for his back up plan, a big roll of sticky duct tape! Ms. Chrissy tells him there is absolutely no way he is passing her class and continues to insult him so he takes the roll of tape and starts wrapping it around her mouth and head several times as she struggles hard and her angry bitching turns to muffled grunts and Mmmpphhhss! He is sure she will reconsider after she sees what else he has planned for her! Now heavily tapegagged he takes the roll of duct tape and starts securing each one of her ankles to the legs of the chair, leaving her legs spread and revealing that she isn't even wearing any panties under her pantyhose! He finishes taping her body to the chair with many layers of duct tape then leaves her there humiliated and helplessly bound, struggling to escape before her strangely sadistic student returns!
Unfortunately for Ms. Chrissy the tape is far to tight and sticky for her to possibly break free. No one can hear her cries for help through her wraparound tape gag and she quickly begins to realize the hopelessness of her situation! He soon comes back to have a little bit of fun and starts to taunt Ms. Chrissy, groping her breasts in her silky sating blouse and unbuttoning it as she squirms and squeals through her tight gag. She is still very angry at him, so he gets another idea and pulls out his phone to take some photos of her, threatening her that if she doesn't cooperate then they will end up online, which would surely ruin her teaching career! That should be enough encouragement for her to give in to his demands. He leaves her to think about the potential consequences while still helplessly chair bound and brutally tapegagged! After hours more of struggling she is exhausted and feeling quite defeated by the time he finally returns. He starts to remove her tape gag and asks her if she has changed her mind. Ms. Chrissy really doesn't want to know what else he has planned if she refuses again, so she tells him she will absolutely give him an A, only half telling the truth. Unfortunately for Ms. Chrissy her student is smarter than she thought and he isn't going to let her go until he is sure that his grade is changed! He has to find the forms for her to sign first so he cleave gags her and leaves her there still taped up tight to the chair as she begs him frantically not to leave her again! She starts to wonder if he will even let her go at the end of this all!

Starring: Chrissy Marie
Size: 634.99 Mb
Duration: 00:14:35 min
Resolution: 1920×1080
Format video: mp4
Preview: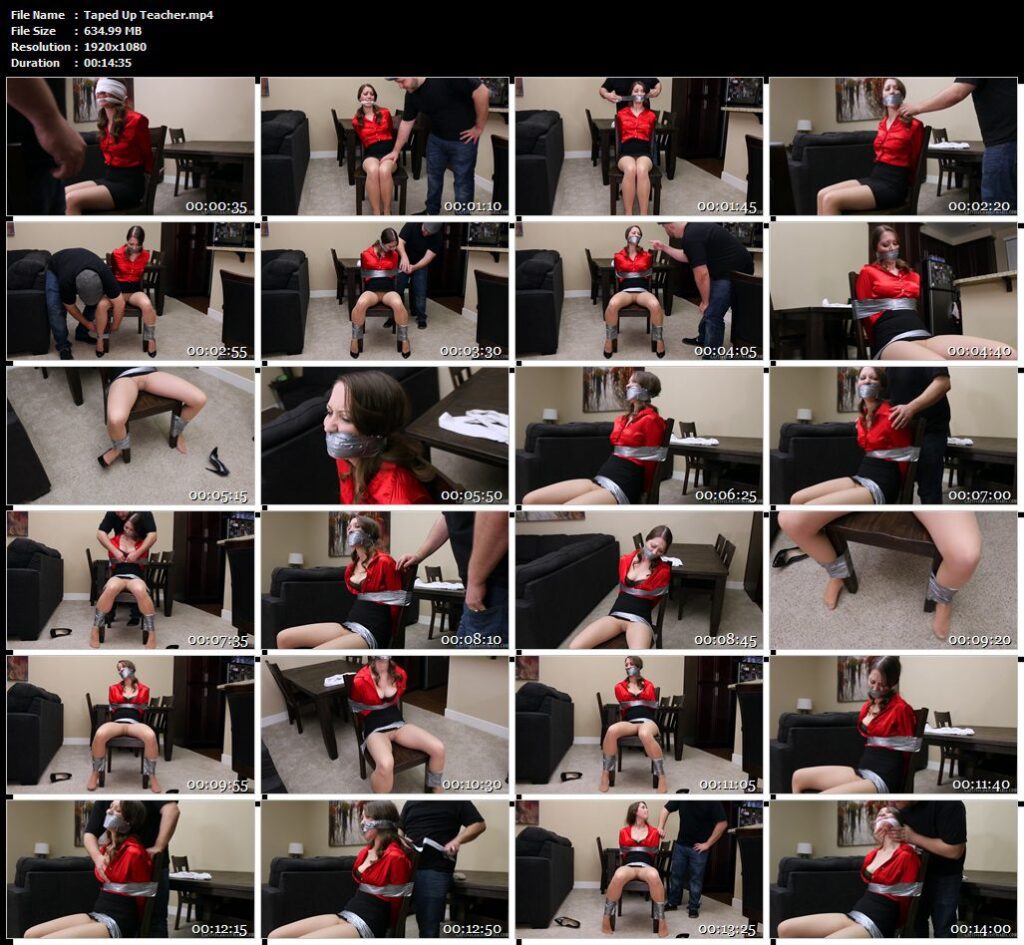 Download link:
https://wayshare.cc/14gwiyqh2lby/Taped_Up_Teacher.mp4.html