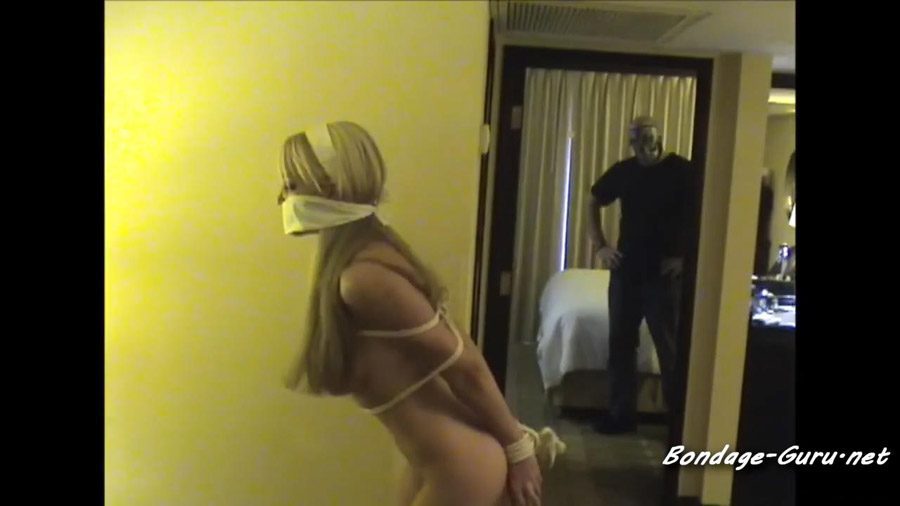 Superbound – Mia McKinley in Superbound Compilation – Daphne's Cousin Sally, Amateur Detective Turned Bondage Captive
Superbound – Mia McKinley in Superbound Compilation – Daphne's Cousin Sally, Amateur Detective Turned Bondage Captive
Beautiful blonde bombshell Mia McKinley is Sally, cousin of that girl Daphne who pals around with that talking canine and a gang of young hipster sleuths! Sally is an aspiring detective, but like her cousin, gets into trouble and ends up bound and gagged a lot (lucky us!). This particular incident is no different as she tracks a criminal to an apartment, but is herself captured! An ominous looking masked man gets the drop on her and walks her into the bedroom where she is is next seen already tied up. She complains petulantly and explains how her 'friends' will find her, but is cut-off in mid-sentence as the masked man gags her suddenly! He cannot ignore her huge chest as his hands end up groping her chest. She tries to resist the fondling, but can only glare as her breasts get manhandled! She is then left to fume in bondage.
Seeing as she is tightly bound and gagged she realizes she is rather helpless, but with efforts ends up barely a few feet from where she was left tied up! Her captor returns and picks her up effortlessly and grabs and spanks her nice ass as a 'punitive' measure. He ruthlessly removes her panties and then unties her scarf and puts it over her mouth pulling her head back to dominate her. She is fondled some more and dragged to a chair in the next room! There she is felt up some more as Sally's feet end up rubbing against his burgeoning crotch, as he enjoys and encourages her to thrash about! Sally sits enraged as her big tits get more attention!
The villain leaves her after having a lot of fun fondling her irresistible body and Sally immediately tries to escape. She manages to push the chair she is tied to towards the door, but can't quite reach the door handle and is caught before she can get it open! Her gag is removed and then she is quickly handgagged and then cleave-gagged and fondled some more! She is suddenly pushed away from the door and left alone to languish some more.
Sexy Sally sits and writhes in strict bondage for a while until her captor returns to again squeeze her massive boobs! She struggles in his grasp, but can't do anything about his roving mitts. He plays with her for a while and then moves her with the chair to the bathroom. Later, we see her clothesless, strictly tied up, and muffled with an over the mouth gag! She strains against the ropes some more and looks keen on trying to escape, but how will our stupendously stunning babe manage to get away?!
She gyrates that hot bod of hers in the bathroom while being strictly bound and tightly gagged! With effort, she finally manages to get up and get to the door with a lot of effort and manages to open it and hops to the phone! Those bouncing breasts really catch the eye too. Her captor spots her and lets her try to escape but then comes up and grabs her. Clamping his hand over her gagged mouth, he fondles her all over and spanks her! She is then lifted up and carried over the shoulder to the bedroom, ass groped and spanked along the way, until she is plopped down! Later, we see her sitting upright as more manhandling of her boobs takes place! She squirms, but can do nothing and can only wait to see what her captor has planned next!
Sally stares angrily at the masked man who toys with her, touching her with unbridled lust! He double gags her with her scarf to make her feel more helpless and then makes a call while she wriggles in her bondage! He then takes her and flips her on her stomach and hogties her! More fondling takes place as he then leaves her to be found later by the gang, hopefully!

Starring: Mia McKinley
Size: 997.3 MB
Duration: 00:37:42 min
Resolution: 1280×720
Format video: mp4
Preview: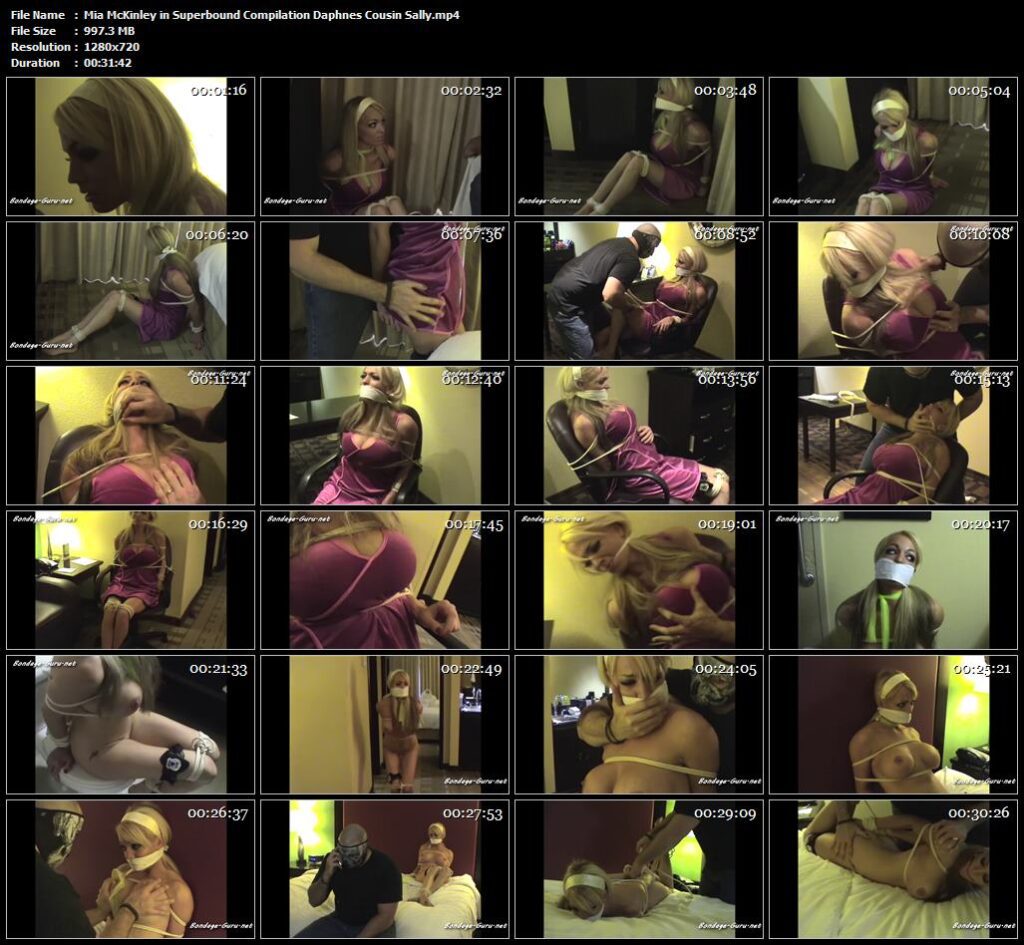 Download link:
Mia_McKinley_in_Superbound_Compilation_Daphnes_Cousin_Sally.mp4