Shauna Ryanne – First Day of Bondage Training at the Office
Pretty redhead Shauna was waiting in the office for Mr. Big Boss. She was wearing a sheer black top with a bright purple bra showing through, a tight black and white mini skirt, and black pumps. Shauna really wanted to keep this job, so she hoped that she impressed the Boss during training. She spotted the large amount of rope on the counter and her eyes widened. She picked up a piece and talked about how soft it was, as a smile slid across her face. The Boss entered the room and brief introductions were made. He didn't waste anytime in getting the ropes on her. He asked her to stand up and started applying rope to her wrists.
Shauna wiggled and squirmed against her bonds. She really seemed to enjoy it. Once her arms were tightly secured behind her back, the Boss stuffed cloth in her mouth and wrapped microfoam tightly around her head. She closed her eyes and enjoyed the sensation of the tight tape restricting her ability to speak.
Mr. Big Boss asked her to sit down and he tied her ankles together. Her legs were amazing. Just after her ankle knot was tightened, the Boss' phone rang. He excused himself from the training and took the call. Shauna was left alone in the chair. She struggled against the rope, seductively. She tested her bonds and wiggled about the chair, stretching her lovely legs in front of her. The Boss wasn't gone long and Shauna perked up with his reappearance. He lifted her up off the chair and re positioned her on the floor. A squeal of excitement and fear leaked our of Shauna's gagged mouth as the Boss laid her down.
The Boss continued her training by tying the arch of her high heels together. He looped a rope around the arch cinch and hogtied her. He then bid her farewell. He had other secretaries to attend to. He hoped she enjoyed her bondage training and someone would be in to check on her in a few hours. Shauna looked a little sad that the Boss had just left her there on the floor, but she rebounded quickly. She struggled and wiggled in her hogtie, only being able to flip side to side. She made soft noises of joy behind her gag as she arched back to run her hands over her high heels. She continued to wiggle in her hogtie, thinking she as alone, but really she was being watched by all the executives in the board room. Will they keep her at Dynamic Inventory Diagnostics? Guess we'll have to see!

Starring: Shauna Ryanne
Size: 425.37 Mb
Duration: 00:13:42 min
Resolution: 1280×720
Format video: mp4
Preview: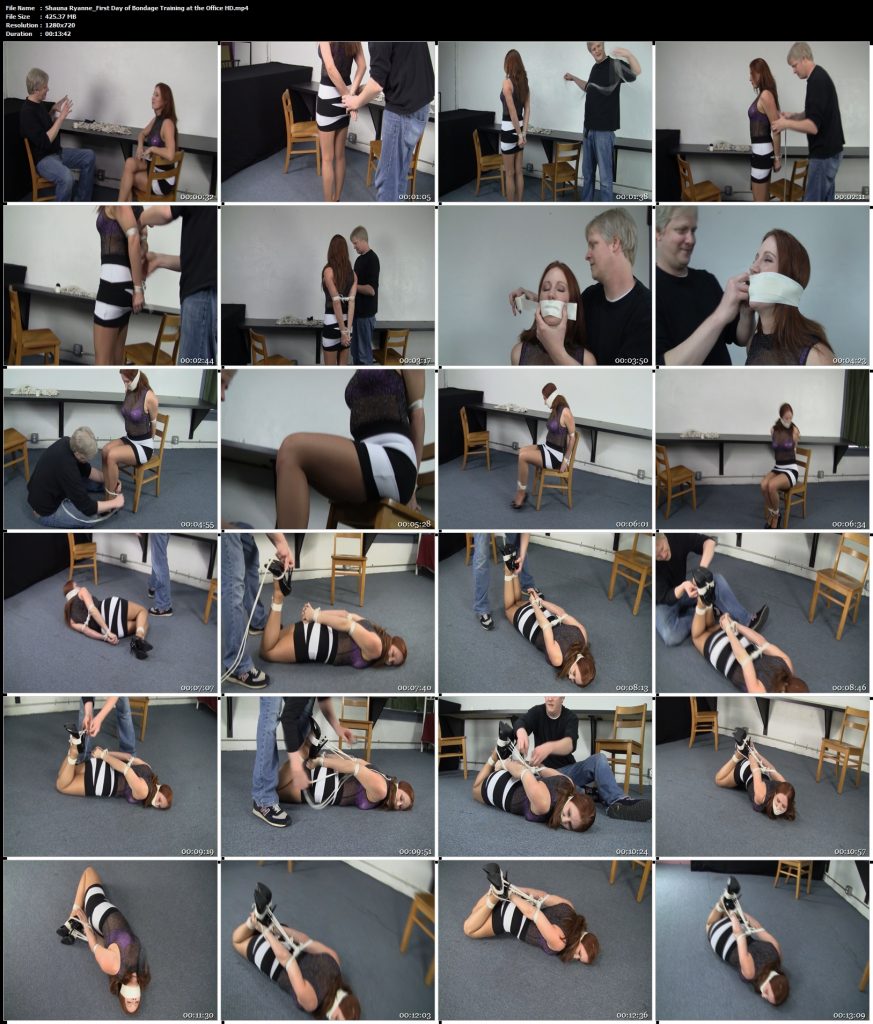 Download link:
https://wayshare.cc/3y114vrl7yxj/Shauna_Ryanne_First_Day_of_Bondage_Training_at_the_Office_HD.mp4.html