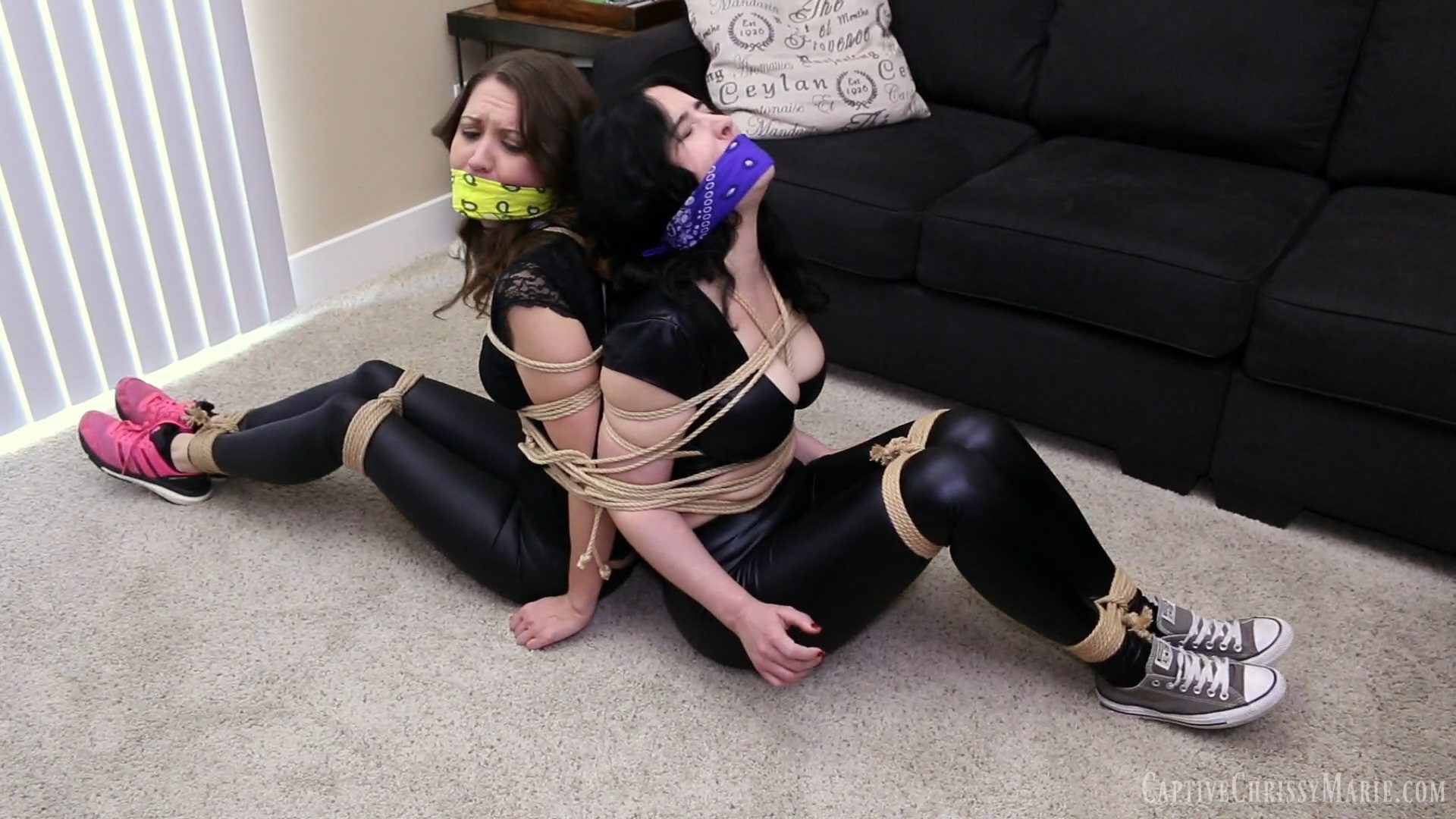 Plucky Girl Detectives – Captive Chrissy Marie
We fade in on our girl detective Chrissy still bound to the chair she was left in at the end of part one. Her head hangs low facing her lap as she sits in defeat that she was captured and has not been able to escape this mess. All of a sudden her partner enters the room and Chrissy shakes her head and mumbles furiously into her cleave and over the mouth gags trying to warn her partner of the trap that she is walking right into. Her partner Tilly approaches her and says "I got your message, came as quick as could, I will have you free in a second" as she ignores Chrissy's attempts to warn her. She moves behind the chair and unties the bandana covering the detectives mouth and throws it to the side, discovering that she has a tight white cleave gag underneath. "Two gags? He really wanted to keep you quiet" she says as she fidgets with the knot on the thick white rag. Just then the masked man sneaks in behind her and clamps his hand over her mouth. "Nice of you to join us" he says as Tilly's eyes freeze wide and both girls struggle furiously. "Lets get you a seat shall we" he says and drags her away from her partner who is still bound and gagged!
Now both girl detectives are tied up with rope and cleave gagged, wriggling tightly bound to their chairs. The masked man enters with two thick bands of shiny black leather fabric and ties one over each of their mouths OTM gagging them as they mumble and groan. He looks at his captives saying "you two just sit quietly for a while and I'll be back later" and exits the room. The girls struggle and gag talk to each other, trying to help one another get free! After a few minutes Tilly manages to get free from her chair but her legs are still bound. Chrissy desperately wishes to be untied at this point, but Tilly raises her index finger up to her lips and signals to be quiet, then points to the door making a running motion with her fingers. Chrissy nods that she understands the plan. Tilly then hops over to the door and quietly cracks it open, peeking outside to make sure that their captor is indeed gone. Satisfied, she hops back over to Chrissy and unties her from the chair, then they both sit on the ground and reach up to pull down the black shiny OTM gags off their mouths before reaching behind their heads to untie their horribly tight cleave gags and throw them on the floor, obviously happy to be rid of them!
Chrissy thanks Tilly for coming so soon and says they gotta get out of there quick before he comes back, but first they have to find her phone because it has all the evidence needed to bust the creep. They stand up now totally freed and exit the room to start snooping about the place looking for the detectives smart phone. As Chrissy is rummaging through some drawers looking for her phone, Tilly is standing behind her and doesn't notice the masked man has returned and is sneaking up on her with a bandana! He flips it over her head and over the mouth gags her then drags the silenced detective off camera as Chrissy remains preoccupied with finding her phone. A minute later she triumphantly pulls it out. "Found it!" she first smiles but is then instantly gagged over the mouth from behind with a bandana and pulled off camera to be reunited with her partner! Next we see both girls tightly tied together back to back with lots of rope, their bandana gags pulled tightly over their mouths to muffle their cries as they struggle. The masked man laughs out loud and says "that should hold you two trouble makers" then leaves as the two girls struggle and mumble into their gags. They are in for one long night!

Starring: Chrissy Marie, Tilly McReese
Size: 645.44 Mb
Duration: 00:14:50 min
Resolution: 1920×1080
Format video: mp4
Preview: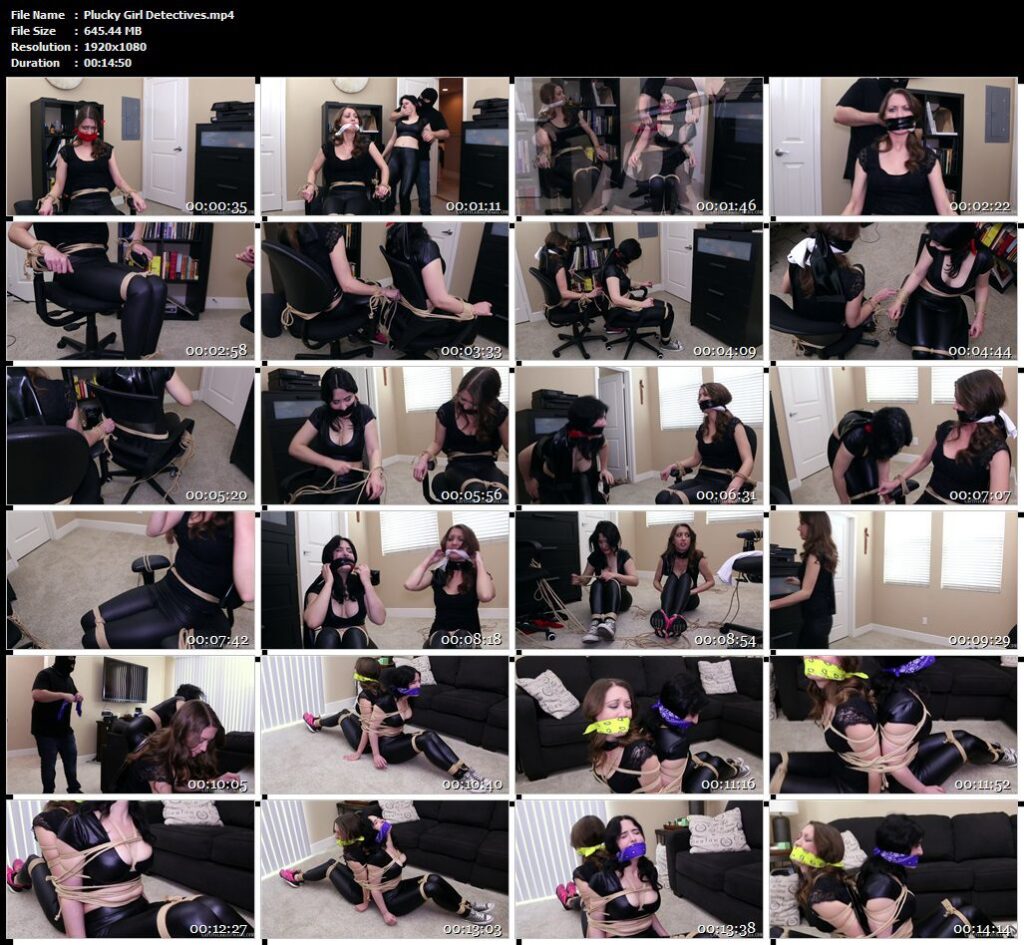 Download link:
https://wayshare.cc/sb670uar6sg3/Plucky_Girl_Detectives.mp4.html