Party Girls In Peril – Captive Chrissy Marie
Chrissy and Misty are two best friends who received a last minute invite for what was supposedly going to be the party of year, but when they arrive they are surprised to see only one guy. He claims they just arrived early and other guests should be coming soon and invites the girls to relax on the couch with a drink. They figure why not, they already got all dressed up to go out. They cheers and quickly finish their drinks. Soon after they both start giggling and cuddling with each other on the couch! Oblivious to the fact that their drinks were spiked, they slowly drift off into a deep sleep as he enjoys the view. Once they are no longer responsive he checks their eyes to make sure they are both knocked out, which indeed they are very far gone. He strips them topless and continues to limp play with the girls for a couple minutes but then he receives and unexpected call and will have to leave for a couple hours! He certainly can't risk them waking up like this while he is gone, so he decides he will have to leave them here tied up and gagged instead!
He lifts them up and cradle carries them to the bedroom one by one then promptly gets to work tying up the sleeping girls into tight hogties so they won't be going far from the bed while he's away! He then cleave gags each one with a thick white cloth pulled tightly between her teeth, so no one will here their cries for help once they're awake. He leaves them there while he attends to his obviously very important business, it would have to be to draw him away from these two bound beauties! While he is away the girls start to wake up. At first groggy and confused, they soon snap out of it and realize the predicament their in! They panic and start to remember what happened. They both frantically squirm around on the bed struggling to get free from the tight ropes and desperately try to communicate with each other through their tight cleave gags! They attempt to help each other get untied but their hogties are so strict that it's impossible for either one of them to escape! There is nothing they can do but aimlessly struggle and hope that help comes soon before the bad guy returns for more fun!

Starring: Chrissy Marie, Misty Lovelace
Size: 935.76 Mb
Duration: 00:19:49 min
Resolution: 1920×1080
Format video: mp4
Preview: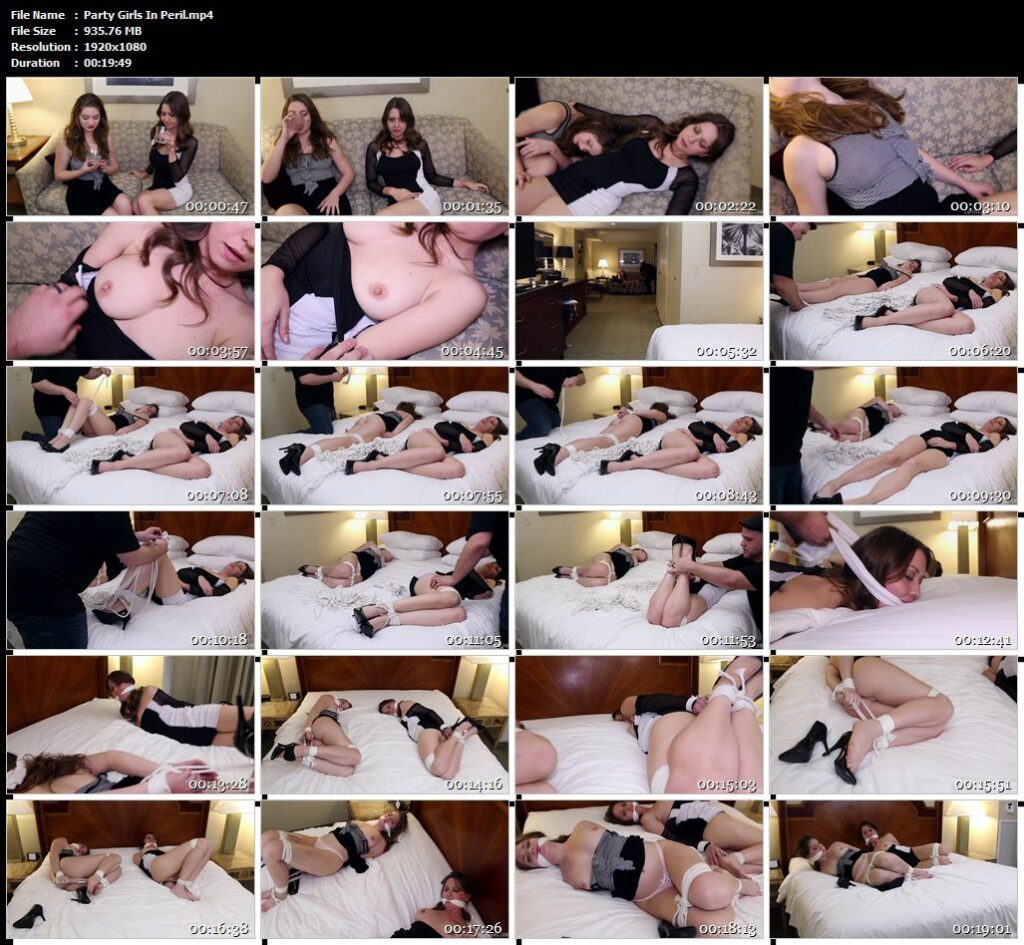 Download link:
https://wayshare.cc/1ki6cfgwu5bd/Party_Girls_In_Peril.mp4.html