Penny Lee – Sister Held Captive – Restricting Ropes
Penny Lee – Sister Held Captive – Restricting Ropes
Jeff comes to see how his sister is doing. He tells her if she is obedient he allows her to go out.
He tells her to trip down till her bra and panties. Penny really want to go out tomorrow so she complies and strips for Jeff. She takes of her skirt and top, Jeff ties her wrists and ankles. Jeff leaves Penny to struggle for a while.
When Jeff returns he has a pair of dirty panties and a roll of clear tape with him!?! He stuffs the panties in poor penny's mouth and wraps around a lot of the clear tape to keep her mouth shut and to make sure the neighbors will not hear her scream and protest. Jeff is really content with his annoying sister Penny all tied up and gagged for his fun.. He leaves her yet again… Penny struggles as hard as she can but there is no escaping the tightly tied ropes.
Jeff returns again to go even further with his helpless sister. He ties up her boobs and even takes them out of her bra… Penny is furious and wants to protest but there is no way she can say a word with the right clear tape gag and those panties stuffed in her mouth…. She is furious and wants to get out of those ropes.. But there is no chance that she gets the ropes loose enough..
Nowwww it's time for some real fun for Jeff.. he noticed that Penny has such beautiful big boobs that he can't help himself and wants to touch them… He also tickles Penny because she HATES it!!! He removes the tight tape gag and panties stuffed in her mouth and tickles her even more!!! After a while Jeff had his fun and leaves Penny still tied up…
Penny deserved going out the next day but…. How does she get out of these ropes!?!

Starring: Penny Lee
Size: 476.85 MB
Duration: 00:25:22 min
Resolution: 1920×1080
Format video: mp4
Preview: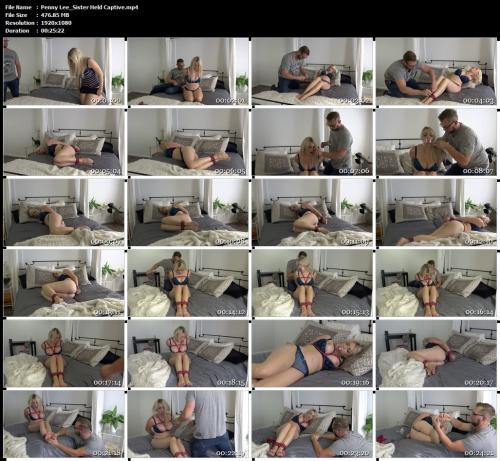 Download link:
Penny_Lee_Sister_Held_Captived.mp4