Old School Bondage – Alex Reynolds – You better not let daddy find you tying me up!
Old School Bondage – Alex Reynolds – You better not let daddy find you tying me up!
Alex is a daddy's girl and is very spoiled. But she is also a very naughty girl with lots of sexual fantasies. Most of them include older men like her father's Body Guard". One day while her father was napping, she went over to this body guard and woke him. She told him that she was bored and wanted him to entertain her. When he asked her what she wanted him to do, she told him that she had a fantasy she wanted to act out and told him she needed to be tied up. "No way! he told her. Not with her father resting in the same house. Alex started to yell for her father and told the man that if he didn't play with her and tie her up, she would continue to scream for her father and tell him that he tried to do something naughty with her. The man had no choice but to play along with the bratty Alex. Soon he had her tied up tight with rope and this had her very turned on. But she wanted more and started to make noise again. To shut her up, the body guard stuffed and taped a pair of her panties in her mouth to gag Alex. Now Alex could hardly control herself and she wanted the man to take this much further and have his way with her. While he was away, she lifted her dress and started to pull her pantyhose down to give him the hint of what she wanted. He returned and saw this. So he immediately pulled her pantyhose back up. But when Alex pulled her boobs out of her dress, he realized he was fighting a losing battle and decided to give her something to keep her happy. He tied a crotch rope between her legs very tightly. This included a knot in the right spot. This caused Alex to start moaning very loud. As she struggled now hogtied, she used the crotch rope to make herself have the first of several bound orgasms. And, for now she was satisfied. But eventually, she will get her way. Especially if the body guard wanted to keep his job.

Starring: Alex Reynolds
Size: 527.0 MB
Duration: 00:11:04 min
Resolution: 1920×1080
Format video: mp4
Preview: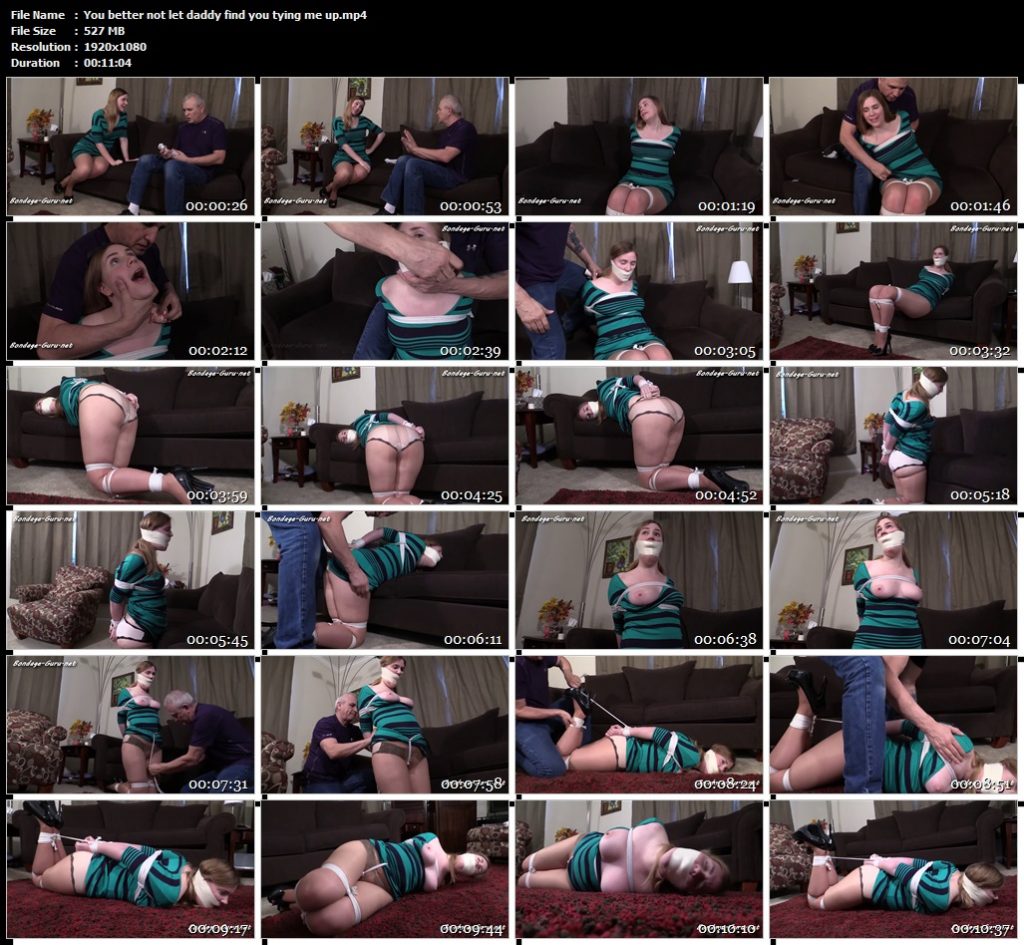 Download link:
You_better_not_let_daddy_find_you_tying_me_up.mp4