Mom & Daughter Damsels in Danger! – Captive Chrissy Marie
A robber has been scouting out a mom and daughter that just moved in to the neighborhood. He spied on them on moving day and noticed that in addition to having plenty of expensive items, they were also pretty damn HOT! He finds out that the two live alone together and spots a perfect opportunity to steal some goods and have some fun with these beauties while he's at it! He waits for the younger girl, Chrissy, to go to school so he can have her mom Gigi all to himself at first. Plus it's easier to knock out one struggling girl at a time! He breaks in and sneaks up on Milf Gigi, clamping a cloth tightly over her mouth and nose. She puts up a violent struggle but eventually her body falls limp to the floor. He pulls down her dress to check out her tits then gets to work securing her with rope, tying her pantyhose covered legs, elbows and arms tightly in preparation for her violent struggle upon waking. When she finally comes to she is extremely loud in protest, but he solves that problem by finding some duct tape to seal her mouth shut! The robber decides to hide and wait for Chrissy, knowing her classes should be getting out soon and she will be returning any minute. Her mom knows that too, and struggles desperately to escape in order to protect her daughter from walking into the trap!
Chrissy arrives home and is horrified to find her mom bound and tapegagged! She is trying to frantically understand and untie her and doesn't notice that her mom is trying to warn her of the man sneaking up from behind, prepared with his white cloth! He grabs her and clamps it over her mouth and nose, and her eyes go wide with fear as she looks to her mom for help! Too bad her mom is completely helpless; all she can do is mmppphh angrily through her gag as she is unable to save her poor daughter! Chrissy's eyes roll back and she slumps down to the floor. He checks out her tits as well then gets to work binding her bare feet, legs, elbows and wrists. Her mom is so upset and violently kicking her bound legs at the robber, so he decides he needs to calm her down using his special cloth again, putting her back to sleep until he is finished with her daughter. Then Chrissy starts to wake up and panic, but this time he is prepared with his duct tape gag and slaps several strips over her pretty face before she can ask too many questions. She is scared and doesn't know what to do as the man gropes her breasts with her mom knocked out by her side! He leaves her to search the place for valuables and Chrissy is relieved when her mom starts to wake up too. They gag talk to each other trying to figure out a plan to escape, struggling around on the ground trying to loosen the ropes and help each other get free. Gigi's motherly instincts kick in seeing her daughter in such distress, making her even more determined to find a way out! Watch to see if they manage to escape before the robber comes back to take them with him!

Starring: Milf Gigi, Chrissy Marie
Size: 719.48 Mb
Duration: 00:16:10 min
Resolution: 1920×1080
Format video: mp4
Preview: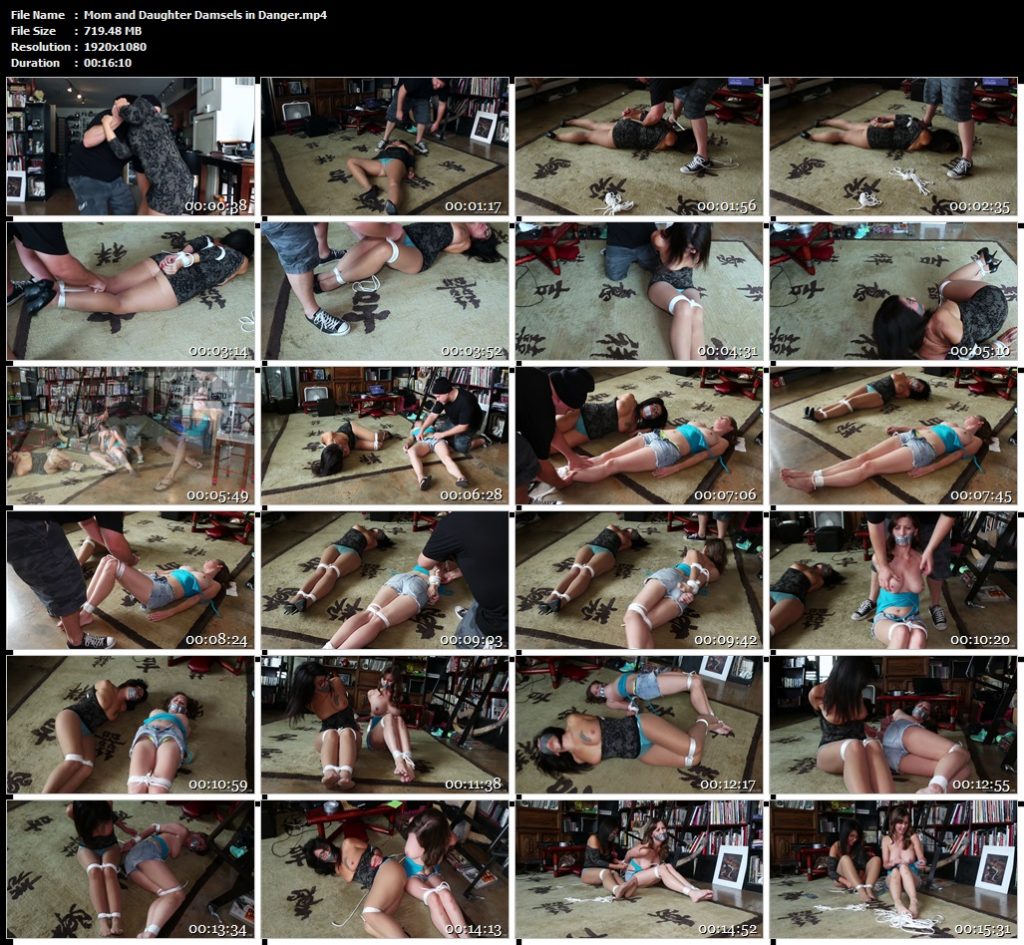 Download link:
Mom_and_Daughter_Damsels_in_Danger.mp4