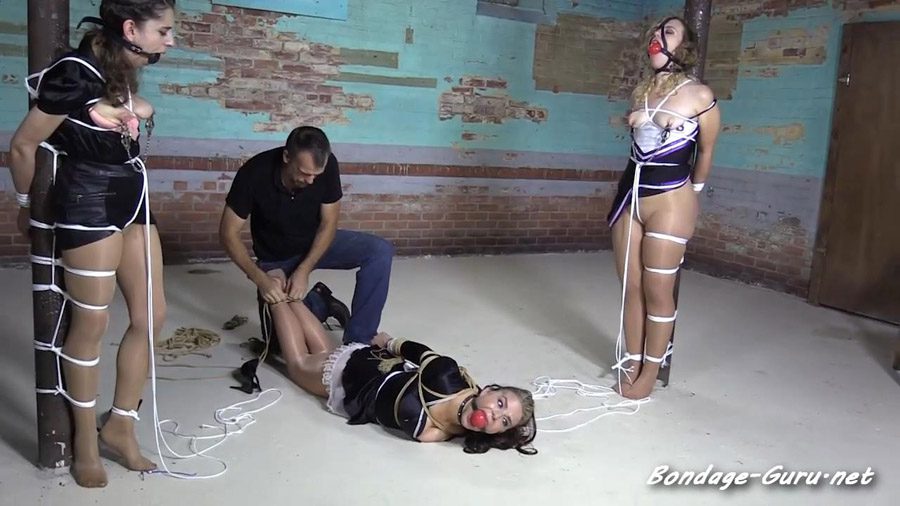 Maid, to be tied up – Bondage: JJ Plush, Born to be Bound
Maid, to be tied up – Bondage: JJ Plush, Born to be Bound
This was a custom video. Interested? See the email at the top of the page.
Side note, the 2 young ladies are amazing. Those ballgags were enormous and they wore then nonstop without a break without complaining!!
JJ is cleaning the exquisite bedroom of a college girl named Diamondly. She stumbles upon a bedside drawer full of bondage gear including impossible looking ballgags and nipple clamps. Cheerleader Diamondly and her girl friend Red (little red girl) happen to walk in and the 3 engage in a conversation about bondage. Diamondly says she has only tried self bondage and then the three decide to go to the basement to play some bondage games together. The older maid thinks they are safer playing with her than strange men from the internet. The girls get tied into strappados with spreader bars first and then they are post tied with one leg tied to the post and another pulled up. They've been nipple clamped and Diamondly gets an enormous harness ballgag (by hottbonds) and Red gets an even bigger black ball in her mouth. The girls legs are pulled up and then Diamondly's dad (Eric Cain)comes down very upset with his maid. He threatens to fire her if she doesn't participate in his own bondage games. He gets her tied up at the elbows, puts a huge ballgag in her mouth and hogties her. Next he pulls Diamondly and Red's legs back up in the air and he leaves them all their mmmphing in misery.

Starring: JJ Plush, Little Red Girl, Diamondly Kink
Size: 1.87 GB
Duration: 00:59:20 min
Resolution: 1280×720
Format video: mp4
Preview:


Download link:
Maid_to_be_tied_up.mp4