Lolly barefoot sockgagged, hogtied and held captive for ransom!
Mr Smith Bondage Beauties – Lolly barefoot sockgagged, hogtied and held captive for ransom!
Being the daughter of a rich millionaire, poor babygirl pink haired big titted stripper Lolly was certain to come under the watch of less scrupulous types, and unfortunately for her an international criminal syndicate decided that they would take her and hold her ransom to get a lot of money out of her father!
The clip starts with Lolly dragged into her basement, her wrists tightly bound and her mouth sealed shut with strict silver duct tape. Her masked captor shoves her onto the waiting mattress and warns her that he will be calling her dad in order to ask for a ransom. She will get to talk to him as long as she promises not to scream…of course the second the wad of two thick handkerchiefs comes out of her cheeks she tried to scream the house down!
Luckily for the masked goon this is not the first job he has pulled and he quickly rips off her knee high socks on screen, and packs both of them into her huge mouth, before severely wrapping clear duct tape around her head several times, allowing the huge cotton socks to be seen for the duration of the clip.
The goon follows the tight gag up with an extremely tight hogtie, all shot in one smooth unedited single shot as he binds her completely on-screen while she puts up a hell of a fight, smacks her ass and leaves to make other arrangements to get money from her father.
Lolly follows this by putting on one of the greatest gagtalking squirming, bitching snitfit grunting attempts to get out of her ropes and gags that I have ever seen. I hope you enjoy!

Starring: Lolly Dolly
Size: 1.4 GB
Duration: 00:18:52 min
Resolution: 1920×1080
Format video: mp4
Preview: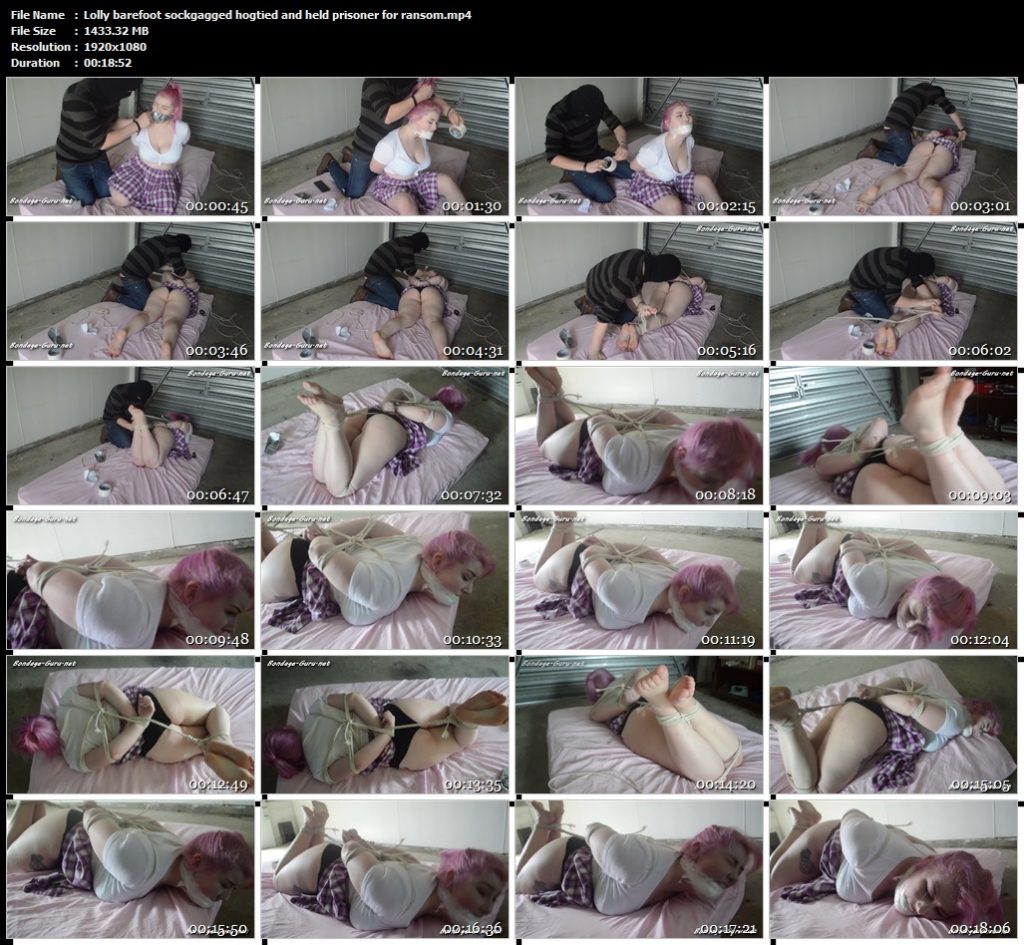 Download link:
Lolly_barefoot_sockgagged_hogtied_and_held_prisoner_for_ransom.mp4