Latina Bondage – Lilly's Yoga and Bondage Fusion: Belt Bound, Hogtied, and Silenced by a Harness Ballgag!
Latina Bondage – Lilly's Yoga and Bondage Fusion: Belt Bound, Hogtied, and Silenced by a Harness Ballgag!
At first glance, it's a yoga session like any other. Gorgeous Lilly and her alluring instructor Latina engage in graceful movements, their bodies sculpted by the art of yoga. The session takes an unexpected turn as Latina tests Lilly's limits.
Latina's proposition hangs in the air: "Are you open-minded? Have you tried bondage?" Curiosity gets the best of Lilly, and she hesitantly agrees to explore this new realm. The bondage belts emerge, encircling Lilly's body, cinching her elbows together, and weaving a chest harness. As the restraints tighten, Latina's playful intentions become clearer.
With each belt secured, Lilly's vulnerability grows. Latina's fingers dance along Lilly's beautiful feet and soles, eliciting laughter and squirms that blend pleasure with the unexpected. As Latina's fingers tickle and tease, Lilly's initial reluctance melts into a newfound intrigue.
The climax arrives as Lilly finds herself suspended in an arched hogtie, her pleas for understanding met with the snug embrace of inescapable belts. The transformation is complete as Latina's assistant arrives, silencing Lilly's cries with a formidable red harness ballgag. The harness ballgag has a purple rope connected and pulls Lilly's head back, amplifying her drooling as she surrenders to her restraints.
Struggling against her bonds, Lilly knows the game has changed. She's trapped in the exquisite struggle of her desires, the harness ballgag a constant reminder of her newfound submission. She can't even move enough to go beyond the purple mat.
The assistant eventually relieves Lilly of her bondage, not before a playful tickle dance on her vulnerable soles. As the session concludes, Lilly reflects on her journey, admitting that this might have been the strangest yoga class she's ever experienced. A blend of curiosity and delight linger in the air, leaving Lilly intrigued by the allure of yoga and bondage fusion. Don't miss this mesmerizing tale of transformation and surrender!

Featuring: Lilly
Size: 1.3 GB
Duration: 00:18:07 min
Resolution: 1920×1080
Format video: mp4
Preview: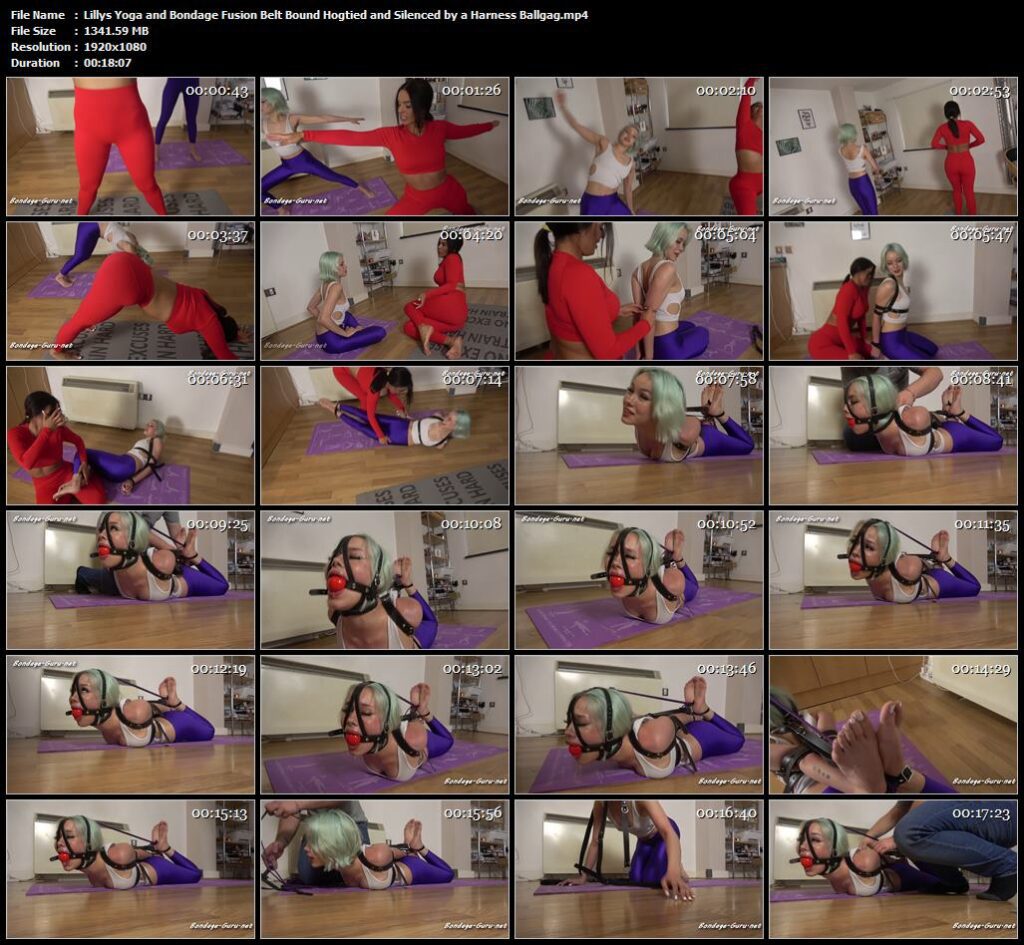 Download link:
Lillys_Yoga_and_Bondage_Fusion_Belt_Bound_Hogtied_and_Silenced_by_a_Harness_Ballgag.mp4