Latina Bondage – Lilly in A Spandex Nightmare
Latina Bondage – Lilly in A Spandex Nightmare
The scene opens as Lilly relaxes on her bed, engrossed in a horror film on her laptop. As the tension of the movie heightens, Lilly's reactions mirror the suspense, covering her eyes and peeking through her fingers. Deciding she's had enough, she turns off the film, expressing her discomfort. Soon, Lilly slips under the covers, drifting into a restless slumber.
Lilly's tranquillity is shattered by a loud knock at her bedroom door, rousing her from sleep. As she investigates, an eerie surprise awaits her—unseen hands quickly envelop her in a spandex cocoon, trapping her within. The enigmatic man's touch is both unsettling and tantalizing, leaving Lilly wriggling and gasping for air.
Lilly's struggles intensify as the man explores her vulnerability, teasing her senses with caresses and tickles that spark a thrilling mixture of fear and arousal. As he expertly applies tape to her wrists and ankles, Lilly's fate takes an even more tantalizing turn. Wrapped in a sheet, she finds herself bound and cocooned, a feast for the eyes with only her wriggling feet exposed.
As the minutes tick by, the man's touch becomes a symphony of sensations, overwhelming Lilly with an electrifying mix of pleasure and uncertainty. But the twists keep coming—Lilly's ordeal escalates, the sensation of spandex tight against her body offering both confinement and an oddly intimate connection. Will Lilly escape the clutches of her tormentor?
As the video draws to a close, a surprise ending awaits. An air of confusion lingers as Lilly regains her senses, pondering the reality of her experience. But just when it seems the nightmare has ended, another shock awaits. Brace yourself for an unexpected twist that will leave you craving more.

Featuring: Lilly
Size: 1.9 GB
Duration: 00:05:11 min
Resolution: 1920×1080
Format video: mp4
Preview: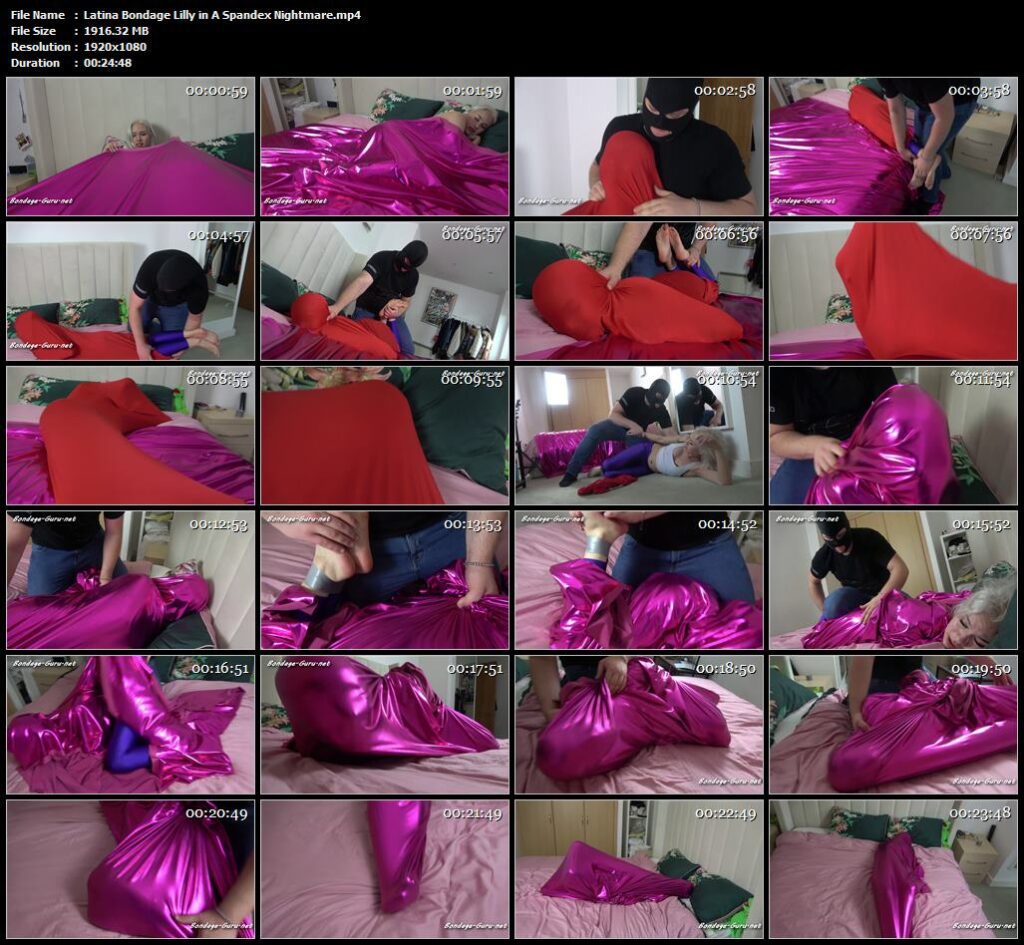 Download link:
Latina_Bondage_Lilly_in_A_Spandex_Nightmare.mp4