Indigo's Bondage Burglar Home Invasion Torment + Bonus Bondage Tickling Scene – Mr Smith Bondage Beauties
Indigo's Bondage Burglar Home Invasion Torment + Bonus Bondage Tickling Scene – Mr Smith Bondage Beauties
Poor Indigo comes home from a long day at the office only to be taken against her will by a masked man who immediately clamps his hand on her mouth and drags her away for a day of bondage the second she opens the door. He needs some valuable jewels that she has stashed in the house and so needs to keep her out of the way bound and gagged while he finds the valuables. This storyline video opens with Indigo being taken, then ties at her wrists, above and below her breasts, her ankles and knees progressively on screen. She needs to be silenced and luckily the masked man finds her handkerchiefs in her jacket pocket which he stuffs in her mouth and seals shut with duct tape. She wanders around the house looking for an escape before struggling hard against her ropes. As she almost gets away the man catches her and drags her into the kitchen, where she is tied and taped to a chair and a ballgag strapped tightly into her mouth. Again the gothic rock chicken vixen struggles hard against her bonds, almost getting away before she is captured once more. This time she is taken to a bedroom, has her elbows smashed together only for it to be too tight, so she is balltied, mouth packed and wrapped and stashed away in a closet.The furious struggling and banging against the closet eventually gets her free, but once more he is ready for her! She is dragged down to a bedroom where a tight leather arm binder is strapped on, welding her elbows together before her own huge pink dotted scarf is stuffed into her mouth and her senses are removed with a blindfold. She puts up one hell of a fight but the burglar has rope at the ready knowing how much of an escape artist she is. Finally he keeps her in place with a massively tight hogtie, and huge rubber ball stuffed in her mouth that belonged to her pet, taped shut with industrial grade duct tape.
PLUS BONUS SCENE "Stunning goth rock chick Indigo bound, gagged and tickled"
Stunning gothic roth chick model Indigo had agreed to the silly request of the producer who had reached out to her. Make a custom video of being tickled for 2 minutes didn't sound too hard, although with the request needing her to be tied up with rope made her a little nervous…we open the scene with Indigo balltied in bright pink rope and being reminded that she had agreed to 2 minutes tickling. However given she is incredibly ticklish the producer knew she was going to need to be stopped from screaming with laughter, and so gags her on screen with two large thick hankies, several strips of duct tape and a tight roll of sportswrap coban. She is at his mercy as he tickles her under the armpits and between the toes, with no escape from her bondage. The tickling goes a bit longer than the agreed 2 minutes before she is left to try and escape out of her bonds and muffling gag.

Starring: Indigo
Size: 1.6 GB
Duration: 00:51:12 min
Resolution: 1920×1080
Format video: mp4
Preview: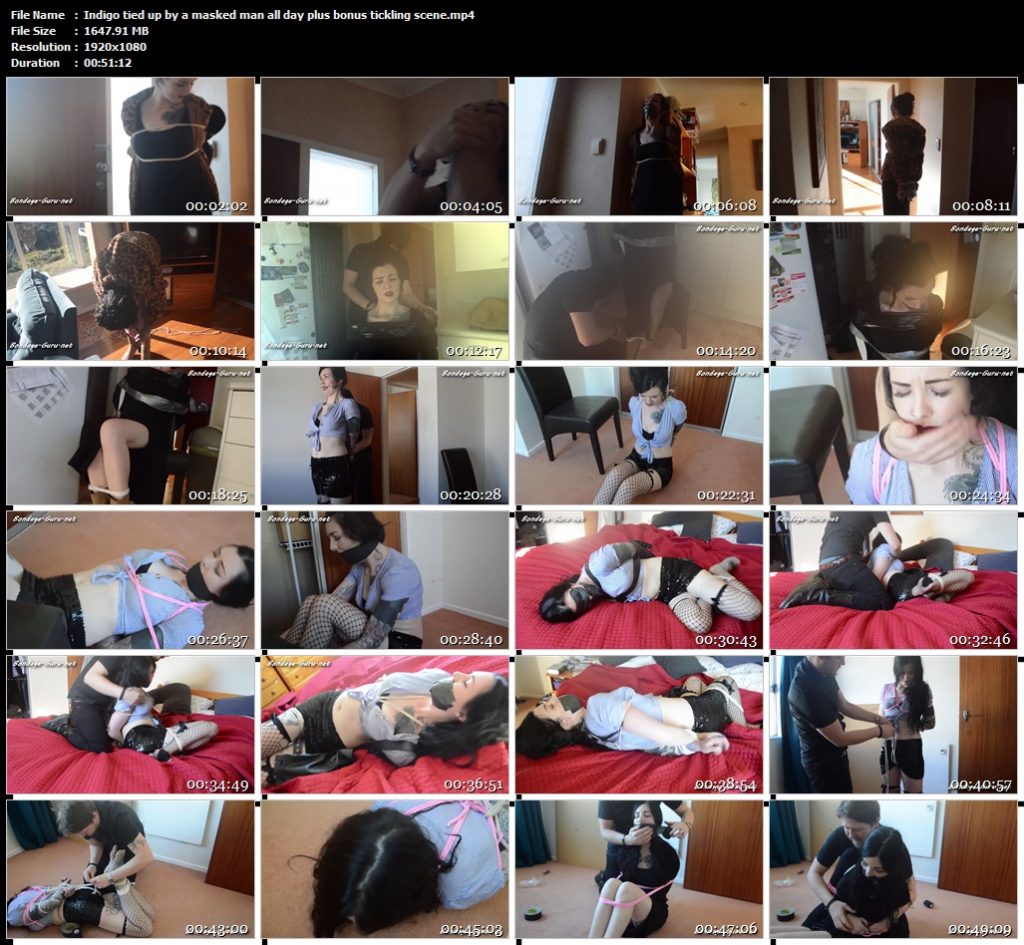 Download link:
Indigo_tied_up_by_a_masked_man_all_day_plus_bonus_tickling_scene.mp4