Hooters Hottie Gets Bound & Gagged, Again! – Captive Chrissy Marie
This clip was shot POV with a silent camearman –
I just got home from work and walk in as Im talking on the phone to my friend about this guy who was hitting on me, it was kind of creeping me out, but he did leave a pretty nice tip so I guess it was worth the hassle. I hang up the phone and my keys, take off my sneakers, and turn around to see the man standing there in my living room! I tell him I really appreciated the big tip but he has to leave immediately! I dont know how he got in here in the first place? He starts threatening me and I beg him not to hurt me, telling him that Ill even do something for him if he promises. He nods and I start to dance for him and show off my sexy body in my tight hooters outfit. Then he tells me to strip for him! I tell him no way, please dont make me! But he threatens me again so I have no choice but to obey. I strip off my shorts and top, leaving me just in slouchy white socks. He orders me to turn around and put my hand behind my back. Im afraid of what hes potentially going to make me do next!
He ties me up to a chair and leaves me struggling while he searches my house. I know if I can get free quickly, I may be able to escape while hes in the other room. I pull at the tight ropes until they finally start to loosen. Why did he have to tie me up so tight? Im not sure if Ill be able to get free. Just as Im about to accept my fate, I manage to free my wrists. I start working at the ropes securing my thighs and ankles to the chair. I get down to the last ankle and I have a bad feeling he is coming back any minute. I decide if I can just slip my foot out of these bulky socks, maybe it will work. And it does! Now Im completely naked and barefoot, feeling very vulnerable. I search for something to defend myself. Just as I find something, I turn around and he is starting at me. Oh no! What is he going to do to me now!
This time he ties my legs together and arms up above my head so that I cant possibly get loose, then cleaves gags me tightly to keep me quiet. I struggle and try to call for help but the gag is too tight! He is just sitting there watching me squirm and struggle helplessly. This is so humiliating! I hope someone comes over to rescue me soon, they will know something is wrong when I dont show up for work tonight!

Starring: Chrissy Marie
Size: 1114.67 Mb
Duration: 00:15:20 min
Resolution: 1920×1080
Format video: mp4
Preview: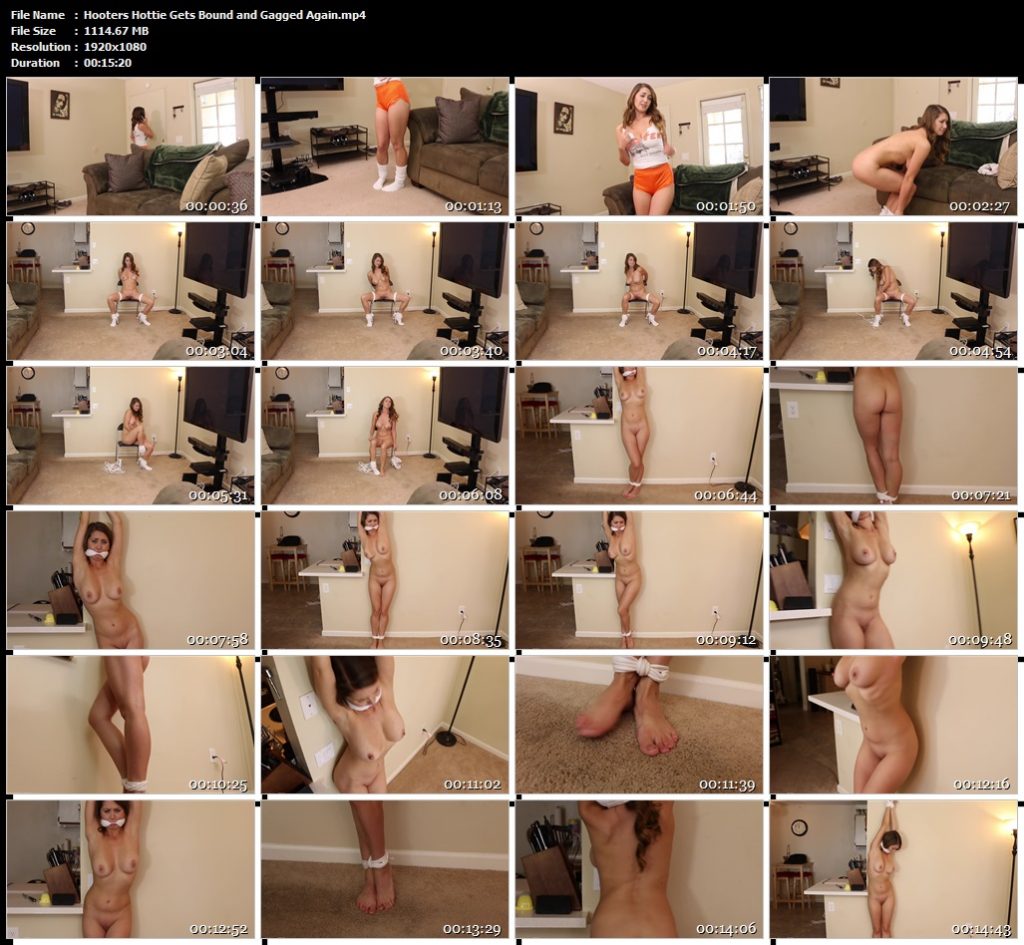 Download links:
https://wayshare.cc/ww7p15pvh89y/Hooters_Hottie_Gets_Bound_and_Gagged_Again.mp4.html