A Villainous Fantasy – Captive Chrissy Marie
My roommate is a little bit of a geek and he loves dressing up like villain and role-playing with beautiful damsels like in the old comic books. We've been good friends for a while, so when he asks if I would be willing to role play with him, I decide it would be fun to try out, why not, right?? We begin acting and play fighting and it is quite cheesy, as he acts like an evil villain breaking into my home in an attempt to capture me, the helpless damsel. Eventually he has me pinned down to the ground, and I admit that he has ultimately defeated me. At this point, Im ready for this game to be over. Its not as fun as I thought. He tells me that now he must secure his new prisoner and that hes going to tie me down. This is ridiculous, Im fed up now and break character, telling him Im done role-playing, but he ignores me and instead starts tying me up! He flips me onto my stomach and ties my wrists and ankles tightly with rope. I bitch and complain for him to stop and untie me immediately! There is no reason to tie me so tightly when we are just playing a game!
He gets fed up with my protesting and decides its time to gag me to shut me up. He shoves a cloth in my mouth and cleave gags me to keep the stuffing in. I begin to get worried that he is not going to stop and let me go. He starts fondling me aggressively, pulling my tits out of my top and squeezing them violently. Im appalled that he would violate me like this! I moan and scream through my gag to let me go but he is relentless. He pulls off my shorts and I feel so embarrassed and humiliated being exposed to my roommate like this. He rolls me around on the ground onto my side, back and stomach, groping me as I try to fight him off, but I eventually start to lose strength and realize its no use fighting so hard while Im tied up so tight. Next, he shocks me by cutting off my thong panties, bringing them up to his face and smelling them deeply, proclaiming that they are the perfect trophy of his victorious capture. He shoves them in his pocket and leaves me there struggling, wickedly laughing as he exits. I wish I would of never agreed to play this game! Now Im stuck here tied up, stripped down, gagged and struggling and I will probably have to find a new roommate too!

Starring: Chrissy Marie
Size: 784.84 Mb
Duration: 00:13:15 min
Resolution: 1920×1080
Format video: mp4
Preview: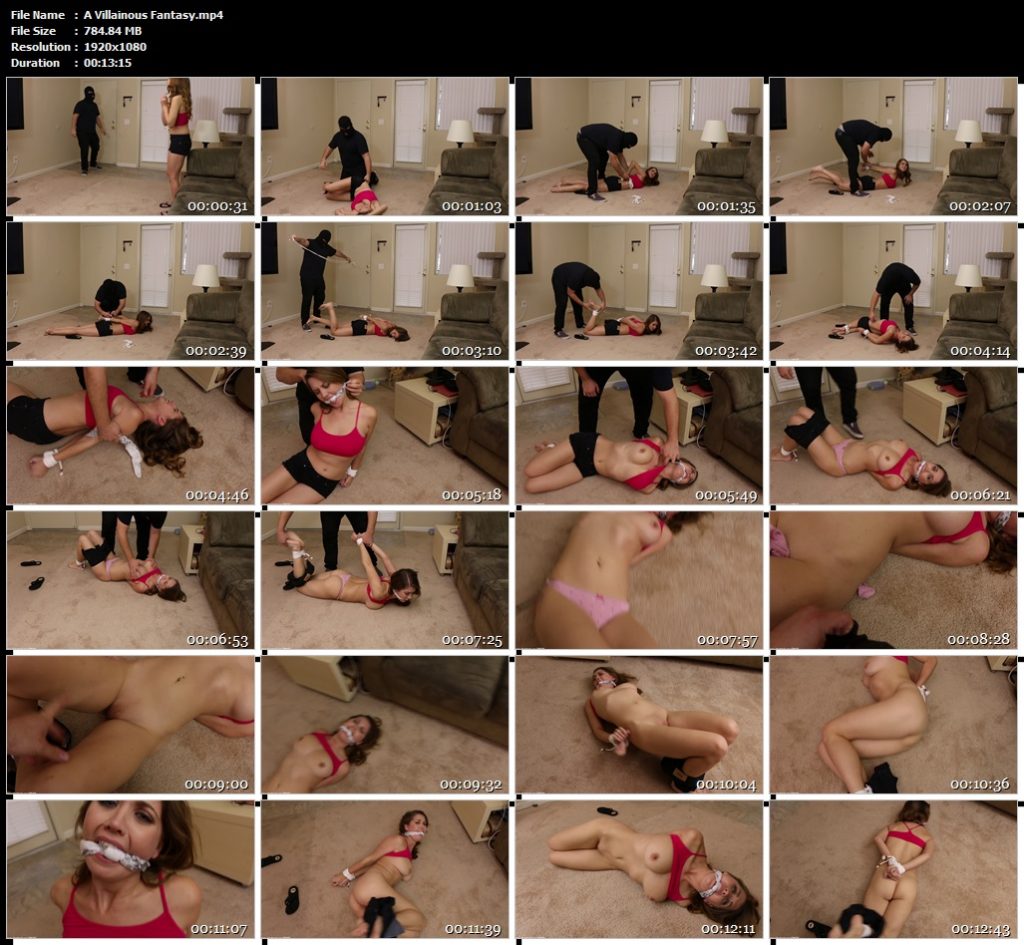 Download link:
https://wayshare.cc/0ld4x5ub4feq/A_Villainous_Fantasy.mp4.html