Gym Girl Bound & Sock Gagged – Captive Chrissy Marie
I was about to leave for a workout, wearing my tight yoga leggings, sports bra, pink sneakers and white ankle socks. Just as I'm about to walk out I'm startled by an intruder! He seems just as surprised to see me there as he clamps his hand tightly over my face and pov smothers me until I'm knocked out. Now he has to figure out what to do with me, so he finds some duct tape in the closet nearby and gets to work!
When I wake up I find my wrists, ankles and thighs tightly bound with sticky duct tape! I'm confused and question the man on what he has done to me! He silences me with a few strips of duct tape over my mouth and informs me that he was told this house was going to be empty and now he is going to have to take care of me! What is that supposed to mean?! I get frustrated that I can't free myself from the tightly wrapped tape as I struggle to get away. Then he starts to add even more tape around me! I beg and plead with him through my gag to please stop and let me go, but the psycho won't listen as he removes my sneakers to reveal my white ankle socked feet and then leaves me there helplessly bound and gagged! I struggle around frantically trying to come up with a plan. I quickly realize that I can't possibly get out of the tape, so I will have to find a way outside for help while I'm still bound. I start to scooch my way down the stairs, trying carefully not to fall, but then I hear the intruder coming back to check on me! To my dismay I didn't escape quick enough. He catches and drags me back up the stairs, telling me I'm still being way too loud and he needs to gag me better. He rips the tape off my face as I cringe in pain. In my brief moment of being un-gagged try to plead my case once again, but before I know it he has removed my white ankle socks and is stuffing them into my mouth. Then he takes the duct tape again and starts wrapping it around my head multiple times, making it a horribly uncomfortable gag!
He is really starting to scare me now as I try to call for help, but I'm afraid the gag is too tight for anyone to possibly hear me! Next he starts taping my ankles up to my thighs to really make sure I won't be going anywhere this time. I decide to act more cooperative so he won't tape me up anymore. I think it worked. He leaves me there as I feel defeated, tightly bound in tape and horribly sock gagged, struggling hopelessly, sure that I have no chance of escape now. My frustrated mmpphhs turn to whimpers as I ponder my predicament and start to become more and more distressed. I haven't a clue what this guy has planned to do here, or what is going to happen to me next, so I have no choice but to continue to struggle to get free since there is no chance anyone is coming to help me anytime soon!

Starring: Chrissy Marie
Size: 825.43 Mb
Duration: 00:18:30 min
Resolution: 1920×1080
Format video: mp4
Preview: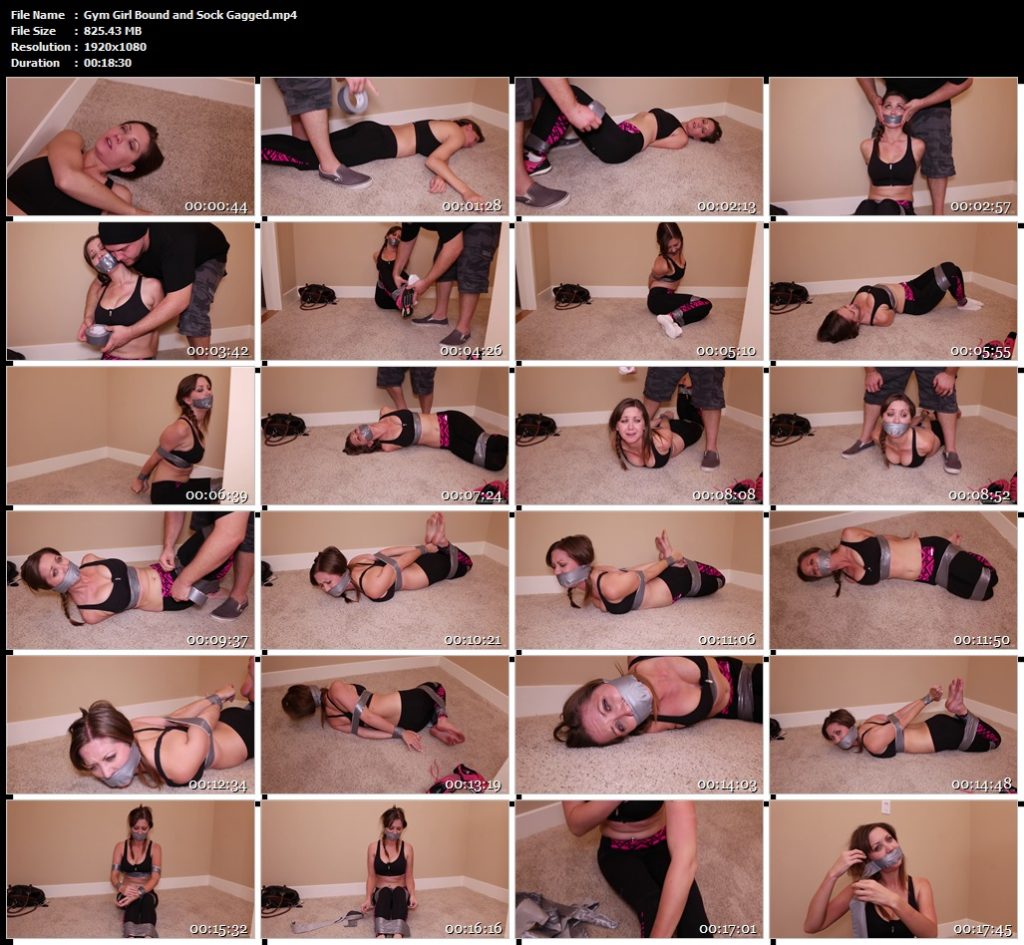 Download link:
https://wayshare.cc/r36qvzf9xprg/Gym_Girl_Bound_and_Sock_Gagged.mp4.html