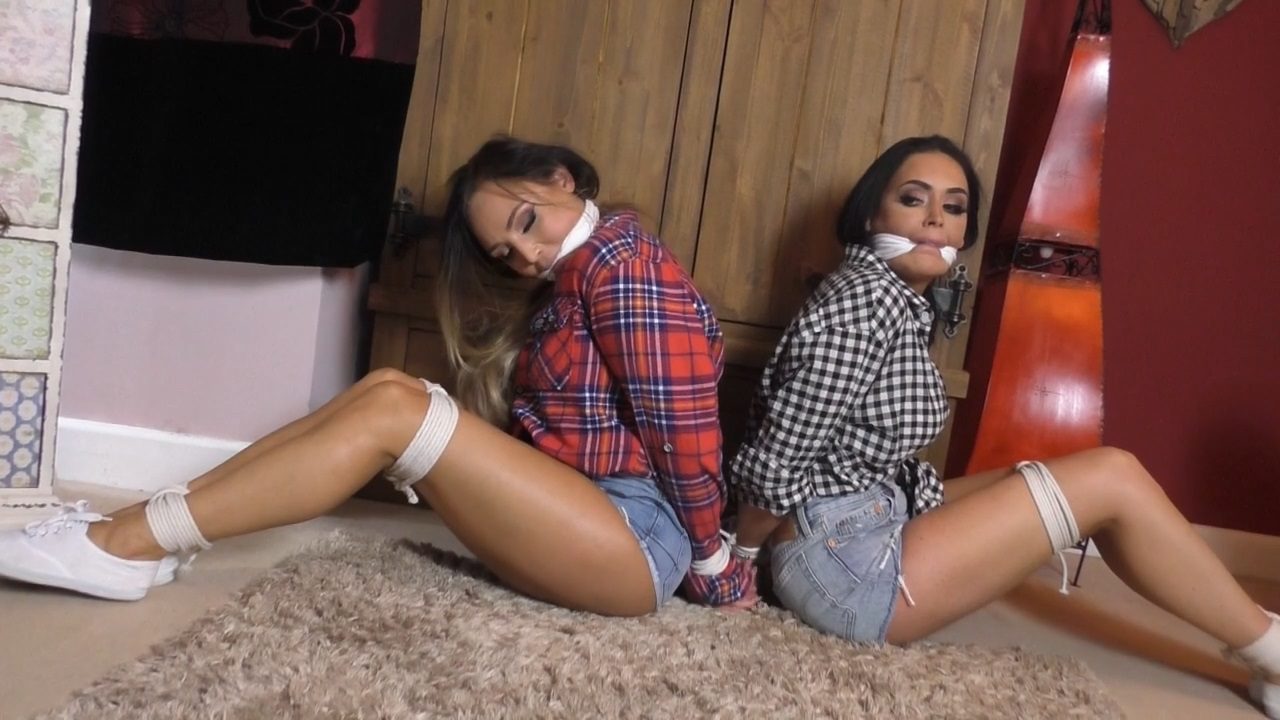 Emma & Danni in: Uncle Winston's Buxom Gag-Talking Nieces & the Great Patagonian Peacock Trials & Tribs!
Emma & Danni in: Uncle Winston's Buxom Gag-Talking Nieces & the Great Patagonian Peacock Trials & Tribs!
With rather tight gags in (and over, actually) their mouths, we must surely be finding it hard to understand the busty, helpless country chick beauties' agitated mmmmmpppphhhhing, but that's fine isn't it? We're all rather distracted as, alternately, napkin trussed lower faces strain under the tension and tightly pulled cloth is chewed at by gleaming white teeth as the girls attempt to loosen them even if just a little, to ease the tension.
Indeed, it is time now for more impossibly sexy nieces of that old badger Uncle Winston, who are about to be tossed into a nest of bondage and gaggage set to pound your senses. Decked out in ultra-tight blue denim cutoffs, buttoned country girl shirts, knotted maddeningly under their delicious boobies – man those stacks – their trademark sexy white canvas pumps (no need for socks) adorn their perfect feet, the stunners are ready for action.
Once again, we find ourselves breathing in the fresh country air (and the occasional whiff of cow manure) out at one of Uncle Winston's sprawling country estates. On this day, a very important pickup is scheduled at the farm. Unfortunately, old Winston, due to a prior commitment is unable to be there in person to ensure that his prized Patagonian Peacocks are loaded safely on the truck to begin their long journey to a wealthy buyer somewhere in remote Canada (unfortunately we can't pronounce, let alone spell the name of the place). Having not learned a damn thing (and we hope he never does) over the years old Winston arranges for a couple of his precious nieces to stay over at the farm and ensure all goes as planned.
Arriving at the farm, Winston's absolutely gorgeous nieces Emma and Danni Wisenheimer briefly discuss how perfectly smooth everything will go. Yes, all dolled up in their sexiest country girl outfits consisting of tight denim shorts, checked shirts tied up under their ample melons, and of course, their pretty white pumps, the girls are brimming with confidence. Unfortunately for these two beauties nothing could be further from the truth! At this moment the real driver of the delivery truck is lying face down in a pile of fresh manure courtesy of a shillelagh blow to the back of his head, delivered by one of our favourite villain's…. Percival Prickwhistle! That's going to hurt in the morning! And likely won't smell very good either.
Hearing a loud knock (it must be the driver?) Danni heads off to answer it. Opening the door to a very strange looking man, who she hesitantly allows in, she makes the mistake of turning her back and quickly realizes this as a hairy paw is clamped over her mouth and she is dragged off! Seems old Winston (bless the old fool) forgot to warn his nieces that his nemesis Prickwhistle is again on the loose! Next we see the very sexy Danni, in a back room all tied up on the floor. A very tight white cloth OTM gag has been tied securely over her mouth! Emma becoming concerned, as her cousin has not yet returned, proceeds to go have a look. Within seconds Emma meets the same fate as Danni and has her pretty mouth trapped by a large hand! Plunked on the floor next to her wriggling cousin, both babes struggle mightily with their knees pulled up and then rolling around and blah balh – you get it!
Having been gagged longer than her cousin, Danni somehow manages to slip her tight gag! Using her teeth (clink) she pulls the gag from Emma's mouth as well. Both babes immediately begin calling for help hoping someone will hear! A rather agitated Big Percy barges into the room and proceeds to take the cloths from around their necks and pull them tight between both girls teeth, effectively cleave gagging them. Good old Percy, as he is known to do, cannot help but ensure that the produce is fresh so obviously he has a squeeze of the chicks while in progress…yes perfect, farm fresh, we'll take two thanks! Left alone the sexy babes go nuts, squirming all over the floor. But he has them tied too tightly, and this time, them gags there are going nowhere but farther into the corners of their gobs!
Later, Percy-Bum informs the mmmmppphhhing ladies that they will be bound to chairs (or if they give him further trouble, hog bound in the spooky old barn) to keep them from getting in the way. Oh you can imagine their muffled responses to that foolishness!
Next up, we see both Danni and Emma tied up into chairs, with Percy as he often does, whopping out a couple of bandanas with which to gag his beautiful captives! A red for Danni we reckon and a black affair for Emma, tied extra tight between their teeth! But, in his haste to get the peacocks and get the fudge out of here, he neglects to lash the ladies ankles to the chairs. Our determined beauties use this to their advantage and make repeated attempts to loosen the ropes using their gleaming white pumps! Both girls gag babble, struggle and strain in those chairs, biting hard on the gags and hoping against hope that Uncle Winston will be home soon, because on this day they will not be escaping without some help!

Starring: Emma, Danni King
Size: 1.34 GB
Duration: 00:32:36 min
Resolution: 1280×720
Format video: mp4
Preview:


Download link:
Uncle_Winstons_Roped_Up.mp4