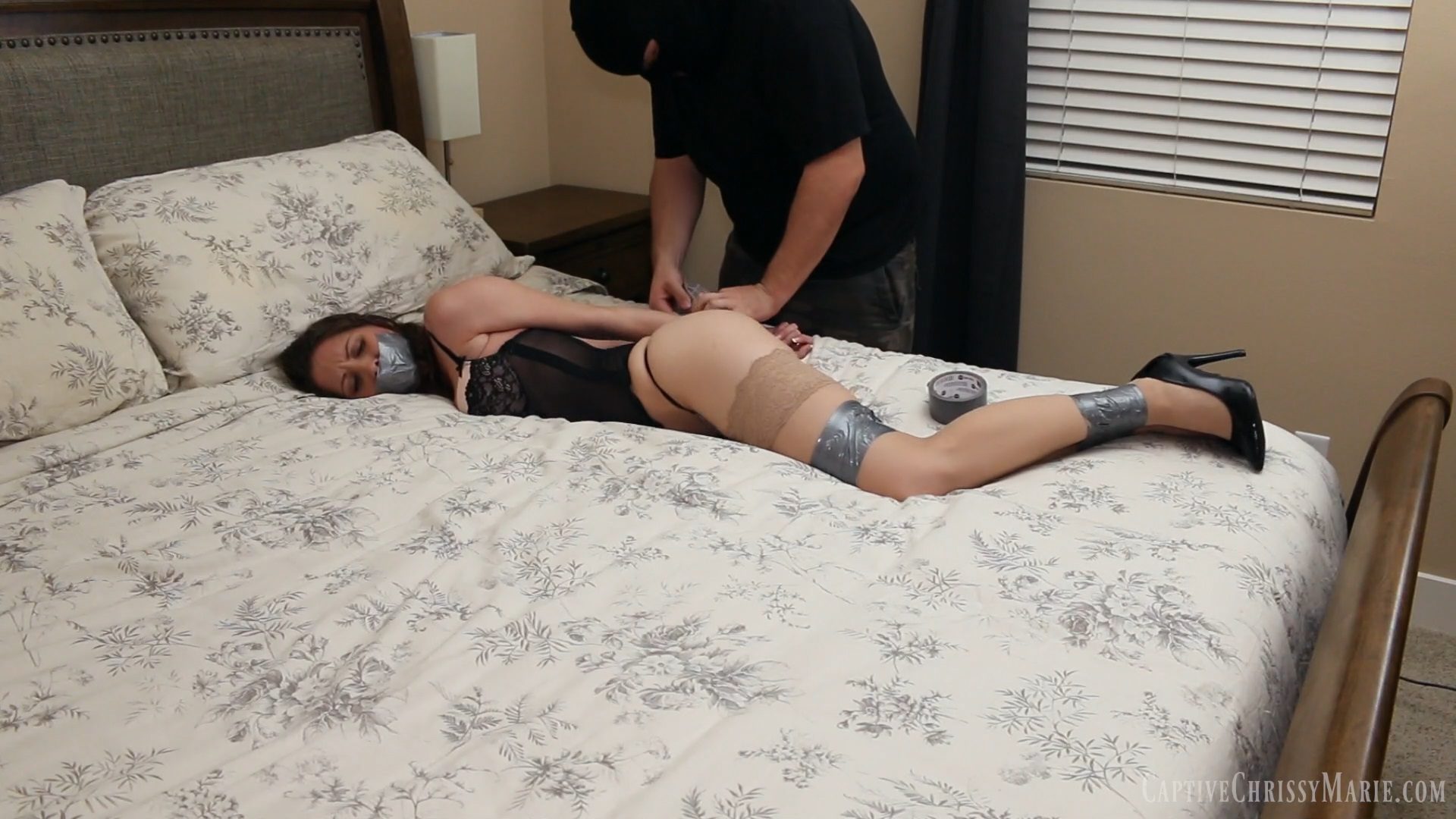 Duct Tape Disaster – Captive Chrissy Marie
Chrissy recently moved in with her boyfriend and has discovered his secret stash of bondage porn! At first she thinks it is kind of strange but the more she sees the more she wants to try it herself! She gets an idea to surprise her boyfriend by putting on some sexy lingerie and taping herself up with duct tape so that he will come home to her helplessly bound and gagged, just like in his fantasies. She starts by taping up her ankles and thighs, and is surprised at how strong the duct tape is! It is so sticky that it will surely ruin her stockings, so this better be worth it! She gags herself with a few strips of tape then tries her best to secure her hands behind her back with the tape, which turns out to be quite a difficult task to accomplish! Once her wrists are sufficiently bound she tests her bonds and waits, knowing that he should be home any minute now! Unfortunately for Chrissy, she didn't get his voicemail that he got held up at work and is going to be hours late! Soon she hears a noise and assumes it must be him. She calls out through her gag that she is upstairs, but instead of her boyfriend, a masked man appears in her bedroom that is definitely not him! She freaks out and tries to break free from the tape around her wrists, but turns out she did a better job than she thought!
The bad guy is amazed at his luck. Not only is there a hot, half naked chick here for him to play with, but she is already bound and gagged for him too! That saves him a lot of work! He decides to add more tape to her legs and wrists then tapes her up into a tight tape hogtie to make sure she is really secured! He runs his hands along her nylon legs as she tries to squirm away from him. A couple more strips of tape over her mouth and he tells her he is going to leave her there while he goes to get what he came for! As soon as he's gone Chrissy begins struggling furiously but she can't believe that no matter how hard she pulls and tugs on the tape it doesn't budge! She had no idea what she was getting into or how inescapable duct tape is! She can't give up though because she has no idea what else this man has planned. She continues to struggle so hard that she nears exhaustion, just in time for the bad guy to return! He presses his hand firmly over her mouth and her eyes widen in fear. She whimpers and pleads with him not to hurt her. He doesn't want to hurt her; he just wants to check out her tits before he goes! He strips her topless and roughly gropes and fondles her tits and ass. He even sneaks a peak at her pussy and this really makes her panic and fear the worst! To her relief he doesn't take them off, but he does further torture her by tickling her hogtied nylon soles, just to see her squirm hard one more time! He makes his getaway and leaves her there helplessly hogtied and tapegagged for her boyfriend to discover. Problem is, he probably won't even be able to understand a word she is saying and still assume she did this all for him! Chrissy is convinced this was the worst idea ever, she never should have taped herself up to begin with and maybe she wouldn't be in this predicament!

Starring: Chrissy Marie
Size: 877.66 Mb
Duration: 00:20:05 min
Resolution: 1920×1080
Format video: mp4
Preview:


Download link:
https://wayshare.cc/x2aniq4ze766/Duct_Tape_Disaster.mp4.html