Divorce Dispute – Captive Chrissy Marie
Chrissy is going through a bitter divorce dispute with her soon to be ex-husband who is very wealthy but also quite greedy. She found a guy on craigslist to help her stage a fake robbery at their house. Later that day she is talking to one of her girlfriends on the phone and tells her she will be leaving for a couple of days to get away from all the drama. Mid conversation she hears the doors and tells her friend she will call her back later. She yells out "I'm in here" and is soon surprised by a man wearing a mask! She tells him he gave her a good scare and is really impressed he is getting into character. Chrissy starts explaining her plan and gives the man the the location and the combination of the safe. She assures him they won't be caught, and once the heat blows over they will meet up and split the money and go their separate ways. The masked man was quite puzzled by all this, but finally realizes what he stumbled in to and begins to play along. He suggests to make the robbery look real so no one would suspect she was involved he should tightly tie her up and gag her. After all if they suspected her, they would surely make her give up all the money! She agrees and tells him it's a great idea! Then he tells her it would be even more believable if she strips naked! Chrissy hesitates briefly but decides she does want it to be as realistic as possible, so she slowly peels off her clothes until she is fully nude and ready to be bound and gagged!
Next we see Chrissy tied up very tightly with rough jute ropes asking if the crotch rope attached to her bound wrists was really necessary! He replies would a real robber make this comfortable for you? Then he says now time for the gag. She tries to protest, but he reminds her, would a real robber not gag you? So the man stuffs both of her socks deep into her mouth then seals it in with micro foam wrapped multiple times around her mouth and and head. The man leaves Chrissy on the floor struggling helplessly bound and gagged. As she struggles she feels slight nervous but is also getting quite aroused from the crotch rope rubbing up between her legs. A short time later her cell phone rings and she sees that it is the craigslist guy she was talking to about staging the robbery! Then it hits her and she wonders who the hell is in her house! She starts freaking out and the man comes to say goodbye, telling her "hope you have fun, no one will find you for days!" and leaves. She can't believe he was the real thing and she made it that easy for him! She starts struggling like crazy on the floor trying to get loose, but as hard as she struggles and as loud as she tries to cry out through the gag she realizes that she is tied up too tight and is not going anywhere without help! Growing more panicked as the minutes go by, she continues to struggle vigorously and before she knows it the mix of terror and arousal from the tight crotch rope rubbing up against her she can't help but have a huge orgasm as she squirms around on the floor! It would be days before Chrissy was found, and after finding her like this, no one would ever suspect her real intentions!

Starring: Chrissy Marie
Size: 691.77 Mb
Duration: 00:13:51 min
Resolution: 1920×1080
Format video: mp4
Preview: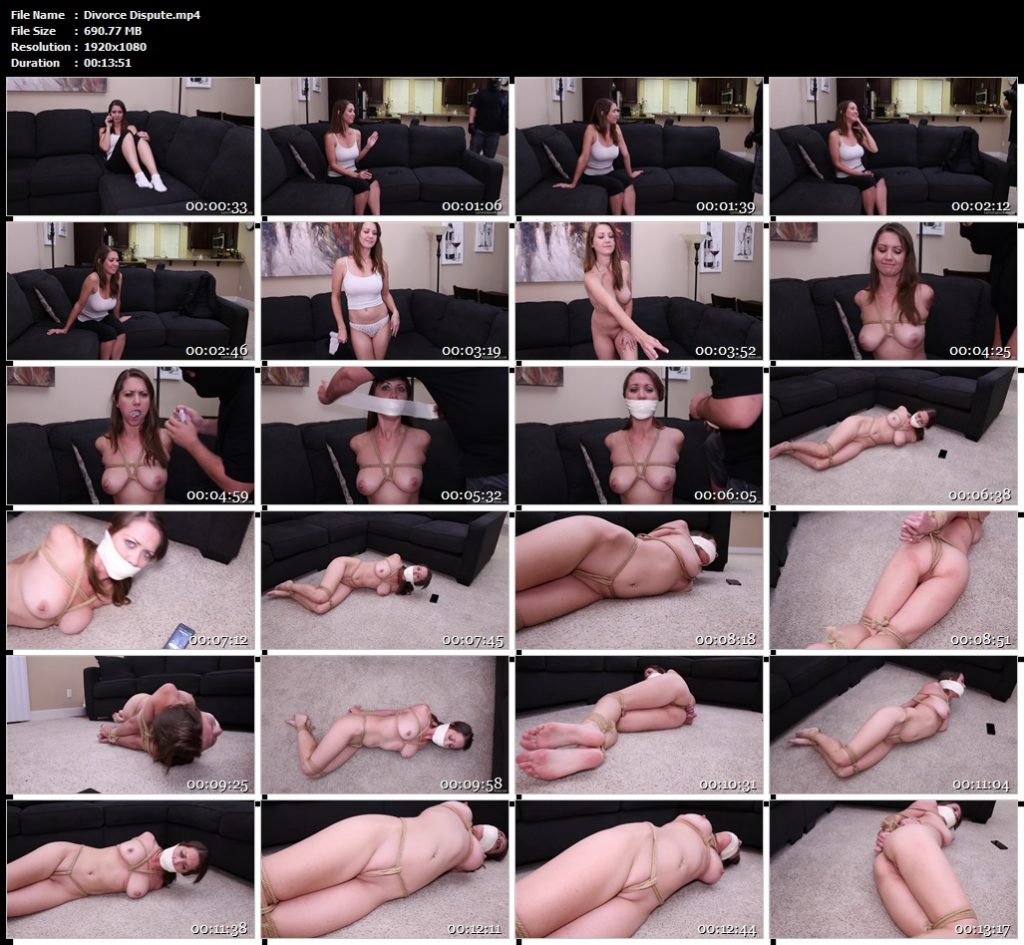 Download link:
https://wayshare.cc/cylm8h97xral/Divorce_Dispute.mp4.html