Captive Chrissy Marie – Batgirls Bondage Therapy HD
Captive Chrissy Marie – Batgirls Bondage Therapy HD
Batgirl is laying on the couch talking to her new therapist. She explains the reason for visit is because Batman thinks she has had a change in behavior. The first clue was the change in costume from the traditional to the more revealing bikini costume. She also explains that Batman thinks that she's allowing herself to be captured and tied up by low level henchmen because she secretly enjoys being captured and tied up. Batgirl laughs and obviously doesn't believe Batman's theory but the therapist wants to test it by tying her up and observing her behavior. Upon hearing this Batgirl gets excited and doesn't hesitate to take part in the exercise. She rolls over on her stomach and puts her hands behind her back, indicating she is ready and willing to be tied up.
Batgirl is now tied up the couch. She tests her bonds and comments that the ropes are nice and tight. but she's disappointed there is no gag. She explains that there needs to be a gag for maximum effect! Luckily for her the therapist doesn't take much convincing and next thing she knows she's been tightly cleave gagged with a few wraps of pantyhose. Batgirl nods her head in approval. The therapist tells her he's going to observe her behavior. The therapist observes Batgirl as she struggles slowly and sensually. It does appear that she is gradually getting turned on from being tied up! It looks like Batman may have been right!
The therapist suggests that he remove her boots to make her more comfortable and she shakes her head in in agreement. Batgirl is getting even more worked up now, moaning and writhing on the couch. The therapist uses this to his advantage and works his way onto the couch under her silky pantyhose sheathed legs and begins feeling them up (POV). Batgirl is quite obviously very horny and still enjoying this so he moves up his way up her body. After stopping to fondle her breasts through her bikini tope he pulls down her gag and puts his hand over her mouth. This drives Batgirl crazy and she lets out a muffled orgasm from under the handgag! After Batgirl calms down she tells him she thinks it was a very good therapy session. The therapist asks if she'd like a bonus therapy session. "Well, you have me all tied up, how can I refuse." she grins. The therapist produces a white cloth and presses it over her nose and mouth. Batgirl sensuously squirms and moans as she slowly drifts off into dreamland.. apparently she enjoys being knocked out too!

Starring: Chrissy Marie
Size: 554.1 MB
Duration: 00:11:23 min
Resolution: 1920×1080
Format video: mp4
Preview: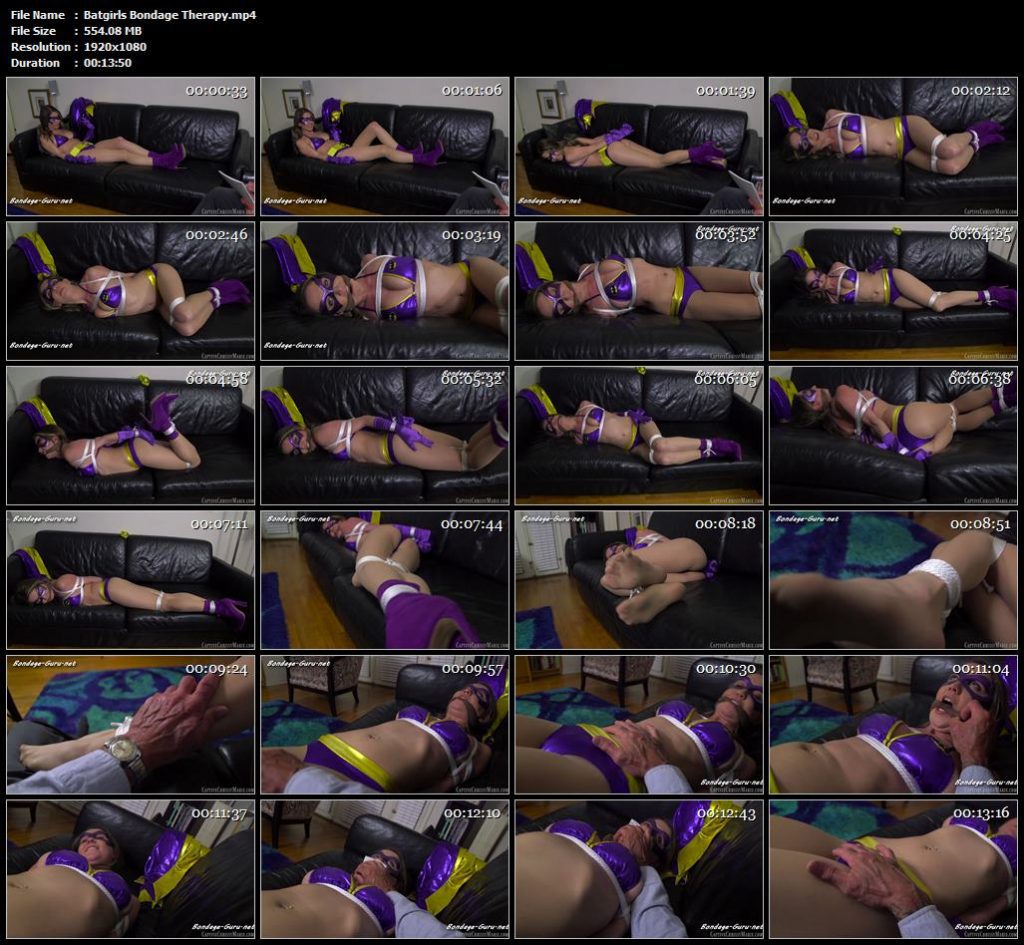 Download link:
Batgirls_Bondage_Therapy.mp4