Captive Chrissy Marie – Batgirl Blackmailed
Captive Chrissy Marie – Batgirl Blackmailed
Batgirl received a tip that has lead her to the secret hideout of a villain she's been trying to bring to justice. She cautiously enters and it appears no one is around so she starts searching for anything she could use as evidence. unfortunately unaware that she just walked right into his trap! He can hardly believe it was so easily she fell for it. but then again, Batgirl does have a bit of a reputation for getting roped into perilous predicaments! Just as she finds something good she stands confidently then is suddenly clubbed on the head from behind. She stands dazed and confused for a few seconds before her eyes roll back and her body goes limp. right into his grasp! He drags the helpless heroine off to get her nice and secured. There are things he wants to know. and he is sure he has ways to make her talk!
Batgirl is now bound spread-eagle on the bed and also cleave gagged for good measure. She slowly awakens to find that she's managed to get herself tied up and gagged! Not again!!! She struggles and pulls on the ropes trying to escape before the villain returns but it's too late, he's already heard her frustrated mmppphhhs and muffled gag talk. He soon returns and proceeds to interrogate the captured super heroine. Batgirl remains defiant and refuses to talk. He just laughs and gloatingly tells her that he's heard about her secret 'weakness' as he swiftly yanks off her boots. He grabs her ankle as her eyes go wide in disbelief.how did he manage to find out her secret weakness?!?! Batgirl jerks and squeals and laughs uncontrollably as he relentlessly tickles her silky nylon clad soles. After several minutes of relentless tickle tortur relentless repeats his demand to know how she found him. He tickles her other foot as Bat Girl thrashes frantically.but still refuses to give in. Thus the tickle torture continues. He even takes a break from her sexy feet to check how ticklish she is elsewhere. turns out her feet aren't the only body part that is susceptible to this tickle torture 'weakness'!
After several minutes of relentless tickle torture Batgirl feels practically drained of all her power and energy. but she still refuses to give in so her captor changes his tactics. He proceeds to remove her mask and strip off her bikini leave her in nothing but her sheer pantyhose! He begins taking pictures of the fully exposed and unmasked heroine, informing her that if she doesn't cooperate then the will reveal her real identity to the world! To make it even more humiliating, he uses a vibrator and presses it into her crotch. Batgirl can't help but give into the waves of pleasure after being drained from all the tickle torture. Then, just as she get close to climaxing.he stops and savagely tickles her for a bit. then the vibrator again as she squirms in defiant ecstasy. back arching and toes curling. right on the edge of orgasm. when suddenly he stops and switches to tickling again! Poor Batgirl is in a desperate situation.helpless, vulnerable, and succumbing to the pleasure being forced upon her. The orgasm control continues until he finally allows her to climax. the powerful orgasm leaving her feeling completely drained and defeated. And he isn't finished with her yet. he will get her to talk. then she will have to work for him since he has He clamps a rag over her face to knock her out again then quickly unties her and drags her off. If only Batgirl can find a way to escape from his clutches before she's subjected more of his twisted torturous plans!

Starring: Chrissy Marie
Size: 539.1 MB
Duration: 00:15:00 min
Resolution: 1920×1080
Format video: mp4
Preview: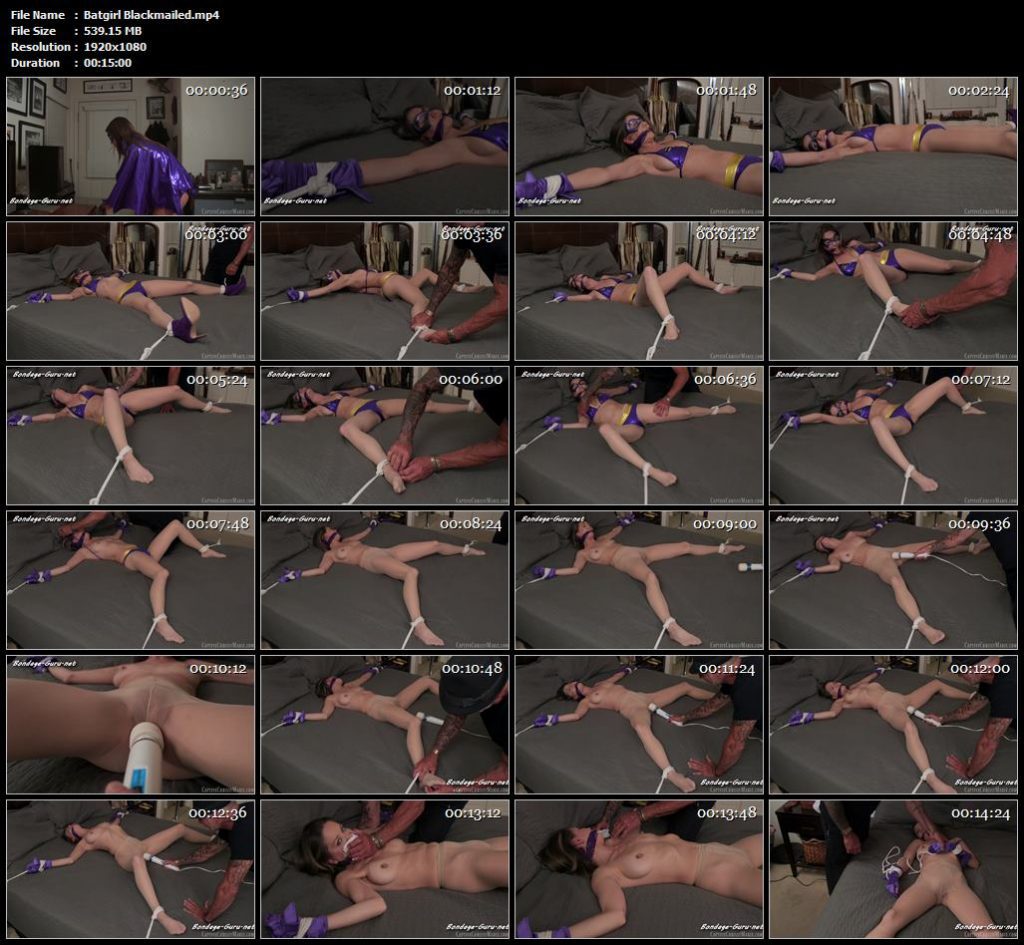 Download link:
Batgirl_Blackmailed.mp4