Catburglar Chrissy Claims A Sexy Victim HD – Captive Chrissy Marie
Catburglar Chrissy Claims A Sexy Victim HD – Captive Chrissy Marie
Catburglar Chrissy has broken into a house and is snooping around for valuables when she is surprised by the homeowner's early return! Star was on her way to work when she realized that she had forgotten her phone at home and decided to turn around. Good thing Catburglar Chrissy came well prepared to subdue her unsuspecting victim!
As Star enters the room Chrissy confronts her and threatens her into cooperating. "Stop right there and don't make a sound! Put your hands behind your back and get down on your knees" she demands. Star initially freezes in shock then turns to see the real danger she is in. Scared for her life she obeys Chrissy's commands and does as she's told. Chrissy grabs some rope from her bag and quickly ties Star's hands behind her back all the while Star attempts to reason with her. "What do you want?! You can take anything just please let me go!" Chrissy finishes binding Star's ankles then rolls her onto her back and climbs on top of her with a soaked white rag in hand to knock her out. She clamps it over Star's mouth and nose and tells her "Shhh, it's gonna be over soon" as Star's eyes slowly begin to flutter closed and her body gives in to the fumes. Chrissy admires her now defenseless victim. and what a sexy victim she is!
Later Star awakens to find that she has been stripped down to her bra and panties and tightly tied to a chair! She begins struggling furiously in an attempt to escape but soon after Chrissy returns. "Well look who finally woke up" she says as she taunts Star who insists that Chrissy won't get away this! Chrissy just smirks and says "I already have" then proceeds to straddle Star and tape gag her with several strips of extra sticky duct tape to shut her up! Next Chrissy applies some red lipstick she found while robbing the place. "I guess it would be rude to leave you without something to remember me by." she teases then kisses Star over her tape gag leaving a bright red lipstick mark on it. Chrissy would really love to play with her sexy victim some more but it's time to make her getaway and move on to the next house! She grabs her bag of loot and leaves the helplessly bound and gagged Star struggling hopelessly until someone rescues her from her humiliating predicament!

Starring: Chrissy Marie, Star Nine
Size: 499.1 MB
Duration: 00:10:15 min
Resolution: 1920×1080
Format video: mp4
Preview: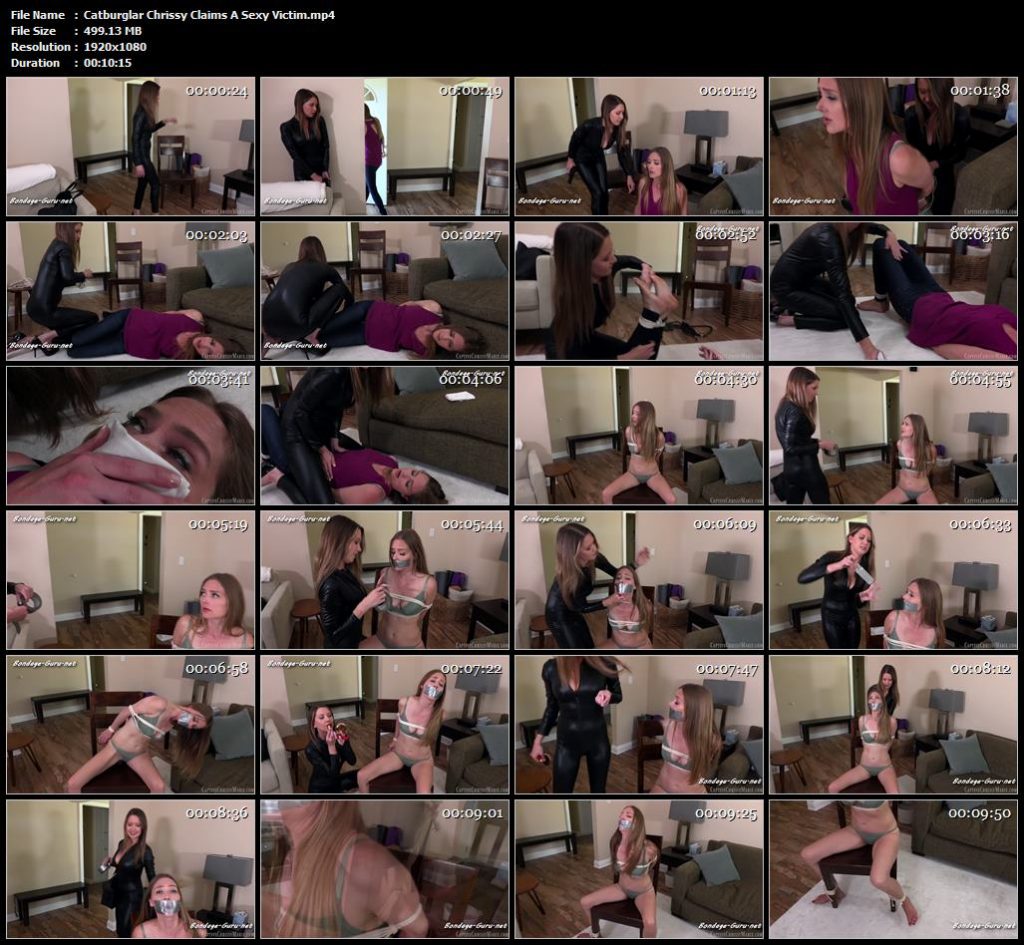 Download link:
Catburglar_Chrissy_Claims_A_Sexy_Victim.mp4