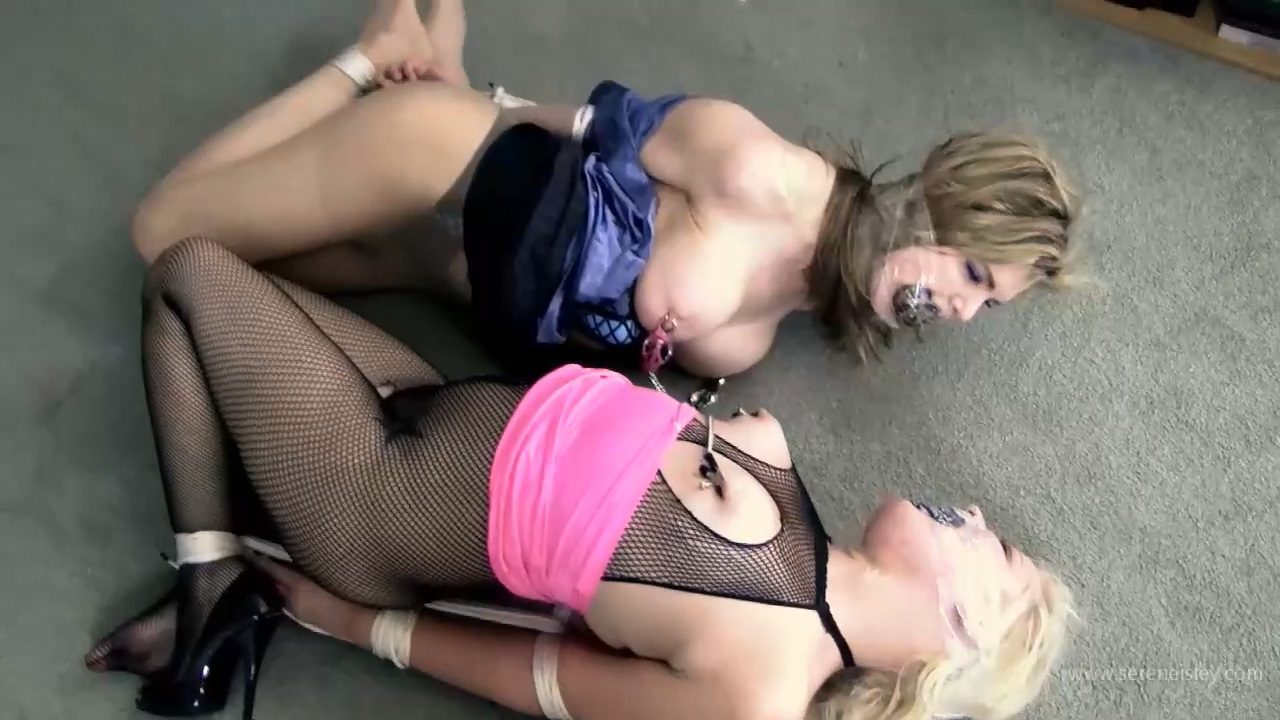 Candle Boxxx and Whitney Morgan – Some Rope with your Stripper – Serene Isley's Bound Beauties
A note from Serene: This is one of my favorite clips we've ever done. Candle and Whitney both put up extremely good fights and never stopped moving or talking. There is lots of great gag talk in this clip from both of this wonderful damsels. Scott and David play the sarcastic bad guys looking to have a good time. Considering that we met Scott and Whitney about an hour before we shot this clip, the ease at which everything came together and they all played off of each other was just amazing. The dialog made me laugh from all 4 people of them. Thank you to Scott for lots and lots of hand gagging in this clip you know it's one of my fetishes and I made sure to get lots of close ups of it while filming. I hope you enjoy watching this clip as much as I did!
David and Scott are sitting around waiting for the stripper to show up for some pre-bachelor "extra fun". Scott asks David if he thinks she'll be up for everything and David explains that she said she'd be up for everything, but David admits that he didn't exactly go into detail about what they had planned.
They hear a knock on the door and a beautiful woman comes in carrying some balloons. David stands up to get a better look at her, grabbing her arm to spin her around. The acts very confused and when Scott and David team up to grab her and pull her to the floor, she shouts at them to get off her trying to explain that she's the wedding planner, here to drop off some decorations for the wedding reception. The two gentleman don't believe her and think it's all just part of her act.
Candle, the planner, kicks and screams, trying to get away but the two men are just too strong for her. Scott grabs her arms, pinning them down while David gets the rope and binds her ankles together. Scott gets tired of her squealing and he uses his body to hold down one of her arms, one hand for the other, and covers her mouth with his other hand stifling her loud pleas. Her skirt rides up and her heels fly off in the struggles. Scott tells her to calm down and just go with it, stating that she said she was up for anything.
David grabs some more rope and has Scott flip Candle over. She begs for them to let her go, telling them they've made a mistake and that she won't tell his bride. They just won't listen. Scott grabs her arms once again, pulling them together behind her back while David applies the rope. Finally, David gets the hint that maybe they grabbed the wrong girl, but decides to keep going ahead with their plan since they've gone this far. Scott doesn't believe her and she cries out that she's not a whore!
Scott keeps her held in place and David ties her wrists together as well. Scott grabs her legs and Candle kicks hard, bucking, and throwing her hips in the air, much to the men's amusement. They are tired of listening to her mouth though and David grabs something to gag her with. He shoves a leopard print bandana in her mouth and wraps clear packing tape around her head to keep the gag in place. David adds one more rope to Candle, securing her in a tight hogtie on the floor.
About the time David finishes the knot, a hot blonde dressed in rather revealing attire walks in and upon seeing what they two men have done to the girl on the floor, she screams and tries to run. They manage to grab her before she goes too far and pull her to the floor beside Candle. Whitney, the actual stripper, cries out that this isn't what she meant by anything. Scott pins her down and David grabs the rope. Whitney screams loud and Scott covers her mouth with his hand. Her tube dress turns into a belt as she rolls around on the floor. She claws at the carpet trying to get away but they grab her arms and slowly get them bound together behind her back.
Candle yells through the gag as he watches the men assault the other young women. She tries to tell them to let her go since they now have the real stripper but they don't seem to like that idea. Scott grabs Whitney's hair and pulls her head back while David stuffs an extra bandana in her mouth and winds clear tape around her head as well. They put her in a matching hogtie, but decide that since Whitney's bobs have come out to play that Candle's should as well. Scott holds Candle in place by pulling her head back while he unbuttons her blouse.
Both women yell into the gags, rolling around on the floor. When the men leave to go grab a drink, Candle yells at Whitney saying that this is all her fault. They get close to each other, back to back and decide to work together trying to untie each other. The man come back and decide the ladies need some incentive to stay face to face. They attach nipple clamps to the ladies, making sure to interlock them so they have to stay facing each other or rip the clamps off. All the girls can do now is whimper into the gag, unable to escape from their bondage. When Whitney tries to move, Candle squeals in pain and then yells at Whitney in pain and frustration.

Starring: Candle Boxxx, Whitney Morgan, Serene Isley
Size: 671.62 MB
Duration: 00:20:00 min
Resolution: 1280×720
Format video: mp4
Preview:


Download link:
Some_Rope_with_your_Stripper.mp4 – 671.62 MB