Brooke's Bondage Therapy – Captive Chrissy Marie
Master Matt is posing as a therapist claiming to offer a revolutionary new technique to manage stress. He posted a fake business ad online offering a great low rate for his services, in an attempt to lure in a few beautiful young clients in need of stress relief. To his surprise he got several replies right away. Brooke arrives for her first appointment quite cheerfully but also appearing a bit apprehensive. The therapist is meeting her in a hotel room since he travels to his clients for their convenience. She starts to explain her situation, that is always on the road and often works very long days and is willing to try anything to relax. He warns her that his technique is a bit unconventional, but that he thinks she would be a perfect fit. She finds his response a bit strange, but tells him that she trusts his judgement! Very surprised at how easy that was, the 'therapist' pulls out his ropes and starts to tie her up, and she continues to be very curious how it will help to relieve her stress. He starts with just her wrists and ankles, and encourages her to test the ropes. She wiggles around but just as he suspected, his ropes are far to tight for her to get loose, but he will add some more just to be sure! He takes off her sneakers and socks to reveal her smooth bare feet and then tightly binds her thighs. Now that she's secure it's time for the real fun to begin!
As she is struggling around on the floor for 'stress relief' he sneaks up behind her and shoves a piece of cloth in her mouth and seals it in with tape. She begs him to stop now that she has decided that his technique is really not for her, but it's too late! No one can hear her mmmpphhs and cries for help. He finishes off by tying her elbows together then hogties her. He leaves her on the floor struggling while he goes to check on his client stashed away in another room! Brooke doesn't like the sounds of that! She struggles frantically trying to get free but makes no progress. After a while he returns to get more of a show. He pulls up her top and teases her. She starts to get really angry but he just likes it even more! So he reveals her perky boobs and spends the rest of the time watching her squirm and struggle in peril! When he is done with her he will force her to write a glowing online review if she wants to be let go, so the fresh new clients will keep coming!

Starring: Brooke
Size: 769.79 Mb
Duration: 00:15:00 min
Resolution: 1920×1080
Format video: mp4
Preview: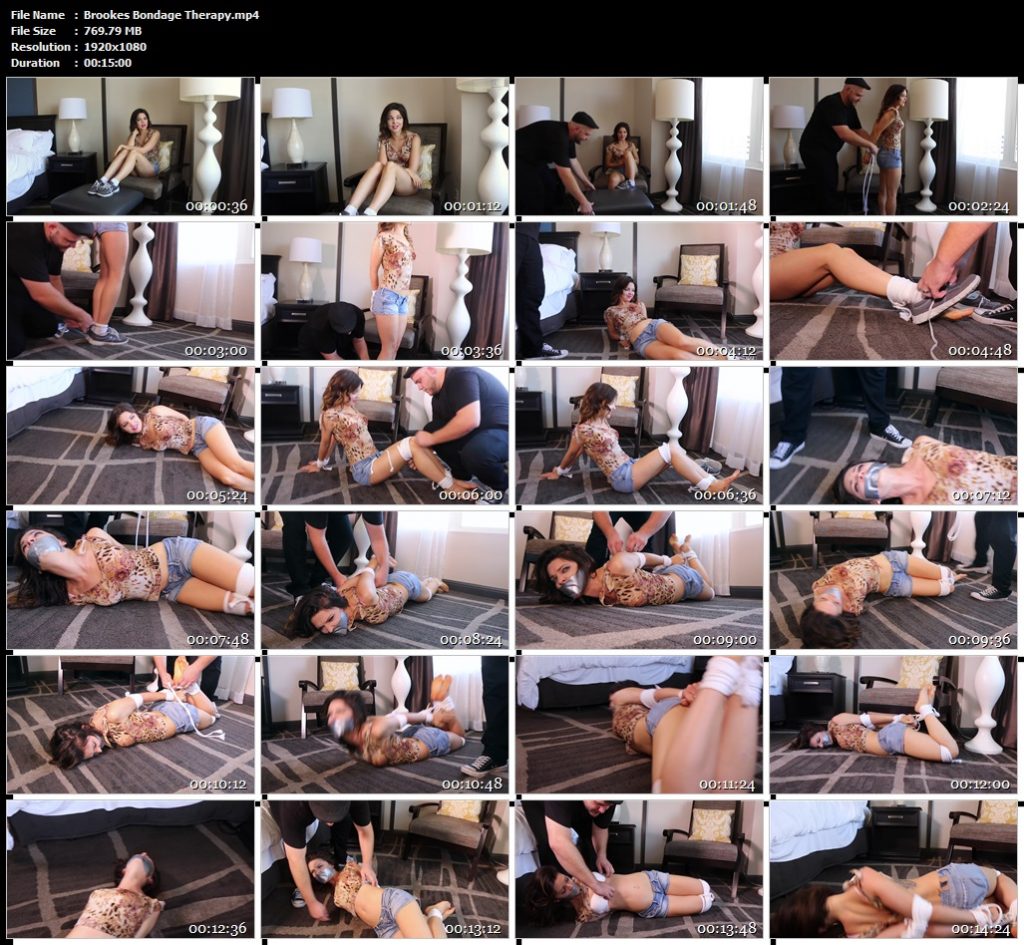 Download links:
https://wayshare.cc/vdpbb6nnoaxt/Brookes_Bondage_Therapy.mp4.html