Bound Birthday Surprise HD – Captive Chrissy Marie
Bound Birthday Surprise HD – Captive Chrissy Marie
On her boyfriend's birthday, Chrissy plans a special surprise for him. While he's still at work, she sets up her phone to record a selfie video. She's using a cool new app for that can be programmed to auto-zoom in a certain way. Also, it stops recording after a preset time and then sends the clip by e-mail to a predefined address. The selfie video starts with a close up of Chrissy's face. She's addressing her boyfriend by talking directly into the camera. She tells him that this year, she did not buy him a present . she is the present! She continues to say that she knows he likes turtlenecks, and she knows he likes to tie her up. Both are weird, but she's fine with it. What she finds even weirder is that he also wants to gag her. What the heck is so exciting about that? If he doesn't want her to talk during sex, she could just shut up deliberately. Does he really have to put a plastic ball into her mouth, secure it with a strap, and even tie her hands so she's unable to remove it? She doesn't get it. But guess what – today is his lucky day! She browsed through his secret toolbox and found some stuff that he obviously would like to see being used on her. This is going to happen right now!
While she's talking, the camera catches more of Chrissy. Her upper body becomes visible, too. She's wearing a turtleneck sweater. A red ball gag is hanging loosely around her neck. She says she's finally ready to give into his fetish if that makes him so happy. She takes the gag from her neck, looks at the ball, and then reluctantly slides it into her mouth slowly, but not all the way. She takes it out again and shakes her head in disbelief. She mentions that it feels really strange, but not as intimidating as expected. She puts it back in and takes it out again a few more times. Each time, it seems a bit easier, and she finally makes it briefly go in all the way behind her teeth. Chrissy's last words are that she knows a gag is only effective when she can't remove it with her own hands. She also adds that it will probably add to the excitement for both when she's unable to see while waiting for him. "Come home soon, darling!" she says with an inviting and seductive smile. The ball gag is put back into place, and this time she secures it tightly with the strap behind her head. She picks up a pair of leather cuffs and attaches them to her wrists. One last look into the camera, then she grabs a scarf which she uses to blindfold herself. Finally, she secures her hands behind the back of the chair by connecting the cuffs with a carabineer. She's blind and mute now, and there's no way she could reverse what she has just done to herself.
The auto-recording is about to end. The final part shows even more of Chrissy's self-inflicted predicament. She is sitting on an office chair and must have tied her legs before starting to film herself. All the time while she was talking, her knees were forced open invisibly! Apart from the sweater and some sexy thigh stockings, she is only wearing open crotch panties, so nothing is obstructing the view of her shaved pussy. The camera zooms in and out, finally focuses on her crotch, and then stops recording. Seconds later, the video gets transmitted automatically to her boyfriend's phone. For sure he won't work overtime today! Later Chrissy's boyfriend comes home, full of joy knowing that she is waiting there helplessly. He swivels her around on the chair and says how much he loves this birthday present and that she probably wants to get untied now. She nods. Well, he has other plans. He tells her he'd like to finish the job she began and enjoy the sight of her being helpless at bit longer. She moans in confusion as he grabs some rope and the camera fades out.
Next we see Chrissy being led into the bedroom, still blindfolded and ballgagged. Her hands and elbows are tied behind her back and more rope encircles her chest and frames her breasts nicely. She is assisted onto the bed and her legs are put into a frog tie. She is told she'll get a reward if she can get loose. If she can't, though, there'll be another birthday present for her boyfriend. Needless to say, there's no escaping for her. But we get some nice views of her rolling around and fighting her bonds as she struggles sensually. As her struggling has not been successful so her boyfriend now claims his reward. He removes the ball gag and asks for permission to open her up a bit (whatever that means). She'd never admit it, but she starts to like this game. Chrissy plays being reluctant, but finally she agrees to whatever he may have in store for her. Careful what you wish for! She is told to open her mouth wide and keep it open for the rest of the game. When she mentions that this might be difficult, she's offered some support. A ring gag is placed into her mouth and secured with a strap. That leads to some more heavy struggling and rolling around on the bed.
As there's still room for improvement opening her up, the frog tie is made stricter by some rope running from under the bed to Chrissy's knees, pulling them down. She can still wiggle, but no longer move around. Her mouth and legs forced open make for a fantastic view. When asked whether she feels vulnerable and she nods yes. Then she's asked whether she can imagine feeling even more vulnerable. She shakes her head in disbelief. Would she like some proof that this is possible? Sure she does – this game is kinky, but it definitely turns her on by now! A labia spreader is inserted into her pussy, which completely catches her by surprise. She has no idea what is happening to her. Even less so after the spreader's little arms have been pushed apart gently. Having her labia unfolded in such a way makes her look extremely open and available. Her boyfriend says that this is what he has been fantasizing about for all his adult life. That's why he'll just sit down and enjoy the view for a while. Chrissy knows what's expected of her now. She tries her best to get free, fully aware that it's fruitless but that her struggling will create lasting memories.

Starring: Chrissy Marie
Size: 861.4 MB
Duration: 00:23:40 min
Resolution: 1920×1080
Format video: mp4
Preview: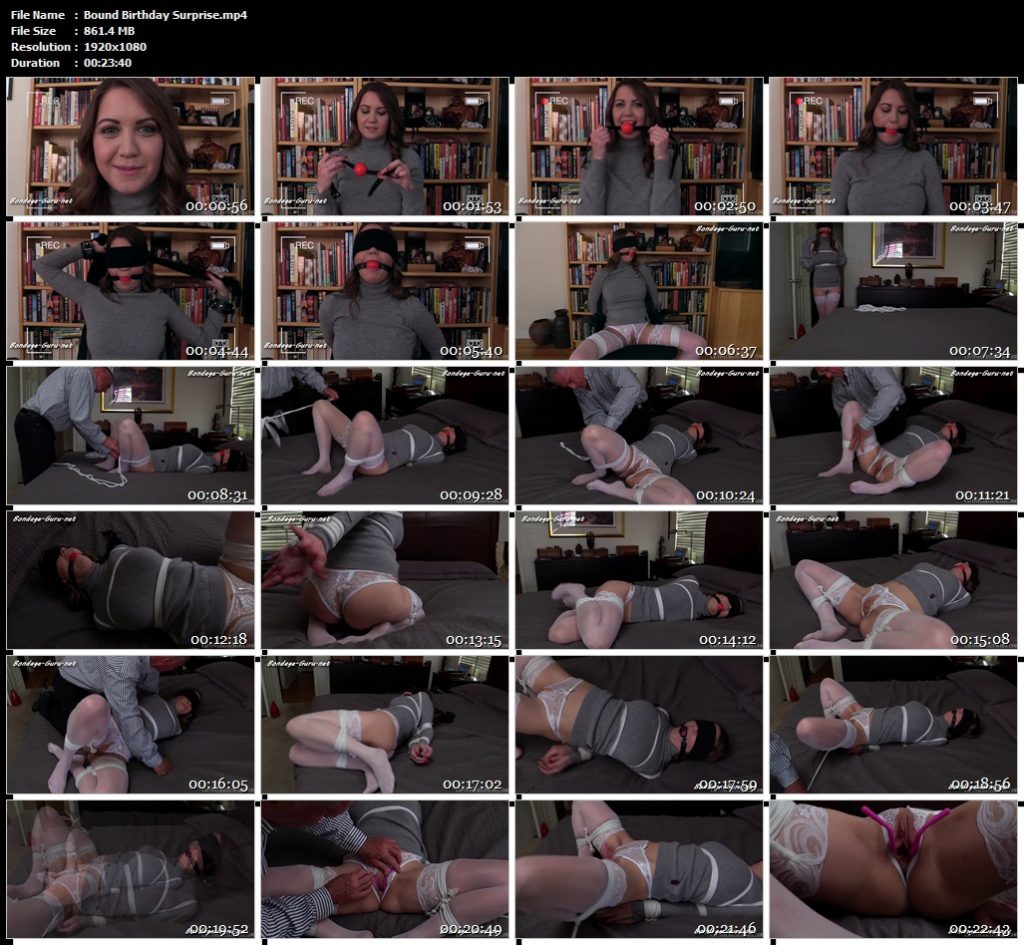 Download link:
Bound_Birthday_Surprise.mp4